US Election: Kamala Harris is a risk that could backfire on Biden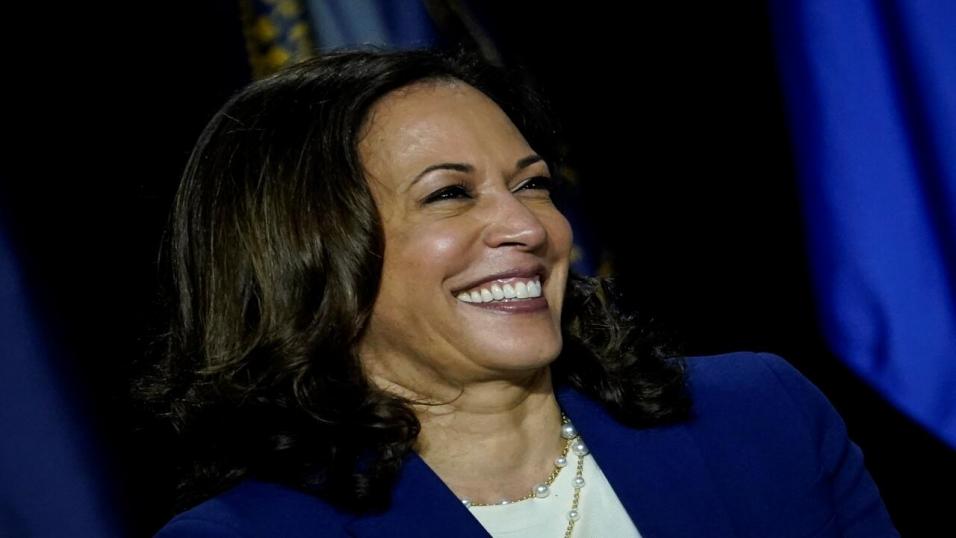 Kamala Harris will inevitably face the harshest of attacks
Will Kamala Harris be an asset or a handicap to Joe Biden's campaign? Paul Krishnamurty says she might do Trump a favour by becoming the story...
"Trump needs somebody to share his spotlight. Change the narrative, expand the question from merely a referendum on him...Every second the story becomes about Harris or anyone else, it helps Trump."
After months of drama, it turns out the market was right all along. Kamala Harris is Joe Biden's running mate. The California Senator would have led the betting from start to finish, were it not for a flip to Susan Rice just a few hours before the decision was announced.
Now, we must weigh her merit and value to the ticket. What difference, if any, will she make to the result?
The broad consensus among those who've been following the market closest - politicos and journalists - is that Harris was the safe pick. Whether her effect ultimately proves positive or negative, 'safe' is the last word I'd use. Quite the reverse.
Dynamic Harris livens up the ticket
For sure, there are positives. Harris is a heavyweight. This former prosecutor is a strong debater and forensic interrogator in the Senate. She can deliver good lines and will be an effective attack dog during the campaign. She will attract big donors. The first ever woman of colour on a major party ticket will inspire Democrat activists - a high percentage of whom are black women. Any Biden path to the presidency hangs around the black vote in swing states.
Harris is a plausible president who passes the test of being ready for the highest office at a moment's notice, and livens up the ticket. If 77 year-old 'Sleepy Joe' Biden needed a younger, dynamic sidekick, 55 year-old Kamala fits the bill.
These are all reasons she was so high in the betting for the nomination and presidency. They make sense on paper. Yet when it came to the primaries, despite a vast cash advantage over most rivals, she completely flopped. Why?
Debate attacks could come back to haunt her
The likeliest specific explanation is that her well-publicised debate performances played badly. In the opener she attacked Biden's record during the sixties and seventies on racial issues. A classic hit-job, geared to creating viral media clips, but one that appeared cynical and harsh. If not between the pair, bad blood still lingers between allies, apparently.
Incidents like this cannot be understated. Even when a politician is relatively well-known, most voter perceptions of them are shallow, based on small nuggets. Most previously knew relatively little about Harris and this amplified, negative impression damaged her.
She is now being introduced to a much larger audience. Anyone labouring under the illusion that this will be an easy ride, in which her qualities are celebrated, the rationale of her arguments win out, that her character and reputation won't be torn to shreds, has never watched a US election.
Republicans will certainly, constantly revive that debate footage. Trump is already branding her a nasty, terrible person. Personal attacks are his forte but I'd say she has less to worry about what he says directly than the meme machine behind him.
Don't underestimate the power of memes and fakery
The news one sees as important nowadays depends on which media bubble you're locked into. We all are. Info-rich or info-poor. The 'ultra-engaged minority' referred to above, for instance, are mostly on Twitter and watch quality mainstream media. The world of conspiracy culture, memes, the simple messaging spread by bots, is largely alien to them, yet arguably cuts through to a greater number.
A key lesson learnt in 2016 was to never again underestimate the effectiveness of what I call the Kremlin Fake News Network (KFNN). I did not realise RT was the most popular news on Youtube, or understand the reach of their affiliated sites. Or that they were co-ordinating with Wikileaks to smear Clinton. Or how many people take Alex Jones seriously.
Trump beat Clinton with viral memes accusing her of murder, war crimes, running a paedophile ring, taking bribes via her foundation. A textbook Kremlin smear campaign - a direct replica of Paul Manafort's takedown of Yulia Tymoshenko in Ukraine.
KFNN were highly active during the Democrat primary and immediately went after Harris, amplifying 'Kamala is a cop'. It took RT minutes to claim her VP selection had divided the Democrats (another 2016 line). Likewise, Wikileaks were quick out of the gate.
Trump launches scathing ad on 'phony' Kamala Harris as Democrats are torn over Biden's VP pick https://t.co/wEyXz3SU4H pic.twitter.com/ARd7p91Oay

? RT (@RT_com) August 11, 2020
137 documents from @WikiLeaks
on newly announced Vice Presidential Running Mate Kamala Harrishttps://t.co/M5BfZXOjlm pic.twitter.com/MzFJlWK2xb

? WikiLeaks (@wikileaks) August 11, 2020
Trump machine will try to construct a new Hillary
Fox News, now the most watched Youtube news by Americans, will go to war using the same messaging. They will pick apart a long record in public life, twisting, reconstructing it in order to turn her into a hate figure.
She will be branded over-ambitious and scheming for Biden's job. A rich, connected phoney progressive, beloved by the 'woke' California establishment. Hillary 2.0. They will target leftists with messaging that she's a corporate, centrist sellout, and centrist suburbanites that she's a radical leftist. Two parts of his coalition that Biden cannot afford to alienate.

Trump needs somebody to share his spotlight. Change the narrative, expand the question from merely a referendum on him. Biden has played a blinder by staying in his basement for months, letting Trump hurt himself. Every second the story becomes about Harris or anyone else, it helps Trump.
Maybe none of this matters. Most research into the effect of running mates suggest they make little difference to the result. And in any case, whoever Biden chose would get attacked. My point, nevertheless, is that Harris is riskier than the rest. I don't believe they could have targeted Susan Rice, Val Demings, Elizabeth Warren, Amy Klobuchar or Gretchen Whitmer as easily. Biden just opened a small window for Trump.
Follow Paul on Twitter and check out his website, Political Gambler.
Discover the latest articles
Read past articles