US Election: Biden's big tent is very smart strategy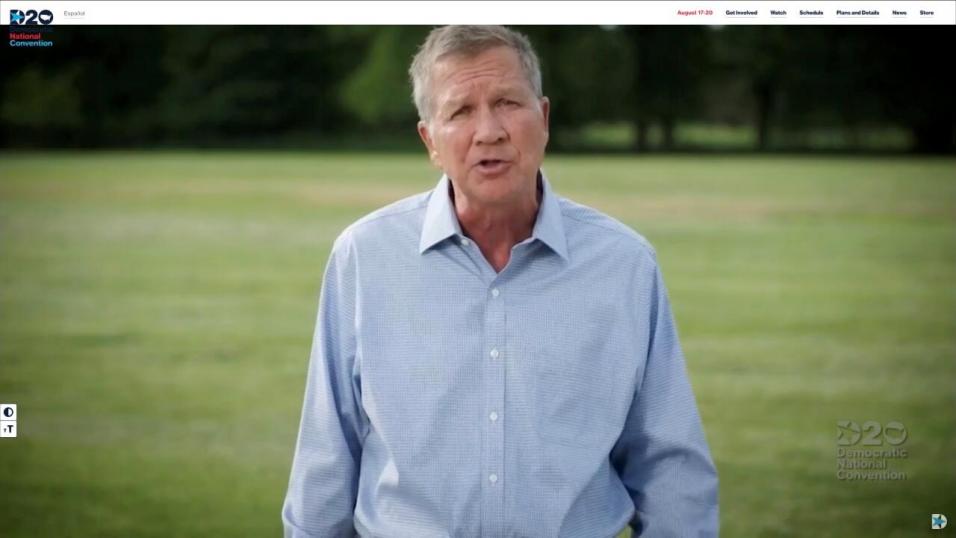 John Kasich's address to the DNC was smart politics
Prominent Republican moderates are lining up to support Joe Biden at the Democrat convention. Paul Krishnamurty explains the significance...
"Kasich polled better against Hillary Clinton than any other Republican... For persuadable Independents, he is perfect. Precisely the voters Biden needs."
Convention season is underway, with the Democrats going first in Milwaukee, followed by the Republicans in Charlotte from next Monday.
Naturally, various stars of the Democrat party have dominated early proceedings, with one particularly standing out. Team Biden is able to call upon one of the most popular and revered individuals in America in Michelle Obama. The former First Lady's gold necklace spelling VOTE went instantly viral.
All highly predictable. If the Obamas weren't central to the campaign, that would be the story. More significant are the contributions from former Republicans.
Republicans for Biden making headlines
Monday saw former presidential candidate John Kasich address the convention. Yesterday it was military general and former Secretary of State Colin Powell, while Cindy McCain delivered a film detailing Biden's deep friendship with her late husband, John.
Colin Powell for Joe Biden. pic.twitter.com/wEoouwBhtX

? The Lincoln Project (@ProjectLincoln) August 19, 2020
Some grassroots Democrats were uneasy at having representatives from the enemy party speak at their convention. They are wrong. This is brilliant politics, demonstrating the vast anti-Trump coalition behind Biden.
McCain family bound to be prominent
All three are notable. Powell also endorsed Obama so that was predictable, yet still good optics. The McCain family are yet to officially endorse but I expect they will and are timing the announcement for maximum effect. Astonishingly, Trump continued to slate the 2008 Republican nominee and war hero after his death.
Cindy McCain for Joe Biden. pic.twitter.com/JPpLLKBMYZ

? The Lincoln Project (@ProjectLincoln) August 19, 2020
Daughter Meghan has a close relationship with Biden. They have talked publicly about grieving together - Biden is well-known to have suffered terrible personal tragedy. Meghan is a pundit on the popular daily show "The View" and has reach.
Note too her father was the long-term Senator in the pivotal 'toss-up' state of Arizona. Win here, as the polls consistently forecast, and Biden will become president.
Why the Kasich endorsement matters
I'm particularly struck by Kasich's support, as it is coming from a frontline politician. A former Governor of a bellwether state - Ohio. He previously served in the Bush administration. His political homelessness speaks volumes about the extremism of Trump's GOP.
Kasich is anything but a Trumpite. He called out Trump and his agenda repeatedly during a bitter primary season, impressively staying above the fray when that chaotic contest descended into personal abuse.
It was rumoured he would be Trump's VP pick, in order to unite the party, and a strong favourite in that market. I have no idea whether such reports were true but evidently, Kasich was not interested. He even stayed away from the convention rather than endorse the party's candidate.
That declining segment of moderate Republicans briefly hoped he would be the anti-Trump vote in their bid to reclaim the party. There was some talk of a primary challenge in 2020. It never took off.
Kasich, correctly, concluded that his particular brand of Conservatism - pro gay marriage, open to working with Democrats, improve and even expand Obamacare rather than abolish it - was completely out of vogue with GOP grassroots. That was evident from the crowd response during those primary debates.
Kasich polled better than Trump
Since first becoming familiar with Kasich during the 2016 primary, I've been adamant that, in fact, this guy in the political wilderness has the winning formula. He polled better against Hillary Clinton than any other Republican. He lost because the grassroots rejected his agenda. Not because they'd analysed polls.
This GOP base does not reflect the median electorate or the voters whose decisions ultimately determine presidential elections. Registered Republicans constitute 30% of the electorate and around a tenth of those could hardly be described as Trump supporters.
For persuadable Independents, Kasich is perfect. Precisely the voters Biden needs and, according to polls, is winning.
Unity and bipartisanship is a winning brand
Besides being anti-Trump, one convincing explanation is that these voters can see from Biden's longstanding profile, record and rhetoric that he is of a similar ilk. Less partisan than the norm nowadays. More interested in unity than ideology. Open to forging friendships and alliances with opponents.
That is also Kasich's brand. Back in 2017, he was reported to be considering a unity-ticket with Democrat Governor John Hickenlooper to precisely those ends - to prove that honorable people could disagree and work together.
All the optics coming out of this convention are designed to reinforce that message. Nobody is expected to drop their political beliefs. Kasich and Alexandra Ocasio Cortez may represent very different political creeds, but both are welcome in Biden's big tent. All can unite around the common interest of ejecting a president whom they agree is an extremist, destroying the country.
I know there are a lot of different opinions on this, but I want to thank #PA17 native @JohnKasich for his remarks tonight.

I disagree with him about a bunch of stuff too, but it's not easy to do what he just did.

Country over party. Pittsburgh over all of Ohio.

? Conor Lamb (@ConorLambPA) August 18, 2020
Two more specific bonuses. With the likes of Kasich on board, it will be hard to convince people that AOC is the face of the party, rather than just one figure within it. Thus a central Trump talking point is undermined - that they hope will win back the moderates, independents and suburbanites that drove the Democrat's 'Blue Wave' at the 2018 mid-term House of Representatives election.
Second, Kasich offers a specific electoral benefit. No psephologist now regards Ohio as even a toss-up state. It has drifted into the 'Lean Republican' column - certainly no higher than seventh on the Democrat target list and arguably even below Texas.
Yet even before Kasich enters the fray, Biden is ahead in Ohio. Victory here means a 200-plus winning margin in the electoral college. I'm sure Kasich can help. He defeated Trump here in the 2016 primary and was popular in the pivotal Cleveland suburbs.
Kasich primary voters in the 2016 general election: 54% Trump, 33% Clinton, 7% Johnson. This per the CCES.

? (((Harry Enten))) (@ForecasterEnten) July 20, 2020
Whilst the Kasich brand may have been 'NeverTrump', half his primary voters went on to back Trump in the 2016 general election. That amounts to over 2M voters that he cannot afford to lose, in an election when he must gain extra voters.
The movement and mindset that Kasich most closely represents is The Lincoln Project. Nobody is making more brutal, cutting and effective ads against Trump - targeted at this critical segment of sceptical Republicans and Independents. This is a wing of 'NeverTrumpers' that was not organised in 2016. I reckon they will have a devastating impact.
Follow Paul on Twitter and check out his website, Political Gambler.

Discover the latest articles
Read past articles