US Election Betting: Biden inching ahead but Trump backers continue to dismiss the polls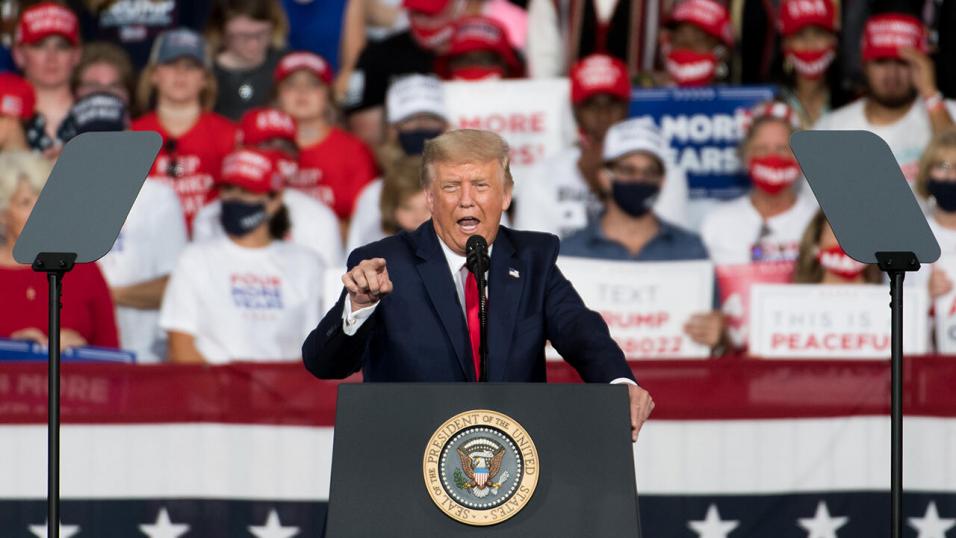 Trump is faring better in the markets than the polls
The US election betting continues to swing back and forth, apparently regardless of polls. Paul Krishnamurty updates the state of play...
"Most significant...is Biden's high figures. Either very close to or beyond 50%...a much better position than Hillary Clinton."
According to the odds on Betfair, the race remains too close to call. There was a significant move towards Joe Biden - from 1.9720/21 to 1.834/5 - on Monday but money returned for Trump and this morning the Democrat was back out to 1.9110/11.
The trends continue to surprise poll-watchers and those that assume the old rules still apply to some extent. That elections can be predicted by numbers and are determined to a large extent by the news cycle. Both look terrible for Trump.
Contrary to much hype during a quiet polling spell, he did not enjoy any meaningful convention bounce. Indeed, at 74%, Biden's chance according to the Fivethirtyeight forecast is at its highest since July 30th. Back then, he was trading at 1.625/8 on Betfair.
What do the latest swing state polls say?
We've recently received a spate of polls from the critical swing states. Granted, the news is mixed and there are snippets from which Trump can take comfort but a balanced perspective points firmly towards defeat.
When discussing reliable sources last week, I listed the best pollsters to follow. Only one of my 'top-ten' has reported this week - Marist College for NBC. First, two lesser firms have polled the whole tranche of key states.
11) Today's @Redfield/Wilton swing state polls

MICHIGAN: BIDEN +11
WISCONSIN: BIDEN +9
ARIZONA: BIDEN +5
PENNSYLVANIA: BIDEN: +5
FLORIDA: BIDEN +3

If Biden wins three of the top four, he'll very probably win the presidency.

? Betfair Exchange (@BetfairExchange) September 8, 2020
CNBC/Change poll

Arizona: Biden 49%, Trump 45%

Florida: Biden 49%, Trump 46%

Michigan: Biden 49%, Trump 43%

North Carolina: Biden 49%, Trump 47%

Pennsylvania: Biden 50%, Trump 46%

Wisconsin: Biden 50%, Trump 44% https://t.co/3xQOPx1CdX

? Bill Scher (@billscher) September 9, 2020
Warnings come attached. Change Research has a dreadful C- rating from Fivethirtyeight. Redfield and Wilton are unrated, as they are new to the states but their frequent UK polling stands up. Neither firm are reporting anything wildly outside the norm.
Wisconsin numbers imply Trump's path is narrowing
There's also been a spate of polls from Wisconsin, all showing Biden well ahead by at least 6%. In fact his lead has only once been lower since mid-July.
Wisconsin matters for two reasons. First, this was the scene of the riots and deadly vigilantism in Kenosha following the police shooting of Jacob Blake. It became the centre of attention as both Trump and Biden visited. This suggests that, again contrary to post-RNC hype, those events are not working to Trump's advantage.
Second, taking this along with the even likelier Michigan would move Biden within one state from victory in the electoral college. I explain how this works and the calculations in this Twitter thread.
3) Let's discuss the electoral college. This determines the presidency - rather than the popular vote. In 2016, Hillary Clinton won the latter by 2.1% but Donald Trump became president, courtesy of winning the electoral college (EC) by 306-232. pic.twitter.com/JmrPS3oAeD

? Betfair Exchange (@BetfairExchange) September 6, 2020
The two states that would almost certainly deliver victory for Biden are Pennsylvania and Florida. It is almost unimaginable that Trump wins without the former and many times more so without the latter. Both have been the subject of A-rated Marist polls, producing contrasting results.
They record a tie in Florida, where Biden has otherwise been consistently ahead, albeit using lower quality surveys. In Pennsylvania though, Marist have Biden +9 - his biggest lead for a while. It had seemed Trump was closing there. Another A-rated firm, Monmouth, recorded +3 last week.
FL is much more Trump-friendly than PA
I don't have any problem with referring to the Fivethirtyeight forecast in such scenarios. Even if the topline numbers prove wrong, they will likely be correct in how they comparatively measure the states. They forecast Biden +2.5 in Florida compared to Pennsylvania +5.1.
I think that's a correct, perhaps even understated comparison. Florida is home to a large elderly, white population that lean strongly Republican. So too Cuban exiles, whose heritage from the Castro years makes them lean much more right than the national average among Hispanics.
Biden has much greater scope to overturn a tiny deficit in Pennsylvania, given registration trends and because turnout in cities such as Philadelphia seems sure to rise substantially.
The most significant part of this mass of polling evidence is Biden's high figures. Either very close to or beyond 50%. This is a much better position than Hillary Clinton was in. During September 2016, there were still up to 20% of undecideds. The number of persuadables is less than half this time.
All this serves to reinforce my view that the market is completely wrong. Biden is ahead by a substantial margin, potentially on course for a landslide, and there is little to suggest things will change. Polarisation is entrenched. For all the latest prices from the key swing states, scroll through our carousel here:

The swing states have their say
Odds speak louder than words
Florida
The swing states have their say
Odds speak louder than words
Texas
The swing states have their say
Odds speak louder than words
Nevada
The swing states have their say
Odds speak louder than words
North Carolina
The swing states have their say
Odds speak louder than words
Pennsylvania
The swing states have their say
Odds speak louder than words
New Hampshire
News cycle gets steadily worse for Trump
It is against that depressing backdrop that we should consider the never-ending scandals and shocking revelations surrounding Trump. The story about his disparaging fallen soldiers as 'suckers and losers' has led the news for four days. It is compounded by footage of his attacking John McCain and now doubling down against military generals. The editor of The Atlantic promises that this is the tip of the iceberg.
Michael Cohen's book is out, detailing all manner of criminality and collusion with Russia. Former FBI counter-intelligence agent Peter Strzok also has one out, speculating that he is a Kremlin asset. Bob Woodward's 'Rage' is out next week and everyone expects more bombshells from former administration officials.
In a normal world, this would finish a president. However due to that entrenched polarisation, it seems no scandal is big enough to lose Trump's core of around 40%. By the same token, that means there's little he can do to move the needle and turn around a dire position.
Follow Paul on Twitter and check out his website, Political Gambler.