Five political betting markets to follow in 2018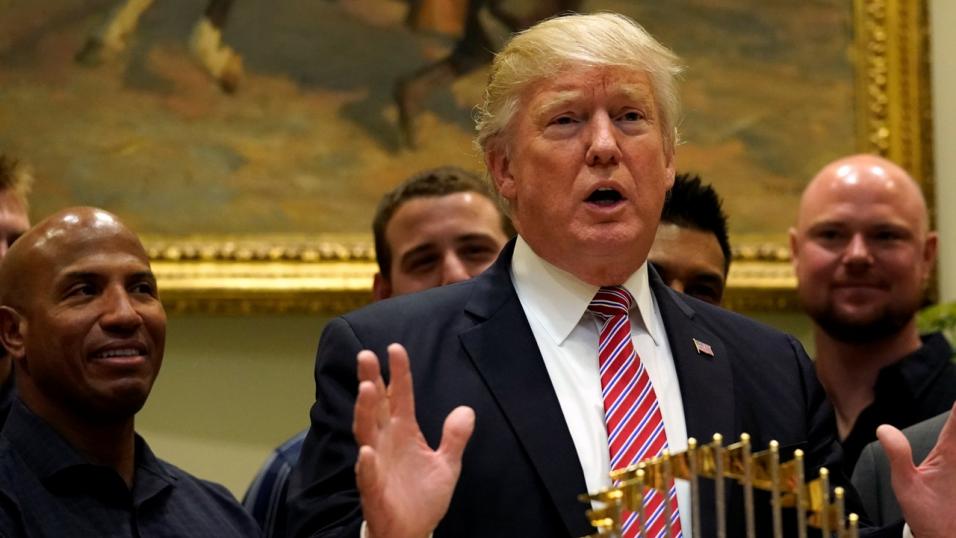 Donald Trump's future will continue to dominate betting markets next year
At the end of another unforgettable year in politics, Paul Krishnamurty looks ahead to the most interesting markets for 2018...
"Even if the government is in meltdown, or May is replaced, it is not compelled to call an election...There is no incentive whatsoever for them to give Jeremy Corbyn an opportunity to become PM any earlier than is legally required. At this stage in the electoral cycle, I'm backing 2022 at 3.25."
The date of the next UK General Election
Click here for latest odds
Whilst political betting is fast becoming a global phenomenon, nothing still quite compares to an election in the country that revolutionised it. Each of the last four years has seen a major domestic poll and our latest General Election involved a wider array of speciality markets than ever before. There is nothing major scheduled for 2018 but, given the febrile condition of UK politics, that could change at a moment's notice. After all, there was nothing scheduled for 2017 either.
Ever since Theresa May scraped over the line in June, damaged and reliant on the DUP, speculation has been rife about how long her government can last. At various points, pundits have predicted she had just weeks left in the job. The government has already lost a key Brexit vote in parliament, along with several key ministers. History suggests such fragility is unsustainable in the long-term, which explains why 2022 - the official date of the next election - is trading barely ahead of either 2018 or 2019.
I'm not convinced. Even if the government is in meltdown, or May is replaced, it is not compelled to call an election. It would be a massive distraction from Brexit negotiations and Labour could only force it by marshalling non-Conservatives for a no-confidence vote - an extremely tricky task.
With the Tories trailing in the polls and fearful of losing the campaign like last time, there is no incentive whatsoever for them to give Jeremy Corbyn an opportunity to become PM any earlier than is legally required. At this stage in the electoral cycle, I'm backing 2022 at 3.25.
Next Conservative Party Leader
Instead, expect media speculation to focus on a market famous for popularising political betting. The Prime Minister ended the year in a better place than for several months but there are countless pitfalls ahead and very few expect her to ever lead the Tories into another election. Positioning to succeed her is well underway.
There has never been a more open or less predictable Tory leadership race. Only one contender is trading in single figures and 7.2 favourite Jacob Rees-Mogg has repeatedly stated he has no interest in the job. He is wildly popular amongst the grassroots but less so among MPs who would determine the top-two in a future contest. Exactly the same comments apply to former favourite Boris Johnson.
At least a dozen people are in this race and perhaps twice as many. I must reiterate my last two tips in this market - Dominic Raab and James Cleverly. Both stem from the 'next generation' of MPs, expected to progress as this parliament progresses, and have trading potential from odds above 30.029/1. The key player is Scottish leader Ruth Davidson - a potentially transformative figure about whom odds of 14.0 reflect the fact she is not yet a Westminster MP. Her future will be the source of much speculation.
Italian General Election
Click here for latest odds
With Eurospecticism in a founding EU state a major factor, Italy's election on 20th May has profound international implications. It also promises to be a cracking betting heat. An anti-establishment party hold a clear lead in the polls and there is no clear favourite to be PM, with four different candidates trading between 2.68 and 5.0.
The Five Star Movement have rapidly risen to become Italy's most popular party but a new law allowing parties to fight as coalitions seems to have been designed to scupper them. Their telegenic leader Luigi Di Maio was last matched at 3.5, rated second best behind Antonio Tajani of Forza Italia - who would most likely lead a right-wing coalition whose combined shares amount to around 33% in recent polls. Another leader from that potential coalition - Matteo Salvini of Lega Nord - is also popular at 3.6.
The big loser from the new law is current PM Matteo Renzi, who is now the outsider of four despite his Democrat party being clear second in opinion polls. However there is a long way to go, numerous unpredictable factors and tight polls. I wouldn't write any of them off yet.
Will Donald Trump complete a full first-term in office?
Click here for latest odds
One unique, incredibly divisive yet impossible to ignore character continues to loom large over world politics, and will continue to drive the betting markets he has repeatedly defied. Donald Trump divides betting opinion in the same way he does politics. With each revelation in the Russia investigation, a stack of money arrives to back an early exit only to be matched by a similar amount on the other side. Hence how this Exit Date market has remained around 50/50 all year.
Trump ends his first year buoyant after tax reform gave him a breakthrough legislative achievement and Republican critics appear to have either been won over or silenced. However on the other side of the ledger, his approval ratings are historically awful, his tax reform is very unpopular and the Mueller investigation shows no sign of ending. Further indictments are expected and more leads are likely to open, ensuring the story maintains relevance throughout the entire term. If you think it will soon become unsustainable, Trump leaving office in 2018 is available to back at 4.0.
US Congressional Elections
Click here for latest odds
In November, the midterms will give us the most comprehensive verdict yet on the Trump presidency. All 435 seats in the House of Representatives, plus 30 Senate seats, are up for grabs. Though both are currently held by the Republicans, the early signals are not good for the governing party.
A swathe of generic polls show the Democrats holding a double-digit lead. In such a partisan country, which always votes roughly 50/50 in presidential elections, this is significant. Along with a series of good results in special elections, they are on course to gain the 25 seats required for a majority in the House of Representatives, for which they were last matched at 1.594/7. I got on board at 1.8810/11 a few weeks ago and have no plan to lay back.
I've just backed the Democrats to win a majority in the House of Reps next year at 1.88 expecting the odds to shorten. https://t.co/bRNKca2fi4

? Political Gambler (@paulmotty) December 13, 2017

The Senate is a much tougher target, given the nature of the seats up for re-election, as explained in this comprehensive analysis. The Democrats are 5.04/1 to win a majority that would both enable them to stifle the Trump agenda and instigate further investigations that would hobble the second half of his presidency. Don't expect anything about this era to normalise soon.

Follow Paul on Twitter and check out his website, Political Gambler.
Discover the latest articles