Simon Rowlands: Why you should trust Cheltenham form at Aintree
Timeform Debate

/ Simon Rowlands / 09 April 2012 /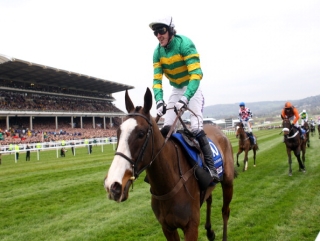 The stats bode well for Synchronised
"And Cheltenham winners fared best of all, having a median performance rating of just 8 below their pre-race master ratings."
Timeform's Head of Research and Development explains why Cheltenham form should be trusted this week and offers a couple of value bets on the Aintree "Specials" markets...
I am not a great believer in tradition on the whole. But it has its uses, and the predictable traditions of racing are something that can at least be turned to the punter's advantage.
The Grand National is not what it once was - there are no brick walls these days for a start - and I for one am pleased of that fact. But changes have tended to come gradually, and changes to Aintree's overall Grand National meeting have come more gradually still.
As a result, it is possible to come to such an occasion cold but with a good general idea of what to expect, as tradition ensures that history should hold some valuable lessons for us.
One of those lessons is the ability - or otherwise - of horses who ran well at the Cheltenham Festival to follow up just a few weeks later. Plenty have failed, and received wisdom might have you imagine that Aintree is a graveyard for horses coming on from the Cheltenham Festival. It is not.
The ever-readable James Pyman in Racing Post made this very point recently, concluding "since 2005, simply backing runners at Aintree who had posted a top-three finish at the Cheltenham festival on their previous outings would have led to 43 winners from 224 bets and a £1 level-stake profit of £37.89".
This tallies with my own findings, though stats can be distorted by the means of measurement employed, so I decided to have a closer look at the records from just the last three years.

"Actual against expected performance", as judged by a comparison between a horse's Timeform master rating pre-race and its Timeform performance rating in the race itself, provides further compelling evidence.
Horses that had last run at the Cheltenham Festival performed marginally better at Aintree than those that had come by a different route (median of 19 below and 22 below expectation respectively).
Those that had finished in the first three last time at Cheltenham fared better still (median of 14 below expectation). And Cheltenham winners fared best of all, having a median performance rating of just 8 below their pre-race master ratings. That is much better than for the wider horse population.
This has not been reflected fully in those horses' odds, either. A variable stake at Betfair SP (that is, more is theoretically staked on shorter-priced horses than on outsiders, thus limiting the effect of "fluke" events) saw Cheltenham winners handsomely in profit. Cheltenham runners-up sneaked into the black also.
Cheltenham and Aintree present rather different tests for horses, and this factor should not be ignored. But, otherwise, there is little evidence to support the contention that a good run at the former can be expected to compromise the chance of a good run at the latter.
And that could well be even more the case this year than usual, with an extra week's break between the two occasions.
..........
Tradition and history also make it easier to tackle special bets at the marquee events, as anyone who has done so at Cheltenham should appreciate.
There are just two such markets up on Betfair at the time of writing - Longest Winning SP and Winning Distance (Odds) - but they both make plenty of appeal to my mind.
The below table shows the history of these markets this century, with winning margins adjusted to allow for differences in means of returning those margins and a small increase in the number of races (there will be 21 again at this year's Aintree Grand National meeting).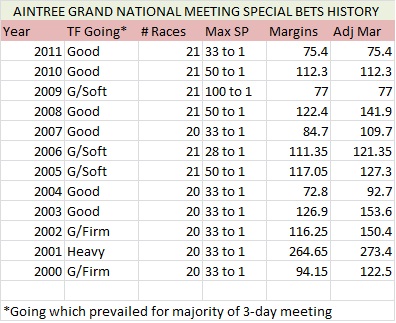 With the going currently forecast to be "Good, Good to soft in places on the Grand National course", the years since 2002 seem to be our best guide to win margins.
Crunching the numbers led me to estimate a cumulative figure over the three days of around 112 lengths, which is comfortably inside the highest category available (over 105 lengths).
Frequencies of win odds this century were: 229 at under 33/1; 14 at 33/1 to 50/1; and 3 (all of which came in 2009) at over 50/1. This implies a probability of around 55% that the highest winning SP will fall into the middle - 33/1 to 50/1 - range which has provided the "winner" in 10 of those 12 years.
Special bets proved to be a nice money-spinner for followers of this blog at Cheltenham. Here's hoping that, like some of the equine protagonists, we can also back up our efforts from there!
Recommendations
Back "33/1 to 50/1 inclusive longest winning SP" 3 pts at [2.0] or longer
Back "more than 105 lengths cumulative winning margins" 2 pts at [2.0] or longer
'.$sign_up['title'].'
'; } } ?>