National Jockey Day 2016: Five jockeys who fought back from serious injury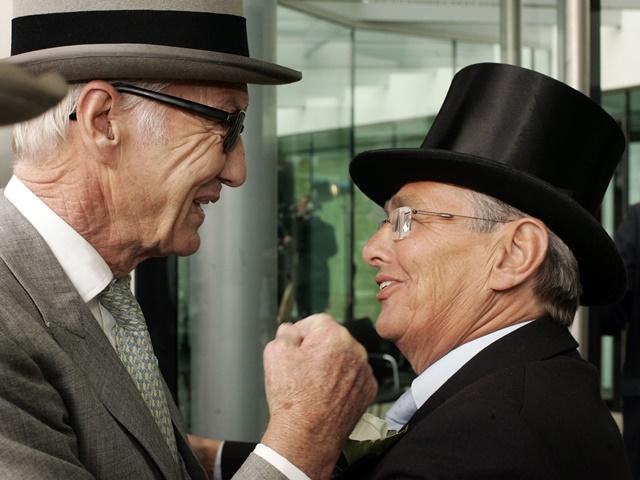 Lester Piggott and Wilie Carson, two jockeys wo made remarkable comebacks after serious injury
Ahead of National Jockey Day 2016 on Saturday, Mike Norman delves into the history books to pick out five of the greatest jockey comebacks of all time...

"At least six horses reportedly rode straight over the stricken jockey resulting in a series of injuries, the worst being a fractured skull"
As we approached the inaugural National Jockey Day in 2014 I wrote about some of the greatest riding performances in the modern era. Declan Murphy effectively riding with an undetected blood clot on his brain, Bob Champion returning from cancer to ride the winner of the Grand National, and the likes of AP McCoy and Ruby Walsh producing countless stunning moments in the saddle.

Between them McCoy and Walsh have just about broke every bone, and had every injury, known to man. But they always returned.

For some jockeys though it's not always about getting back on a horse with aspirations of winning a Derby or a Cheltenham Gold Cup following serious injury. For most it's just the love of horses and the thrill of riding that urges them to get back in the saddle.

So with this year's National Jockey Day just around the corner now is a good time to highlight five more jockeys who came back 'from the dead' - quite literally in one case - meaning that just sitting on a horse again was a quite remarkable comeback, regardless of what they would later go on to achieve in the saddle.
Lester Piggott

When talking about great comebacks the legendary Lester Piggott will instantly be remembered for his 1990 Breeders' Cup Mile victory on Royal Academy (see video clip) which came at the age of 54 and just 10 days after returning to the saddle following a short jail sentence for tax evasion.

But perhaps Piggott's greatest comeback was returning to the saddle following a sickening fall from Mr Brooks two years later in the 1992 Breeders' Cup Sprint. Travelling at break neck speed Mr Brooks fractured his right foreleg but bravely tried to continue running for a few strides before inevitably collapsing. Piggott was knocked unconscious as he hit the ground and became trapped under the stricken horse.

Mr Brooks was sadly put to sleep there and then but Piggott, aged 57, who punctured a lung and suffered a broken collarbone and ribs from the fall, made a full recovery and later said that he had suffered worse injuries falling out of bed on a morning!

Piggott remarkably returned to the saddle ahead of the 1993 Flat season and would go on to enjoy big race success at Royal Ascot and Newmarket's July Meeting before officially retiring in 1995 at the age of 59.
Jason Maguire

AP McCoy once described Jason Maguire as a jockey who was so strong in a finish that he was sometimes impossible to pass. High praise indeed coming from the strongest and most determined jockey ever to sit on a horse.

McCoy also said that Maguire was a rider getting better with age, so it was a tragedy that the then 33-year-old's career was effectively ended on the eve of the 2014 Cheltenham Festival after a 'normal' fall from Scots Gaelic was followed by Maguire being kicked in the stomach by another horse as he lay on the ground.

Maguire suffered a fractured sternum and bleeding on his liver, resulting in him being put into an induced coma so that he could be given a life-saving emergency operation.

Incredibly the 2011 Grand National-winning jockey returned to the saddle just six months later and steered home a winner on Bonne Fee at Newton Abbot in his very first ride back. But he later said he was never the same jockey, and although mentally he was 100% certain he was just as good as before the sickening injury, physically he had lost his strength and was regularly in pain.

More winners followed for Maguire as for six months he tried to brave the pain barrier, but following another serious fall at Musselburgh in February 2015, and more surgery, he would never ride again.
Willie Carson

If you ask horse racing lovers about Willie Carson's serious injury most will refer to the horrible incident that was screened live on British TV in September 1996, when the horse he was about to ride kicked out in the paddock and caught Carson in the stomach.

Like Maguire, Carson was left with a life-threatening liver injury and was in intensive care for days. Fortunately the then 54-year-old made a full recovery, but at his age it was too much of a risk to return to the saddle and his riding days were over.

But not many people will remember the freak accident 15 years earlier that could quite easily have ended Carson's life, never mind his career, there and then.

Lying third aboard Silken Knot in the Yorkshire Oaks, Carson's mount slipped on the home turn and broke both her forelegs in the process, meaning she was inevitably destroyed. At least six horses reportedly rode straight over the stricken jockey resulting in a series of injuries, the worst being a fractured skull. American jockey Steve Cauthen later said, "'Willie is lucky to come out of it alive. It was the worst fall I have ever seen."

Carson didn't ride again that season but he was back to full health and returned to the saddle the following year. In 1983 he became British Champion Jockey for the fifth time and he would eventually notch up 17 Classic victories - including Derby success on the brilliant Nashwan (see below) - and win almost 4,000 races making him the fourth most successful jockey of all time in Great Britain.
Brian Toomey

The story of Brian Toomey is quite remarkable and deserves to be concluded after I first mentioned it two years ago. Back then Toomey was hoping to convince the BHA to grant him a licence to ride again, but let's retell the story first.

After a fall at Perth in 2013 Toomey suffered a huge swelling on his brain and effectively died as his heart stopped beating for six seconds. He was put into an induced coma and was given just a 3% chance of survival, but remarkably, after five months in hospital and many weeks at Oaksey House, the Injured Jockeys Fund rehabilitation centre, he was ready to resume riding.

And the BHA did grant him that jockey licence.

On 12 July 2015 Toomey completed his incredible comeback from near death to being a jockey once more (see below). His mount, King's Grey, didn't quite read the script however and needed pulling up in a Southwell Selling Hurdle that day, but that is scarcely relevant.

Although now retired Toomey will be forever remembered as the miracle jockey who came back from the dead to defy al those who said he will never ride a racehorse again.
Hayley Turner

Britain's most famous female jockey has had her fair share of injuries but 2013 was particularly cruel to Hayley Turner.

Just months after returning to the saddle following a broken ankle Turner was attempting to win the Park Hill Stakes at Doncaster on Seal Of Approval. With just under two furlongs to go she began to make ground on the rail, but her mount clipped heals with the horse in front and Turner was catapulted into the turf.

After initially being told she'd suffered only tissue damage it soon emerged that Turner had in fact fractured three vertebrae and would be out of action for the rest of the year.

With such injuries generally being career-threatening Turner was reportedly ready to retire there and then, but she defied the odds to regain full fitness and commence riding at the start of 2014, steering home close to 100 winners during the course of the next 18 months before she did announce her retirement, this time through desire rather than injury.

Turner did make another comeback however, returning to ride a big-race winner in a 'one-off' appearance at the Shergar Cup, sparking further rumours that she would return to the saddle on a full-time basis.
National Jockey Day 2016
For National Jockey Day 2016, on Saturday November 19, Betfair is aiming to raise £50,000 for the Injured Jockeys Fund - we will donate £1 for every mention of #NationalJockeyDay on Twitter. More details here.