The Punter's In-Play Blog: Rory poised to win again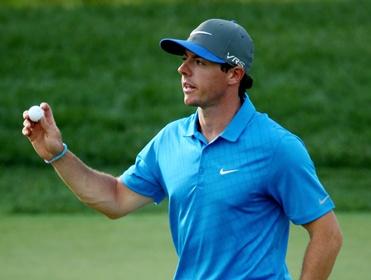 Rory McIlroy - a worthy favourite with a round to go
The final round of the Deutsche Bank Championship is live on Sky Sports this evening, with the world number one poised to add to his impressive 2014 haul. Will Rory McIlroy win again? Read what Steve thinks here...
"The Sportsbook went 2/1 first thing but that didn't last and his exchange price is shortening all the time. He looks a reasonable price to me and I can see Rory being nearer to 2.89/5 than 3.02/1 by the time he tees off."
11:00- September 1, 2014
There are no prizes for spotting the big mover at the Deutsche Bank Championship in round three - world number one, Rory McIlroy, played some sublime golf at times, hitting numerous approaches to kick-in birdie distance and following his seven-under-par 64, he's the favourite going into today's final round. Here's the latest leaderboard with prices to back as at 10:50 UK and Ireland time.

Russell Henley -12 6.411/2
Billy Horschel -11 9.08/1
Rory McIlroy -10 2.942/1
Jason Day -10 6.411/2
Chris Kirk -10 16.5
Webb Simpson -9 18.5
-8 and 34.033/1 Bar

The less said about my halfway picks the better. Ryan Palmer's second successive level par round has seen him slip from tied for the lead to four back but that was a brilliant performance compared to Patrick Reed's. The confident Texan endured a torrid time - shooting a remarkably bad 11-over par 82!
"Bad day at the golf course. Feels like I'm in a nightmare at the moment," Reed said. "Everyone has a bad round. That just happened to be probably the worst round in 10 years."
With the benefit of hindsight, I'm really cross with myself for overlooking two-time PGA Tour winner, Russell Henley, yesterday at a juicy price. He was a very impressive winner of the Sony Open last year and battled well to take the Honda Classic in March. Third round leaders have a poor record, with the last seven solo 54-hole leaders all getting beat, but Henley's a proven front runner and not a man to be dismissed readily.
Billy Horschel found his putting touch, making three birdies in-a-row to finish round three, and he'll be alongside Henley in the final two-ball at 18:55 UK and Ireland time. Horschel has no more than a reasonable record in-contention - he's been within two strokes of the lead with a round to go six times on the PGA Tour and won once. He shot 64 on day four of the Zurich Classic last year to take the title but this looks far more competitive and others are preferred.
Jason Day yet again flattered to deceive, trading at just 2.47/5 before again dropping shots late on. He'll be better suited to being just off the pace and he's playing superbly but as I've stressed many times, he just doesn't win enough.
Chris Kirk equalled Rory's 64 yesterday and the pair will partner each other again today. He's another multiple PGA Tour winner who can't be dismissed but at the prices, I'd much rather play Rory at almost 2/1.
I haven't been able to get to grips with this event at all so far and I'm grateful that I've taken it easy but I am going to have one more wager. I still think it's a tricky one to work out but given ten of the 11 winners of this event have been within at least three strokes of the lead with a round to go the stats suggest we probably can't look past the front six and I can't look beyond Rory. 
The Sportsbook went 2/1 first thing but that didn't last and his exchange price is shortening all the time. He looks a reasonable price to me and I can see Rory being nearer to 2.89/5 than 3.02/1 by the time he tees off.
I'll be back tomorrow with the De-Brief and my previews for this week's events will follow shortly thereafter.

11:10- August 31, 2014
The third round of the Open D'Italia is underway and I've resigned myself to making a small loss on the event. Anything else will be a bonus. In addition to the lays made prior to yesterday's third round, I'm now also against the man currently sat in second place - Richie Ramsay. And yet again, I'd have been better off waiting, rather than laying him in-running.
I layed him at an average of 6.25/1 but after sinking a monster birdie putt on the 18th yesterday he's now a 4.03/1 chance.
Here's the leaderboard with prices to back as at 10:50 UK and Ireland time.

Hennie Otto -16 2.962/1
Richie Ramsay -14 3.9
Bernd Wiesberger -13 4.57/2
Ross Fisher -11 17.016/1
Lee Slattery -11 42.041/1
Stephen Gallacher -10 22.021/1
Francesco Molinari -9 40.039/1
Joost Luiten -9 55.054/1
David Howell -9 120.0119/1
SSP Chowrasia -9 210.0209/1
-8 and 200.0199/1 Bar

Otto looked to be in trouble after eight holes yesterday, when his back started to tighten up. He's only just back following surgery but claims yesterday's discomfort wasn't related and that he'd been fine today after some physio. He hit some poor shots yesterday and even said himself that he got a little lucky at times. I thought he looked vulnerable and I've tweaked my book to make him my biggest loser.
I've also backed Francesco Molinari back this morning at 46.045/1 as he's so much better coming from off the pace. I don't hold out much hope of getting a result but the first three home 12 months ago were all outside the top-10 with a round to go so it's a venue where you can come with a late run. 
Over at the Deutsche Bank Championship, Jason Day looked like putting the event to bed when he reached the turn in five-under-par but having traded at just 2.56/4, he lost all momentum on the back nine, where he made three bogeys to just one birdie and he's now tied at the top with first round leader, Ryan Palmer. Here's the halfway leaderboard with prices to back as at 10:50 UK and Ireland time.

Jason Day -8 4.94/1
Ryan Palmer -8 16.5
Matt Kuchar -7 7.06/1
Billy Horschel -7 27.026/1
Keegan Bradley -6 16.015/1
Patrick Reed -6 19.018/1
Webb Simpson -6 20.019/1
Bill Haas -6 20.019/1
Russell Henley -6 50.049/1
Rory McIlroy -3 12.5
-5 and 34.033/1 Bar


As highlighted in the preview, the winners here are very often right up with the pace and putting is usually the key to success so given the two leaders are putting better than everyone else we perhaps don't have to look too far to find the victor. 
Day is undoubtedly the man to beat but we perhaps saw yesterday why he's only ever won one stroke play event on the PGA Tour. With the talent he has he should be winning more and what happened yesterday was pretty typical. He's never going to run away with a tournament and he's not someone to take a short price about so I'm more than happy to swerve him.
Matt Kuchar is riding an emotional rollercoaster this week and I just wonder if that's going to take its toll. His regular caddie, Lance Bennett, tragically lost his wife, Angela, on Wednesday and it's going to be very tough for Kuchar, and his stand-in caddie, Brian Reed, to keep concentration levels up to where they need to be to win a FedEx Cup event. 
Rory McIlroy is an incredibly poor price given how much ground he has to make up and at first glance I was tempted by Billy Horschel at 27.026/1 but his lofty position is down to some very neat iron-play and certainly not his putting. He ranks in the 30s for all three putting stats, whereas the leaders are inside the top-four, and for that reason alone I'm happy to leave him out.
This is a tricky one to call and if the truth be told I'm not overly keen on anyone but with the front three in the market looking opposable there has to be value somewhere and after much deliberation I've plumped for two very small wagers to add to yesterday poor effort on Chesson Hadley, who shot two-over par in round two.
Given he's a multiple PGA Tour winner, is leading an event that suits the frontrunners and is putting so well, Ryan Palmer has to be worth a small bet at 16.5 and I've also had an equally small wager on Patrick Reed, who, like Mike Norman, I fancied a bit before the off. Other than scrambling, according to the latest in-running stats, Reed isn't doing anything especially well but at 19.018/1, I thought he merited support.
I'll be back again in the morning to look at the state of play with a round to go at the Deutsche Back Championship. 

11:20- August 30, 2014
As I suspected he might, Francesco Molinari put in a lacklustre second round at the Open D'Italia yesterday and since I'd layed him after round one, I'd given myself a great cornerstone to build a nice lay book from but I wish I'd left things alone until this morning...
In addition to my lay of Molly, I layed both Hennie Otto and Bernd Wiesberger as they flew through the field yesterday morning in round two but both kept moving forward and with the benefit of hindsight, I'd have been much better off if I'd have waited until the close of play as both now trade much shorter than I layed them at. 
As Otto now leads the Austrian by three and the rest of the field by six, it's going to be a day of crossing fingers and hoping that the pair come back to the field but I'm not hopeful. The third round is underway and it's live at midday in the UK on Sky Sports.
Over at the Deutsche Bank Championship, Ryan Palmer shot an impressive eight-under-par 63 to take up the early running and it's the second time in three starts that he's led after round one. He was tied at the top at the USPGA Championship before going on to finish fifth.
Keegan Bradley is two back in second and Jason Day, Webb Simpson and Chesson Hadley are all three off the lead on -5. Having barely gotten involved before the off and given up with the pace is the way to go here, I was quite keen to find a nice wager this morning but nothing really grabs me.
Only two of the 11 winners to date have been any further than four off the lead after the first round so the stats suggest we should be concentrating hard on the top-ten (in addition to the top-five already mentioned, five men are tied for sixth on -4) but I've struggled to get excited about any of them.
Jason Day is the narrow favourite over Rory McIlroy, who trails be seven and has it all to do, but I'm not keen on the Aussie. He's had plenty of chances to add to his tally of one stroke play PGA Tour title but always seems to find a way to get beat. 
Bradley has been disappointing in-contention of late and makes little appeal at just 8.88/1. Ryan Palmer will in all likelihood hang around all week, as he did at Valhalla, and is a reasonable price at 11.010/1 but I'm going to have just one small wager today and take another look at halfway.
Jason Day won the WGC Matchplay back in February but only one player currently inside the top-ten at TPC Boston has won a stroke play event this year - Chesson Hadley. The PGA Tour rookie won the Puerto Rico Open in March and he looks slightly over-priced to me at 110.0109/1.

22:15 - August 28, 2014
With the Deutsche Bank Championship (previewed here) not starting until Friday, I hadn't envisaged kicking off the In-Play Blog until tomorrow afternoon but given I've already got involved in-running at the Open D'Italia, I thought I'd make a start.
My sole selection, David Horsey, made an inauspicious start, shooting a one-under par 71 this morning but even though he's five off the lead and tied for 43rd, he's not completely out of it. There's an awfully long way to go and that's one of the reasons I've taken on joint-leader and clear favourite, Francesco Molinari, at just 3.8514/5.
There are plenty of quality players hot on Molly's heels and Bernd Wiesberger, sitting alongside the home favourite is a big danger for starters. I appreciate that they haven't had too many representatives over the years but with just one Italian winner in 33 years, taking the title for a second time isn't going to be an easy task for the 2006 champion.
Molinari tends to get nervous in-the-mix and I'll be surprised if he isn't trading bigger by this time tomorrow. I'd be shocked if he was to take the event by the scruff and kick on and laying him looks sensible. As detailed in the In-Pay section of the preview, laying the leaders on Sunday might make sense anyway so getting stuck in early and starting a lay book with Molly looks the right thing to do.
Ideally, Molinari will stutter in the morning and someone else will trade short and I can really start to build a nice book but if the worst case scenario occurs and Molinari bolts up, at just 3.8514/5, it won't be the end of the world if I don't get to lay anyone else and I finish up paying out.

Open D'Italia Pre-Event Selection:
David Horsey @ 80.079/1
In-Play Lays
Francesco Molinari @ 3.8514/5
Hennie Otto @ an average of 4.57/2
Bernd Wiesberger @ an average of 4.84/1
Richie Ramsay @ 6.25/1
Molinari backed back @ 46.045/1
Deutsche Bank Championship Pre-Event Selection:
Stuart Appleby @ 230.0229/1
Deutsche Bank Championship Each-Way Selection:
Scott Stallings @ 500/1 (details here)
In-Play Bets
Chesson Hadley @ 110.0109/1
Ryan Palmer @ 16.5
Patrick Reed @ 19.018/1
Rory McIlroy @ 2.962/1

*You can follow me on Twitter @SteveThePunter
Discover the latest articles