League Two Tips: Pull of the Orient hard to ignore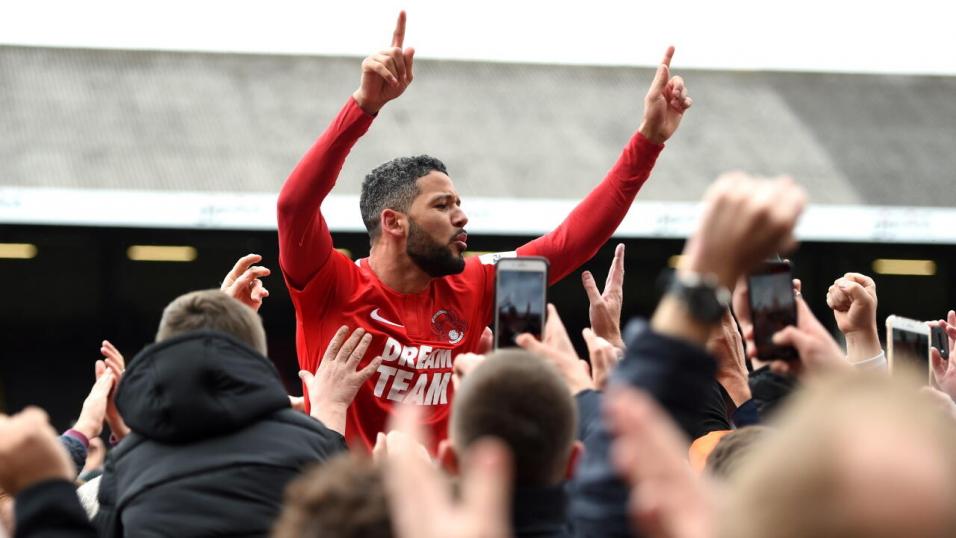 Jobi McAnuff helped Leyton Orient back to the Football League and is now interim manager chasing the play-offs
Four straight wins give play-off place chasing Leyton Orient a platform for another victory says Ian Lamont, who also tips Port Vale plus Grimsby for a remarkable draw...
"Port Vale are trying to win three consecutive away games in the Football League for the first time since March 2015, say Opta. They have a strong chance to achieve that, because Harrogate, as the stats compilers point out, have lost their last two home games without scoring."
Monday April 5
15:00 kick-offs
Two strikers' great form is key for O's
Leyton Orient 2.3211/8 v Walsall 3.412/5; the draw 3.55/2
The price on a Leyton Orient is tempting enough, after four straight wins and six games unbeaten, but add in Walsall's string of draws, at best, and there could well be a recipe for a home win.
The Saddlers haven't yet won for interim manager Brian Dutton, in 12 attempts, half of them draws. They have scored just six times, Caolan Lavery netting three of them. Elijah Adebayo is much missed, having gone to Luton in January. Perhaps Darrell Clarke was right to leave for Port Vale, feeling he had taken Walsall as far as he could.
Mind you, a missed penalty against Harrogate on Friday by Emmanuel Osadebe cost Dutton that first win. An improved performance at least gave him hope. Two recent clean sheets out of three give them a decent platform, as does drawing three of their last four away games.
However, the O's have scored in their past five games, with both of their top scorers now both on song. Danny Johnson notched two in the fine win at Mansfield, after a long barren spell of more than 10 games, egged on no doubt by Conor Wilkinson scoring in three consecutive games having also not scored in his previous 10 or so. The claim Jobi McAnuff made when he took over eight games ago, that the play-offs were still in reach, looks a lot more possible than when the phrase was uttered.
Newport, two places above them in seventh, are just a point away. Incredibly, Walsall have drawn 12 away games, but Orient, with four clean sheets in six, should have the motivation to find the win. It seems incredible that, as Opta point out, the hosts have won only one of their past seven home games (drawing four), having won seven of the previous eight at Brisbane Road.
Valiants have strong chance as Harrogate dip
Harrogate 2.68/5 v Port Vale 3.185/40; the draw 3.412/5
Port Vale are trying to win three consecutive away games in the Football League for the first time since March 2015, say Opta. This is a strong chance to achieve that, because Harrogate, as the stats compilers point out, have lost their last two home games without scoring.
The Sulphurites have not scored in three games in total, despite having a plethora of possibles after recruiting substantially in January. Amazingly, they have played once a week for the past three weeks when all around them seem to be playing twice. Do they lack intensity? Or just Josh March, who is still out with a knee injury suffered four games ago, since when their first point was on Friday. Simon Weaver knows he has plenty of attacking prowess to hand, from Jack Muldoon to Simon Power and Josh McPake.
However, Port Vale seem a lot more confidence right now, having started to win for Darrell Clarke, taking 12 points from the past four games. Two of those came with clean sheets, while the 3-1 win at Crawley last Saturday seems very pertinent. Crawley boss John Yems said it was men against boys and his Reds were "bashed up", metaphorically.
The Valiants were better in all aspects than Exeter, said a frustrated Grecians boss after defeat on Friday. Theo Robinson has been reintegrated having been left out of the EFL allowed 22 in January (after an injury to another player) and finally got a goal for his efforts. With Devante Rodney also in decent form, as is Tom Conlon, with two goals apiece in the past four. Another win seems possible.


Mariners must hold high-flyers
Grimsby 5.04/1 v Cheltenham 1.910/11; the draw 3.711/4
In the division below League Two, Woking once tried to draw themselves out of the relegation mire. They survived, with a win on the final day and courtesy of neighbourly rivals Farnborough and Aldershot both winning. Grimsby have won once in seven games, drawing the others. They sit very precariously at the foot of League Two, seven points from safety.
Paul Hurst described Salford's late equaliser on Friday as a "kick in the teeth" after Harry Clifton had given the Mariners a second minute lead. At least Jay Matete managed to play the 90 minutes, having been a doubt beforehand. Terrier like in midfield in front of the solid Rollin Menayese at centre-back, the hosts need his energy if they are going to escape relegation.
Seven draws at home give them hope of another. And while another might not itself spring them up towards safety, it would keep their confidence high by keeping an unbeaten run going. Games don't get any easier, with Bradford, Bolton and Morecambe next.
Michael Duff won't want his Cheltenham side to relent, either from their pursuit of recapturing top spot or in terms of the 4-0 mauling they handed out to fourth-placed Tranmere on Friday. The Robins have not drawn in 13 games, but have lost two of their past three away games, at Morecambe and Mansfield. They scored one goal in two of those three and none in the other, again giving the hosts hope that if they can keep Cheltenham to one goal they have a chance of a positive result.
Alfie May might have something to say about that of course, having scored eight times this season, while Liam Sercombe and Will Boyle have also netted recently too. Duff knows his side have been on a run of wins and loses away, but readily acknowledges that they had a string of draws on their travels before that. And Grimsby are desperate to keep up momentum.
If you want to chance it, a goalless draw could ensue: Opta point out that in seven league meetings between the two at Blundell Park, there have only been seven goals. They add that Cheltenham have kept 10 clean sheets away this season, on their way to conceding just 15 goals, a divisional low. And Grimsby have drawn their last three at home, last achieving four in October 2017.
Tuesday April 6,
18:30 kick-off
Carlisle are back on target
Carlisle 2.01/1 v Scunthorpe 4.216/5; the draw 3.711/4
After a couple of victories, Carlisle seem back on the trajectory of the play-offs, where they resided - if not higher - for much of the season.
Six points in a week have put the Cumbrians back within three points of the top seven. Eleven home wins make Chris Beech's side a tough prospect to face. Opta point out they have won just three times in their 10 at Brunton Park. But they suffered horribly in January, when a series of postponements for Covid-19 and the weather effectively wrote off most of the month. Recovery has been tough, with just two wins in the 10 games after their return.
Offrande Zanzala really seems to have found his feet after his arrival from Crewe in January, with four goals. With lots of scorers, from defenders Rhys Bennett and Jon Mellish to strikers Lewis Alessandra and Patrick Omari, opposing defenders can't know who to prioritise.
Scunthorpe have done more than enough to stay up and should not be a match for the hosts, despite a five game unbeaten run which includes the stubborn statistic of four draws. Their last four games have been at home of course. The Iron would really have to score more than once to win, which they have done just once in 10 games, not scoring at all in four. Abo Eise and Ryan Loft, both on eight goals for the season, would love to make it 10 each, but might have to wait until another day.
P/L 2020-21
League Two -18.99pt
FA Cup +13.86pt
Discover the latest articles
Read past articles