Trading on Betfair: Schadenfreude of reality TV makes for good business
I'm a Celeb hosts, Ant & Dec
Schadenfreude is pleasure derived from the misfortunes of others and, as Peter Webb explains, you can actually trade it...
Download a free copy of Bet Angel today
Once a year we are treated to the bug ridden spectacle that is I'm A Celebrity Get Me Out Of Here.
I used to be a bit of a sceptical whether you could reliably trade reality TV shows, but slowly and surely I've come to learn that they actually make good trading fodder. Typically, reality TV shows are very volatile and this is what makes them good trading markets.
We have already seen this on the show this year with Gemma Collins freaked out by just about everything and nearly throwing in the towel even before she reached the camp, and the unfortunate early departure of Craig Charles, which was a shame. Even after he left the camp, rumours that he may return sent his price shooting back in temporarily. He touched odds of 4.216/5 before leaving the camp.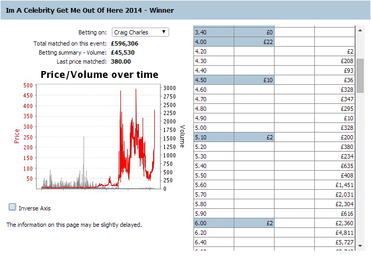 But generally there are few rules that govern these 'sports'. Rules can be changed, the producer can introduce random elements and even random people! It's all a bit chaotic, but this means that the opportunity to back high or lay low is high, so I've come to love these markets.
During the show itself you can get some big moves in the market depending on how people perform. You also find that over the course of the show the public love engaging in a public show of schadenfreude. If the 'celebrity' reacts well to this then they will shorten in price and the public turns to find a new victim to pursue. But some of this does come down to the producers edit, it can be a fun market. Watching the voting patterns for either evictions or trials can be revealing.
We are about to enter the business end of the competition where evictions kick in and that should boost the activity in the market and make things much more interesting. Matched bet volume is already £600k and will go higher.
If you are interested in getting involved there is a thread on the forum where we are discussing it, why not join in? There are some good green screens in there already. In the meantime I'm going to have to keep an eye on things, or at least rely on other members of the family to act as trading advisors!
Download a free trial of Bet Angel today!
Other how to win betting advice articles
How to win and make money betting on Cricket
How to win and make money betting on Golf
How to win and make money betting on Tennis
How to win and make money betting on Boxing
How to win and make money betting on Formula 1
How to win and make money betting on Rugby
How to win and make money betting on Snooker
How to win and make money betting on Darts
How to win and make money betting on the NFL
How to win and make money betting on NBA Basketball
How to win and make money in the Football Match Odds Markets (Pre-Match)
How to make money and win in the Football Match Odds Markets (In-Play)
How to win and make money in the Asian Handicap Markets
How to win and make profits on the Tennis Markets
How to win and make money in the Football Transfer Betting Markets
How to win and make money in-play on the Horse Racing Markets
Discover the latest articles