Click here to download a free trial of Bet Angel today!
Betting in-running on horse racing is big business. Around 20-30% of total turnover on racing is performed in running. That means that on a race turning over a total of £500k at least £100k will be bet after the off.
Thanks to the timely manner with which you can place bet and the tools available to do so; it's a uniquely betting Exchange activity. With a 5f race you have 'a minute to win it', so betting or trading in-running is definitely a modern pursuit requiring split seconds to make a decent decision, an area out of bounds for traditional bookmakers.
It's attracted the attention of a lot of different types of activity. Some people are form based and looking for horses to run in a particular manner, being held up or front run. Some are more intuitive and looking for action during the race to determine their final decision, while some are using pure stats to look for opportunities.
Watching and clicking odds always felt unintuitive to me, so it was for that reason that we invented in-play trader. This tool allows you to display the market with not just the odds on a horse, but also the implied chance. This gives you a huge benefit in how you interpret the information you see on a market. When you look at the display, using implied chance, you will now see the market as close to 'live' as possible.
Each horse starts on one side of the screen and 'runs' to the finishing post. The big benefit of this is that it allows you see, at a glance, how the market is discounting the chance of any horse winning the race.
All the information in the market, from the people at home, to the form students, to the people in the hospitality areas at Southwell is discounted into this graph. Being able to view the market in this manner gives you invaluable insight into the how the race is unfolding. Staring at TV pictures and their odd camera angles can be confusing. Using this tool you can look at your monitor which will show you all the action in a neat and intuitive display.
The current back, lay and last traded odds are displayed alongside the current traded range to show you how the market is reacting to information. If there are a lack of layers the lay price will trailing further up traded range behind the last traded price and vice versa.
A sudden spike in the trading range on a horse other than the favourite can be seen instantly and allow you to shift your attention to that horse. Watch the screen often enough and it's quite easy to spot weakening favourites. When a favourite is about to come under pressure the price starts to 'wobble' around in the market as pressure grows from competing runners. A precursor to a weakening favourite is when the price on another runner starts to 'speed' up within or at the edge or its current trading range.
Placing a bet is simple, you just need to click on space either in front or behind the position of the current odds or runner. You can back, lay or use the mouse buttons to back or lay with one click. That one click will send you bet into the market at the current odds on the screen where you mouse is positioned. You can click anywhere near the dotted line to place a bet unless you have the bet placement option set to 'No bet placement'.
The one-click screen global settings can also be used via the In-play Trader as well, so with a single click on the In-play Trader you'll be able to back a runner and automatically offset the bet with greening to profit from a successful trade, whoever ultimately wins the race.
In the illustration you can see we have a six runner race and when the race started the favourite was almost at evens. One minute, 26 seconds later the second and third favourite's odds have moved appreciably while the favourite is gently sliding out of contention. The move on the third favourites is the strongest and its current lay price is trailing the last traded price by some margin. This is a signal that many backers are chasing the price in as it comes into contention. It's often a sign of a winner and this was true in this case. If you are watching at home this will happen quite a few seconds before you will see in on the TV screen and you can take advantage of that fact.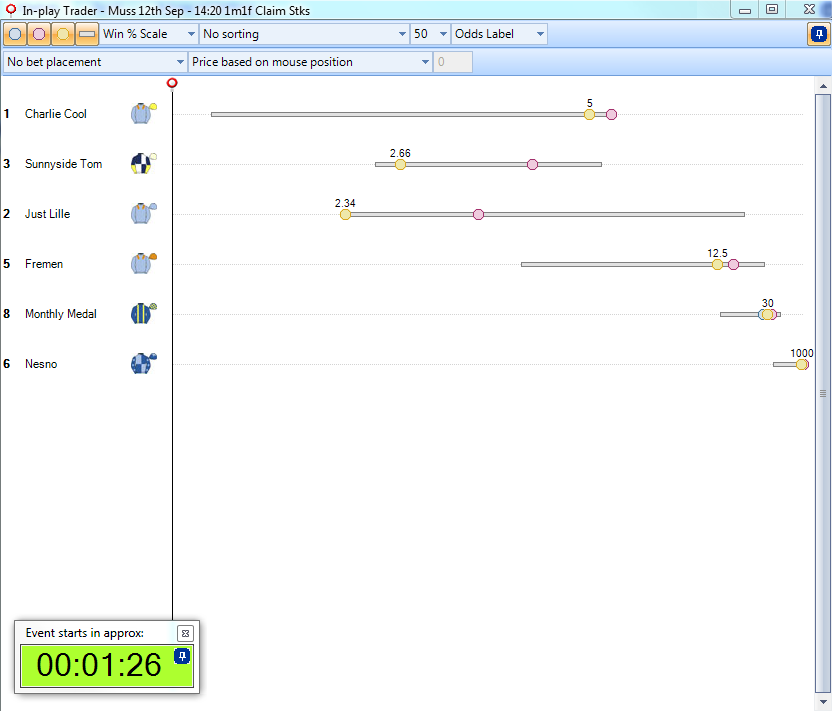 Trading in-running can add another dimension to your existing activity. If you look at the statistics, they are compelling. Most people know that the average off price is around 3/1 as only one third of favourites win. But in-running the average price a favourite reaches in around 2/1 which hints at a lot of potential value when the starter signals the off. Therefore there are a number of elements worth exploring.
With only a third of favourites winning at least two thirds will lose and therefore drift in-running, presenting upside potential. Add to this the number of favourites not in a prime position at some point during the race and the opportunities to benefit from shifting odds in-running multiplies exponentially.
In-play trader is free with Bet Angel and you can also use it in practice mode. This means you can experiment to your heart's content, without the risk of losing any money. Download Bet Angel on a free trial and give it a try today!

Click here to download a free trial of Bet Angel today!
Other how to win betting advice articles
How to win and make money betting on Cricket
How to win and make money betting on Golf
How to win and make money betting on Tennis
How to win and make money betting on Boxing
How to win and make money betting on Formula 1
How to win and make money betting on Rugby
How to win and make money betting on Snooker
How to win and make money betting on Darts
How to win and make money betting on the NFL
How to win and make money betting on NBA Basketball
How to win and make money in the Football Match Odds Markets (Pre-Match)
How to make money and win in the Football Match Odds Markets (In-Play)
How to win and make money in the Asian Handicap Markets
How to win and make profits on the Tennis Markets
How to win and make money in the Football Transfer Betting Markets
How to win and make money on the Reality TV Betting Markets