Trading on Betfair: How football teams buy success and how you can profit from it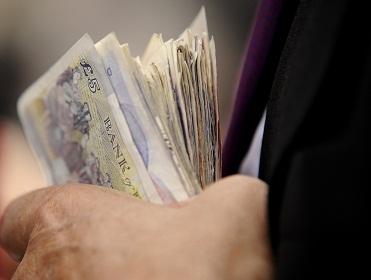 Money, money, money
The amount of money spent in each transfer window seems to grow hugely every year. While it doesn't guarantee success, it gives football traders a good idea of where their money should go, as Peter Webb explains...

"You can pick up some real value from taking positions throughout the season and letting things pan out, as expected."
Learn to trade with BetAngel.TV
It's not rocket science

Quite a few years ago I set about trying to predict promotions and relegations and used all sorts of complicated maths to try and work it out, before eventually stumbling on something much easier to understand by everybody!

After a lot of research, I found that the correlation between wages and final league position was very high. Basically, this means that the league pretty much ended up with the lower spending teams near the bottom and the higher spending teams at the top. The big four, not only tended to end up in the top four, but also had the top four wage bills.  What happened to the three teams with the lowest wage bill? Typically they were relegated. As a supporter of a less wealthy club this wasn't comfortable reading.
Money Talks

If you zoom out and look at it from a broader level it's easy to see how clubs have effectively bought success. I went back over 10 years and added up the wage bills for the top five clubs. Ranked by wage bills, the top clubs were Chelsea, Man Utd, Arsenal, Man City and Liverpool in that order. Man City only started spending recently, so they don't average out well over 10 years just yet. But if you look at the last few years then their expenditure now exceeds Chelsea's.  It's all relative though. Wage bills have sky rocketed over the years so it's just not good enough to spend money, you have to spend more money faster than your rivals or you will slip into relative decline.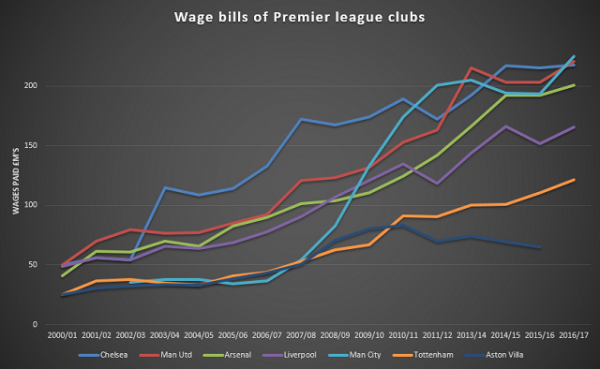 How to profit

Every year you do tend to get one large over or under performer. Overall, under-performers tend to be clustered outside the top four to mid-ranking spenders for some reason; I'll need to do more research to understand why. Over-performers tend to lurk in the lower part of the league. In the middle it all averages out a fair bit and becomes a battle for points, consistency and mid-table obscurity.

So how best can you use all this information? During the pre-season transfers will directly influence these markets. Man City's prolifigate spending this year has pulled their price into favourites for the title. Other teams lack of activity has caused a slight drift. Everton have spent a lot but, of course, its all relative. Without the spending power of bigger clubs their price has shortended, but from no chance, to just a very slight chance of hte title. Transfer spending will pull a price in and lack of it will cause a drift. But even if you spend big a competitior could spend bigger and nullify your efforts.

As the season gets underway, from a betting or trading perspective, it's useful to know as it will allow you to anticipate if a team is performing above or below expectations. Also, you can tell if a team is likely to recover or lose points as the season progresses. I like playing in the winner and relegation markets on this basis.

You can pick up some real value from taking positions throughout the season and letting things pan out, as expected. At the very start of the season big spenders can build the team they want to see them through the season. They may not get off to the best start, or weaker teams a surprisingly good one, but it all typically reverts to mean by the end of the the season. This allows you to trade in and out of the winner market as the season progresses. The January transfer window can throw a few curve balls, so keep an eye on that.
Resigned to relegation?

If the club is struggling financially however, then it is certain that their prospects for doing well in the league will diminish. If a team has a bottomless pit of money then it will most likely improve prospects. New managers can wipe the slate clean and kick start the team back to their appropriate level, but there is little evidence they can get them to perform far above it.

Popular managers who resign can have the opposing effect. You can take advantage of temporarily success or failure by backing or laying a team and trading out when they regress to their rightful place in the league. But you may also be willing to take longer term positions and benefit from increasing certainty or uncertainty as the season progresses.

With that in mind, try and have realistic expectations for your team. But more importantly, enjoy the coming football season; especially if you are trading it!
Discover the latest articles
Read past articles