Find out about Bet Angel's Tennis trading tools at www.tennistrader.com
Volatility is profit

Making money by trading sports is all about volatility, the movement in odds. Lay at a lower price than you can back at and you will make money. The bigger the gap between your lay bet and your back bet the bigger the profit. One of the most volatile and therefore most potentially profitable trading sports is tennis.

There are many reasons why tennis odds are so volatile. But the key reason is that the unusual scoring system lends itself well to significant changes of fortunes for the players. If you have ever played tennis you will know what I mean. You can go from being 2-0 up in a set to 2-3 down just dropping a couple of points on your serve a couple of times.

All that shifting in the score moves the odds accordingly and you often end up getting some pretty wild swings in-play.
Time is you friend

Tennis matches can also last for a long time. For infinity, in theory at least, at Wimbledon. At Wimbledon the fifth set is decided only when a player is two clear games ahead of their opponent. Therefore, it can take a while before a winner is decided.

The most obvious incarnation of this was the Isner-Mahut match in the 2010 championship which streched over three days and 138 games in the last set. It's unlikley you will ever see that again. But it was a pyrrhic victory for both as they slumped in their games following their exchausting battle.

However, the length of the matches means the chance of a large swing in odds and a profitable trade is much more likely. This movement gives you many chances to get on the right side of a trade by laying at a low price or backing high and waiting for the odds to fall in your favour.
Sometimes you can profit from either player

If you look at the next image you can see this in its full glory. The following is a chart of what would have happened if you backed Dancevic with £500 with a view to trading out at some point in the match.

(Click image to enlarge)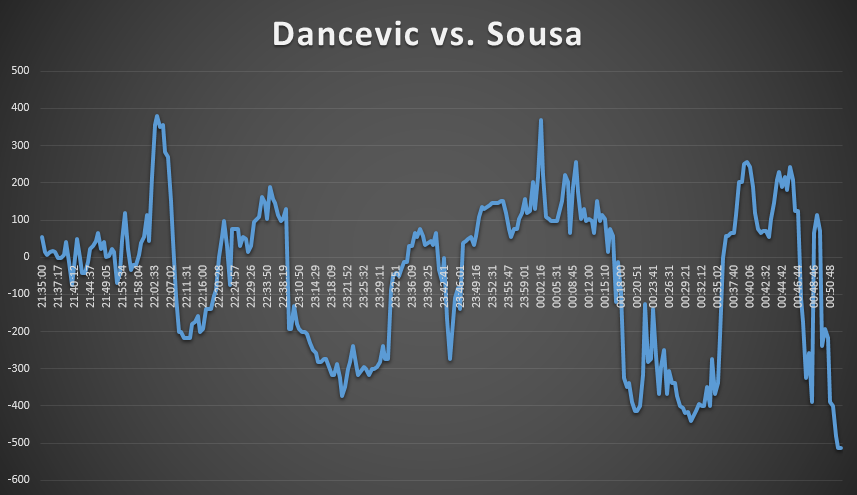 Dancevic started the match at odds of [3.0] and Sousa at [1.5]. You can see that on at least four occasions the odds tipped significantly in favour of Dancevic and you could have cashed out for a really good profit.

Curiously however, you can also see the the graph dips on at least four occasions, meaning that if you had backed Sousa instead of Dancevic you would have profited also. Basically if you had backed or laid either player in the match you would have had a decent chance of profiting at some point during the match. The final score in the match was 7-6, 3-6, 6-2, 4-6, 7-6 to Sousa.
Catching the right market

The best way to trade the tennis markets on Betfair is to trade in and out many times during the match. Catch the market right and this could lead to you getting a trading profit that is a multiple of your stake, putting you firmly into a no lose position. But this will also cover you for the inevitable occasions when you don't get your initial trade correct. Closer matches tend to throw up more opportunities. As you reach the later stages of a Grand Slam tournament, matches tend to get more competitive.

Of course when to get in and out and at what risk is helpful, but how to you achieve this? Bet Angel contains a useful tool called 'Tennis Trader'. Point this tool at the market and it will project forward the score and odds to allow you to understand what need to happen in a market to reach your target odds. From there you can watch the match and decide if will play out that way and trade appropriately.

Download a free trial of Bet Angel today!