US Open 2021: Form guide for the men's singles in New York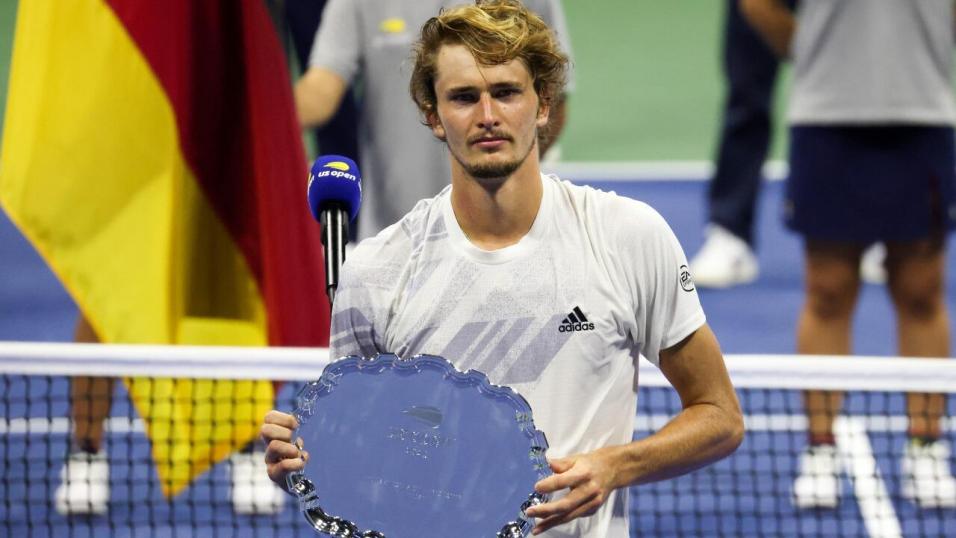 Is in-form Alexander Zverev, last year's runner-up in New York, the man to deny Novak a calendar Grand Slam?
Novak Djokovic travels to New York where he stands on the brink of creating even more tennis history. Form stats for the final Grand Slam of the year supplied by Andy Swales...
"The 24-year-old from Hamburg not only secured gold in Japan, he has just wrapped up the prestigious title in Cincinnati too, and is back up to No 4 in the world."
During the past remarkable decade of men's tennis, almost every Grand Slam tournament seemed to present an opportunity for one of the sport's 'Big Three' stars to reach another career landmark.
One by one Roger Federer, Rafa Nadal and Novak Djokovic have each created tennis history - and on multiple occasions too.
Whether it was Federer's eighth Wimbledon title, or Nadal's 13th victory in Paris, or Djokovic securing a fourth straight Slam title in 2016, milestones and records have been part and parcel of the sport during this incredible period of three-player domination.
Yet even by recent standards, the forthcoming US Open has the potential to blow all of these past landmarks and successes completely out of the water.
If Djokovic were to reign supreme at Flushing Meadows on September 12, he would not only overtake Federer and Nadal in the number of career Grand Slam victories, but he would also become the first player since 1969 (Rod Laver) to bag all four big titles during the same calendar year.
As things stand, all three legends of the sport have won 20 Slam titles each.
Latest odds for the men's singles in New York
That said, Djokovic will first have to overcome the memories of 12 months ago, when his anger got the better of him in round four.
Playing against Pablo Carreno Busta, Djokovic accidentally struck one of the court officials with a ball, after lashing out in frustration towards the end of the first set.
He was duly disqualified, as the rules state, and will arrive in the Big Apple for the 2021 edition with his reputation slightly tarnished.
The 34-year-old had been hoping to win a gold medal in Tokyo last month, but was beaten by in-form German Alexander Zverev at the semi-final stage.
Golden summer continues
As for his main challengers at Flushing Meadows, Zverev is in the hottest form of all.
The 24-year-old from Hamburg not only secured gold in Japan, he has just wrapped up the prestigious title in Cincinnati too, and is back up to No 4 in the world.
Zverev was the runner-up at last year's US Open and will head to New York more confident than ever.
Last year's winner Dominic Thiem has not played in over two months because of a wrist injury, and will not defend his US Open title.
The Austrian joins the injured Federer and Nadal on the sidelines, and it would appear both of these two great players may finally be heading towards the end of their careers.
Federer, who turned 40 earlier this month, hasn't played since Wimbledon, while Nadal has completed just two matches since Roland Garros.
Contenders
This leaves Daniil Medvedev and Stefanos Tsitsipas as the other main challengers for the crown.
World No 2 Medvedev recently won the Masters Series tournament in Montreal, before losing at the semi-final stage in Cincinnati to fellow Russian Andrey Rublev.
The 25-year-old has lost two Grand Slam finals on hard court, including an exciting US Open five-setter to Nadal in 2019.
As for Tsitsipas, he has also lost in a Slam final, going down in five to Djokovic at Roland Garros earlier this year.
Latest odds for the women's singles in New York
Last Saturday, the Greek player was beaten by Zverev in the semi-finals of the Cincinnati Masters, a match which went all the way to a third set tie-break.
On balance, the US Open does appear to be the most unpredictable of the four male slams in recent times.
The last 10 Australian, French and Wimbledon tournaments have crowned no more than three different champions in each event.
The US Open, meanwhile, has welcomed six different men's singles winners between 2011 and 2020.

And regarding this year's event, the big question on everyone's lips is whether any of Djokovic's closest rivals has what it takes to beat the Serb over five sets?
If not, then Djokovic will secure a record-breaking 21st title and end a 52-year wait for the sport to usher in a calendar Grand Slam.
Click here to view 10-year form at Flushing Meadows
Twitter: Andy Swales@GolfStatsAlive
Get a £5 Free Bet on Multiples - Every Day!
Place £20 worth of Multiples or Bet Builders over the course of a day, and, after the bets have settled, you'll get a free £5 bet to use on Multiples or Bet Builders. Bets must settle before 23:59 on the day they're placed. No opt-in required, T&Cs apply.
Last 10 Grand Slam Results (selected players)
| Player | W21 | F21 | A21 | F20 | U20 | A20 | U19 | W19 | F19 | A19 |
| --- | --- | --- | --- | --- | --- | --- | --- | --- | --- | --- |
| Novak Djokovic | Won | Won | Won | RU | Rd-4 | Won | Rd-4 | Won | SF | Won |
| Daniil Medvedev | Rd-4 | QF | RU | Rd-1 | SF | Rd-4 | RU | Rd-3 | Rd-1 | Rd-4 |
| Stefanos Tsitsipas | Rd-1 | RU | SF | SF | Rd-3 | Rd-3 | Rd-1 | Rd-1 | Rd-4 | SF |
| Alexander Zverev | Rd-4 | SF | QF | Rd-4 | RU | SF | Rd-4 | Rd-1 | QF | Rd-4 |
| Andrey Rublev | Rd-4 | Rd-1 | QF | QF | QF | Rd-4 | Rd-4 | Rd-2 | | Rd-1 |
| Matteo Berrettini | RU | QF | Rd-4 | Rd-3 | Rd-4 | Rd-2 | SF | Rd-4 | Rd-2 | Rd-1 |
| Denis Shapovalov | SF | | Rd-3 | Rd-2 | QF | Rd-1 | Rd-3 | Rd-1 | Rd-1 | Rd-3 |
| Casper Ruud | Rd-1 | Rd-3 | Rd-4 | Rd-3 | Rd-3 | Rd-1 | Rd-1 | Rd-1 | Rd-3 | |
| Hubert Hurkacz | SF | Rd-1 | Rd-1 | Rd-1 | Rd-2 | Rd-2 | Rd-1 | Rd-3 | Rd-1 | Rd-1 |
| Pablo Carreno Busta | Rd-1 | Rd-4 | Rd-3 | QF | SF | Rd-3 | Rd-3 | Rd-1 | Rd-3 | Rd-4 |
| Diego Schwartzman | Rd-3 | QF | Rd-3 | SF | Rd-1 | Rd-4 | QF | Rd-3 | Rd-2 | Rd-3 |
| Jannik Sinner | Rd-1 | Rd-4 | Rd-1 | QF | Rd-1 | Rd-2 | Rd-1 | | | |
| Roberto Bautista Agut | Rd-4 | Rd-2 | Rd-1 | Rd-3 | Rd-3 | Rd-3 | Rd-1 | SF | Rd-3 | QF |
| Felix Auger-Aliassime | QF | Rd-1 | Rd-4 | Rd-1 | Rd-4 | Rd-1 | Rd-1 | Rd-3 | | |
| Alex de Minaur | Rd-1 | Rd-2 | Rd-3 | Rd-1 | QF | | Rd-4 | Rd-2 | Rd-2 | Rd-3 |
| Cristian Garin | Rd-4 | Rd-4 | | Rd-3 | Rd-2 | Rd-2 | Rd-2 | Rd-1 | Rd-2 | |
| Grigor Dimitrov | Rd-2 | Rd-1 | QF | Rd-4 | Rd-2 | Rd-2 | SF | Rd-1 | Rd-3 | Rd-4 |
| Gael Monfils | Rd-2 | Rd-2 | Rd-1 | Rd-1 | | Rd-4 | QF | Rd-1 | Rd-4 | Rd-2 |
| Reilly Opelka | Rd-1 | Rd-3 | Rd-2 | Rd-1 | Rd-1 | Rd-1 | Rd-2 | Rd-3 | Rd-1 | Rd-2 |
| Milos Raonic | | | Rd-4 | | Rd-2 | QF | | Rd-4 | | QF |
| Aslan Karatsev | Rd-1 | Rd-2 | SF | | | | | | | |
| John Isner | Rd-1 | Rd-3 | | Rd-2 | Rd-1 | Rd-3 | Rd-3 | Rd-2 | | Rd-1 |
| David Goffin | | Rd-1 | Rd-1 | Rd-1 | Rd-4 | Rd-3 | Rd-4 | QF | Rd-3 | Rd-3 |
| Lorenzo Sonego | Rd-4 | Rd-1 | Rd-2 | Rd-4 | Rd-1 | Rd-1 | Rd-2 | Rd-1 | Rd-1 | |
| Daniel Evans | Rd-3 | Rd-1 | Rd-1 | Rd-1 | Rd-2 | Rd-2 | Rd-3 | Rd-3 | Rd-1 | Rd-2 |
| Ugo Humbert | Rd-1 | Rd-1 | Rd-2 | Rd-1 | Rd-2 | Rd-1 | Rd-1 | Rd-4 | Rd-1 | Rd-1 |
| Karen Khachanov | QF | Rd-2 | Rd-3 | Rd-4 | Rd-3 | Rd-3 | Rd-1 | Rd-3 | QF | Rd-3 |
| Cameron Norrie | Rd-3 | Rd-3 | Rd-3 | Rd-1 | Rd-3 | Rd-1 | Rd-1 | Rd-2 | Rd-1 | Rd-1 |
| Filip Krajinovic | Rd-1 | Rd-2 | Rd-3 | Rd-1 | Rd-3 | Rd-2 | Rd-1 | Rd-1 | Rd-3 | Rd-3 |
| Alejandro Davidovich Fokina | Rd-1 | QF | | Rd-2 | Rd-4 | Rd-2 | | | Rd-1 | |
| Fabio Fognini | Rd-3 | Rd-3 | Rd-4 | Rd-1 | | Rd-4 | Rd-1 | Rd-3 | Rd-4 | Rd-3 |
| Marton Fucsovics | QF | Rd-2 | Rd-3 | Rd-4 | Rd-3 | Rd-4 | Rd-1 | Rd-2 | Rd-1 | Rd-2 |
| Alexander Bublik | Rd-3 | Rd-1 | Rd-2 | Rd-2 | Rd-1 | Rd-1 | Rd-3 | Rd-1 | Rd-2 | |
| Marin Cilic | Rd-3 | Rd-2 | Rd-1 | Rd-1 | Rd-3 | Rd-4 | Rd-4 | Rd-2 | Rd-2 | Rd-4 |
| Nikoloz Basilashvili | Rd-1 | Rd-2 | Rd-1 | Rd-1 | Rd-1 | Rd-2 | Rd-3 | Rd-2 | Rd-1 | Rd-3 |
| Dusan Lajovic | Rd-2 | Rd-1 | Rd-4 | Rd-2 | Rd-1 | Rd-3 | Rd-2 | Rd-1 | Rd-3 | Rd-1 |
| Taylor Fritz | Rd-3 | Rd-2 | Rd-3 | Rd-3 | Rd-3 | Rd-3 | Rd-1 | Rd-2 | Rd-2 | Rd-3 |
| John Millman | Rd-1 | | Rd-1 | Rd-1 | Rd-2 | Rd-3 | Rd-1 | Rd-3 | Rd-1 | Rd-2 |
| Adrian Mannarino | Rd-1 | Rd-1 | Rd-3 | Rd-1 | Rd-3 | Rd-1 | Rd-1 | Rd-1 | Rd-2 | Rd-1 |
| Sebastian Korda | Rd-4 | Rd-1 | | Rd-4 | Rd-1 | | | | | |
| Lloyd Harris | Rd-2 | Rd-2 | Rd-3 | Rd-2 | Rd-2 | Rd-1 | Rd-1 | Rd-1 | Rd-2 | Rd-1 |
| Jan-Lennard Struff | Rd-1 | Rd-4 | Rd-1 | Rd-2 | Rd-3 | Rd-1 | Rd-2 | Rd-3 | Rd-4 | Rd-1 |
| Federico Delbonis | Rd-1 | Rd-4 | | Rd-1 | Rd-1 | Rd-2 | Rd-1 | Rd-1 | Rd-2 | Rd-1 |
| Albert Ramos-Vinolas | Rd-1 | Rd-1 | Rd-1 | Rd-2 | Rd-1 | Rd-1 | Rd-1 | Rd-1 | Rd-1 | Rd-1 |
| Benoit Paire | Rd-1 | Rd-1 | Rd-1 | Rd-2 | | Rd-2 | Rd-2 | Rd-4 | Rd-4 | Rd-1 |
| Laslo Djere | Rd-2 | Rd-3 | Rd-1 | Rd-1 | Rd-1 | Rd-1 | Rd-1 | Rd-2 | Rd-3 | Rd-1 |
| Frances Tiafoe | Rd-3 | Rd-1 | Rd-2 | Rd-1 | Rd-4 | Rd-1 | Rd-2 | Rd-1 | Rd-1 | QF |
| Kei Nishikori | Rd-2 | Rd-4 | Rd-1 | Rd-2 | | | Rd-3 | QF | QF | QF |
| Carlos Alcaraz | Rd-2 | Rd-3 | Rd-2 | | | | | | | |
| Tommy Paul | | Rd-2 | Rd-2 | Rd-2 | Rd-1 | Rd-3 | | | Rd-1 | |
| Dominik Koepfer | Rd-3 | Rd-3 | Rd-2 | Rd-2 | Rd-1 | Rd-1 | Rd-4 | Rd-2 | | |
| Vasek Pospisil | Rd-2 | | Rd-1 | Rd-1 | Rd-4 | Rd-1 | Rd-2 | Rd-1 | | |
| Lorenzo Musetti | Rd-1 | Rd-4 | | | | | | | | |
| Jordan Thompson | Rd-3 | Rd-1 | Rd-1 | Rd-1 | Rd-4 | Rd-2 | Rd-2 | Rd-1 | Rd-3 | Rd-2 |
| Miomir Kecmanovic | Rd-2 | Rd-2 | Rd-2 | Rd-1 | Rd-2 | Rd-1 | Rd-2 | Rd-2 | Rd-2 | Rd-1 |
| Yoshihito Nishioka | Rd-2 | Rd-2 | Rd-1 | Rd-2 | Rd-1 | Rd-3 | Rd-2 | Rd-1 | Rd-2 | Rd-2 |
| Mackenzie McDonald | Rd-1 | Rd-2 | Rd-4 | Rd-2 | Rd-1 | Rd-1 | | | Rd-1 | Rd-2 |
| Federico Coria | Rd-1 | Rd-2 | Rd-1 | Rd-3 | Rd-2 | | | | | |
| Marcos Giron | Rd-2 | Rd-3 | Rd-1 | Rd-2 | Rd-2 | Rd-1 | Rd-1 | Rd-1 | | |
| Richard Gasquet | Rd-2 | Rd-2 | | Rd-1 | Rd-2 | | Rd-1 | Rd-1 | Rd-2 | |
| Ilya Ivashka | Rd-4 | | Rd-1 | | | Rd-1 | Rd-1 | | | Rd-2 |
| Jaume Munar | Rd-1 | Rd-2 | | Rd-1 | Rd-1 | Rd-2 | Rd-1 | Rd-1 | Rd-1 | Rd-1 |
| James Duckworth | Rd-3 | Rd-2 | Rd-2 | Rd-1 | Rd-1 | Rd-1 | | | | Rd-1 |
| Emil Ruusuvuori | Rd-1 | Rd-1 | Rd-2 | Rd-1 | Rd-2 | | | | | |
| Jeremy Chardy | Rd-2 | Rd-1 | Rd-1 | Rd-1 | Rd-1 | Rd-1 | Rd-2 | Rd-2 | Rd-1 | Rd-2 |
| Gianluca Mager | Rd-2 | Rd-2 | Rd-1 | Rd-1 | Rd-1 | | | | | |
| Sam Querrey | Rd-2 | Rd-1 | Rd-1 | Rd-1 | Rd-1 | Rd-3 | Rd-1 | QF | | Rd-1 |
| Pablo Andujar | Rd-2 | Rd-2 | Rd-2 | Rd-1 | Rd-1 | Rd-1 | Rd-4 | Rd-1 | Rd-1 | Rd-1 |
| Alexei Popyrin | Rd-1 | Rd-1 | Rd-2 | Rd-1 | | Rd-3 | Rd-3 | Rd-2 | Rd-2 | Rd-3 |
| Kevin Anderson | Rd-2 | Rd-1 | Rd-1 | Rd-3 | Rd-1 | Rd-2 | | Rd-3 | | Rd-2 |
| Pedro Martinez | Rd-3 | Rd-2 | Rd-3 | Rd-3 | Rd-1 | Rd-2 | | | Rd-1 | |
| Soonwoo Kwon | Rd-2 | Rd-3 | Rd-1 | Rd-1 | Rd-2 | Rd-1 | Rd-1 | Rd-1 | | |
| Steve Johnson | Rd-2 | Rd-3 | | Rd-1 | Rd-2 | Rd-1 | Rd-1 | Rd-3 | Rd-1 | Rd-1 |
| Arthur Rinderknech | Rd-1 | Rd-1 | | Rd-1 | | | | | | |
| Facundo Bagnis | Rd-1 | Rd-2 | | | | | | | | |
| Marco Cecchinato | Rd-1 | Rd-3 | Rd-1 | Rd-3 | Rd-1 | Rd-1 | Rd-1 | Rd-1 | Rd-1 | Rd-1 |
| Egor Gerasimov | Rd-2 | Rd-1 | Rd-2 | Rd-1 | Rd-2 | Rd-2 | Rd-2 | | | |
| Tennys Sandgren | Rd-2 | Rd-1 | Rd-1 | Rd-2 | Rd-1 | QF | Rd-3 | Rd-4 | Rd-1 | Rd-1 |
| Nick Kyrgios | Rd-3 | | Rd-3 | | | Rd-4 | Rd-3 | Rd-2 | | Rd-1 |
| Brandon Nakashima | Rd-1 | | | | Rd-2 | | | | | |
| Andreas Seppi | Rd-2 | Rd-2 | Rd-1 | Rd-1 | Rd-1 | Rd-2 | Rd-1 | Rd-2 | Rd-1 | Rd-3 |
| Ricardas Berankis | Rd-1 | Rd-3 | Rd-2 | Rd-2 | Rd-3 | Rd-2 | Rd-2 | Rd-2 | Rd-1 | |
| Jiri Vesely | Rd-2 | Rd-1 | Rd-2 | Rd-2 | Rd-1 | | Rd-1 | Rd-3 | Rd-1 | Rd-1 |
| Corentin Moutet | Rd-1 | Rd-1 | Rd-2 | Rd-1 | Rd-3 | Rd-1 | Rd-1 | Rd-2 | Rd-3 | |
| Mikael Ymer | Rd-2 | Rd-3 | Rd-3 | Rd-1 | Rd-1 | Rd-2 | | | Rd-2 | |
| Denis Kudla | Rd-3 | | | | Rd-1 | | Rd-3 | Rd-2 | Rd-1 | Rd-2 |
| Thiago Monteiro | Rd-1 | Rd-2 | Rd-2 | Rd-3 | Rd-1 | Rd-1 | Rd-1 | Rd-1 | Rd-1 | |
| Benjamin Bonzi | Rd-2 | Rd-1 | | Rd-2 | | | | | | |
| Andy Murray | Rd-3 | | | Rd-1 | Rd-2 | | | | | Rd-1 |
| Feliciano Lopez | Rd-1 | Rd-1 | Rd-3 | Rd-1 | Rd-1 | Rd-1 | Rd-3 | Rd-2 | Rd-1 | Rd-1 |
| Roberto Carballes Baena | Rd-1 | Rd-1 | Rd-2 | Rd-3 | Rd-2 | Rd-1 | Rd-1 | Rd-1 | Rd-2 | Rd-1 |
| Tallon Griekspoor | Rd-1 | | | | | Rd-1 | | | | |
| Jo-Wilfried Tsonga | Rd-1 | Rd-1 | | | | Rd-1 | Rd-1 | Rd-3 | Rd-2 | Rd-2 |
| Philipp Kohlschreiber | Rd-1 | Rd-3 | | Rd-1 | Rd-1 | Rd-2 | Rd-1 | Rd-1 | Rd-2 | Rd-2 |
| Guido Pella | Rd-1 | Rd-2 | Rd-1 | Rd-2 | Rd-1 | Rd-3 | Rd-1 | QF | Rd-2 | Rd-1 |
| Jenson Brooksby | | Rd-1 | | | | | Rd-2 | | | |
| Stefano Travaglia | Rd-1 | Rd-1 | Rd-1 | Rd-3 | Rd-1 | Rd-1 | | | Rd-1 | Rd-2 |
| Pablo Cuevas | Rd-1 | Rd-2 | Rd-2 | Rd-2 | Rd-1 | Rd-1 | Rd-2 | Rd-2 | Rd-3 | Rd-2 |
| Pierre-Hugues Herbert | Rd-1 | Rd-1 | Rd-1 | Rd-2 | | Rd-2 | Rd-1 | Rd-1 | Rd-2 | Rd-3 |
| Gilles Simon | Rd-1 | Rd-1 | Rd-1 | Rd-1 | Rd-2 | Rd-2 | Rd-2 | Rd-2 | Rd-2 | Rd-2 |
| Norbert Gombos | Rd-1 | Rd-1 | Rd-1 | Rd-3 | Rd-2 | Rd-1 | | | | |
| Carlos Taberner | | Rd-1 | | | | | | | | |
| Bernabe Zapata Miralles | Rd-1 | Rd-1 | | | | | | | | |
| Francisco Cerundolo | | Rd-1 | | | | | | | | |
| Salvatore Caruso | Rd-1 | Rd-1 | Rd-2 | Rd-1 | Rd-3 | Rd-1 | | Rd-1 | Rd-3 | |
| Radu Albot | Rd-1 | Rd-1 | Rd-3 | Rd-2 | Rd-1 | | Rd-1 | Rd-1 | Rd-2 | Rd-2 |
| Taro Daniel | | Rd-1 | Rd-1 | | Rd-1 | | | | Rd-1 | Rd-2 |
Discover the latest articles
Read past articles