French Open 2021: Your form guide for the men's singles championship in Paris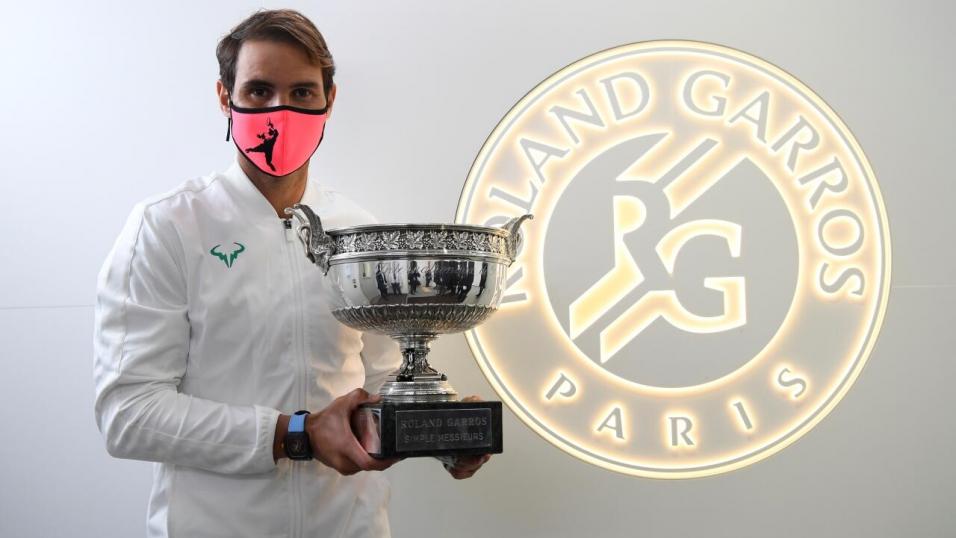 Rafa Nadal: Going for title No 14 in Paris
Since 2005, Rafa Nadal has lost just twice at Roland Garros. So what chance for a 14th title in June? Check out our form stats ahead of Paris 2021. Words and stats by Andy Swales...
"In 16 years at Roland Garros, Nadal has lost just two matches out of 102, with one of these being at the hands of Djokovic in 2015."
Judging by Rafa Nadal's form during this year's European clay court season, the Spaniard does not appear to be ready, just yet, to relinquish his Roland Garros crown.
Seemingly not satisfied with 13 victories on Paris clay, Nadal will once again head to the capital hoping to add another glorious chapter to his catalogue of French Open successes.
Nadal will turn 35 during the opening week of the tournament and, despite losing twice on his favourite surface during early Spring, he won the titles in Barcelona and Rome.
This includes a three-setter against his old rival Novak Djokovic in the final of the Italian Open, which is generally accepted as being the second most important clay court title in tennis.
Djokovic, who recently turned 34, is likely to be his biggest threat when the French Open begins on Sunday, May 30th.
The Serbian is playing a tournament this week in his home country and remains the man most likely to topple the reigning champ.
Latest odds for the men's singles in Paris
In 16 years at Roland Garros, Nadal has lost just two matches out of 102, with one of these being at the hands of Djokovic in 2015.
Yet Djokovic was no match for Nadal at Roland Garros last October, when the tournament was staged five months later than originally planned because of the pandemic.
Djokovic was destroyed in straight sets, winning a total of just two games from the opening two sets. Maybe the warmer conditions of May and June will prevent this from happening this time around.
However, despite these two all-time greats starting out, once again, as the players to beat, the younger brigade are moving ever closer to these legends of men's tennis:
Matteo Berrettini: Won the low grade clay court event in Belgrade during April and reached the final of the Masters Series tournament in Madrid, losing in three sets to Alexander Zverev.
Andrey Rublev: The 23-year-old Russian beat Nadal in Monte Carlo before losing to Stefanos Tsitsipas in the final.
Jannik Sinner: The 19-year-old Italian is the highest-ranked teenager in the men's game. He made it to the semi-finals in Barcelona, having come from nowhere to reach the quarter-finals at Roland Garros last autumn. A highly unlikely winner this year but capable of creating havoc which ever half of the draw he is in.
Latest odds for the women's singles in Paris
Dominic Thiem: A two-time French Open runner-up - no prizes for guessing who beat him on each occasion. Has won more ATP Tour titles on clay than any other surface, but arrives in Paris a little under cooked compared with many of his rivals. However, he did reach the semi-finals in Madrid, losing to Zverev but suffered a shock defeat to Britain's Cameron Norrie in Lyon last week. Is the reigning US Open champion.
Stefanos Tsitsipas: Could just be the guy to end Nadal's run. The 22-year-old from Greece won the Masters Series event in Monte Carlo without dropping a set. He then continued this form in Barcelona right through to the final where he lost 7-5 in the third to Nadal. Also played well in Rome where Djokovic ended his run at the quarter-final stage - once again 7-5 in the decider. He then won the title in Lyon last week, beating Norrie in the final. Tsitsipas took Djokovic to five sets in a Paris semi-final last October.
Alexander Zverev: One of two players to have beaten Nadal on clay this season, winning in straight sets at the quarter-final stage in Madrid. The 24-year-old from Hamburg went on to win the title before Nadal exacted revenge in Rome.
Click here to view 10-year form at Roland Garros
Twitter: Andy Swales@GolfStatsAlive
Get a £5 Free Bet on Multiples - Every Day!
Place £20 worth of Multiples or Bet Builders over the course of a day, and, after the bets have settled, you'll get a free £5 bet to use on Multiples or Bet Builders. Bets must settle before 23:59 on the day they're placed. No opt-in required, T&Cs apply.
Last 10 Grand Slam Results (selected players)
| Player | A21 | F20 | U20 | A20 | U19 | W19 | F19 | A19 | U18 | W18 |
| --- | --- | --- | --- | --- | --- | --- | --- | --- | --- | --- |
| Novak Djokovic | Won | RU | Rd-4 | Won | Rd-4 | Won | SF | Won | Won | Won |
| Daniil Medvedev | RU | Rd-1 | SF | Rd-4 | RU | Rd-3 | Rd-1 | Rd-4 | Rd-3 | Rd-3 |
| Rafael Nadal | QF | Won | | QF | Won | SF | Won | RU | SF | SF |
| Dominic Thiem | Rd-4 | QF | Won | RU | Rd-1 | Rd-1 | RU | Rd-2 | QF | Rd-1 |
| Stefanos Tsitsipas | SF | SF | Rd-3 | Rd-3 | Rd-1 | Rd-1 | Rd-4 | SF | Rd-2 | Rd-4 |
| Alexander Zverev | QF | Rd-4 | RU | SF | Rd-4 | Rd-1 | QF | Rd-4 | Rd-3 | Rd-3 |
| Andrey Rublev | QF | QF | QF | Rd-4 | Rd-4 | Rd-2 | | Rd-1 | Rd-1 | |
| Roger Federer | | | | SF | QF | RU | SF | Rd-4 | Rd-4 | QF |
| Matteo Berrettini | Rd-4 | Rd-3 | Rd-4 | Rd-2 | SF | Rd-4 | Rd-2 | Rd-1 | Rd-1 | Rd-2 |
| Diego Schwartzman | Rd-3 | SF | Rd-1 | Rd-4 | QF | Rd-3 | Rd-2 | Rd-3 | Rd-3 | Rd-2 |
| Roberto Bautista Agut | Rd-1 | Rd-3 | Rd-3 | Rd-3 | Rd-1 | SF | Rd-3 | QF | Rd-1 | |
| Pablo Carreno Busta | Rd-3 | QF | SF | Rd-3 | Rd-3 | Rd-1 | Rd-3 | Rd-4 | Rd-2 | Rd-1 |
| David Goffin | Rd-1 | Rd-1 | Rd-4 | Rd-3 | Rd-4 | QF | Rd-3 | Rd-3 | Rd-4 | Rd-1 |
| Denis Shapovalov | Rd-3 | Rd-2 | QF | Rd-1 | Rd-3 | Rd-1 | Rd-1 | Rd-3 | Rd-3 | Rd-2 |
| Gael Monfils | Rd-1 | Rd-1 | | Rd-4 | QF | Rd-1 | Rd-4 | Rd-2 | Rd-2 | Rd-4 |
| Casper Ruud | Rd-4 | Rd-3 | Rd-3 | Rd-1 | Rd-1 | Rd-1 | Rd-3 | | Rd-1 | |
| Grigor Dimitrov | QF | Rd-4 | Rd-2 | Rd-2 | SF | Rd-1 | Rd-3 | Rd-4 | Rd-1 | Rd-1 |
| Jannik Sinner | Rd-1 | QF | Rd-1 | Rd-2 | Rd-1 | | | | | |
| Hubert Hurkacz | Rd-1 | Rd-1 | Rd-2 | Rd-2 | Rd-1 | Rd-3 | Rd-1 | Rd-1 | Rd-2 | Rd-1 |
| Milos Raonic | Rd-4 | | Rd-2 | QF | | Rd-4 | | QF | Rd-4 | QF |
| Felix Auger-Aliassime | Rd-4 | Rd-1 | Rd-4 | Rd-1 | Rd-1 | Rd-3 | | | Rd-1 | |
| Cristian Garin | | Rd-3 | Rd-2 | Rd-2 | Rd-2 | Rd-1 | Rd-2 | | | |
| Alex de Minaur | Rd-3 | Rd-1 | QF | | Rd-4 | Rd-2 | Rd-2 | Rd-3 | Rd-3 | Rd-3 |
| Karen Khachanov | Rd-3 | Rd-4 | Rd-3 | Rd-3 | Rd-1 | Rd-3 | QF | Rd-3 | Rd-3 | Rd-4 |
| Daniel Evans | Rd-1 | Rd-1 | Rd-2 | Rd-2 | Rd-3 | Rd-3 | Rd-1 | Rd-2 | | |
| Aslan Karatsev | SF | | | | | | | | | |
| Fabio Fognini | Rd-4 | Rd-1 | | Rd-4 | Rd-1 | Rd-3 | Rd-4 | Rd-3 | Rd-2 | Rd-3 |
| Nikoloz Basilashvili | Rd-1 | Rd-1 | Rd-1 | Rd-2 | Rd-3 | Rd-2 | Rd-1 | Rd-3 | Rd-4 | Rd-1 |
| Taylor Fritz | Rd-3 | Rd-3 | Rd-3 | Rd-3 | Rd-1 | Rd-2 | Rd-2 | Rd-3 | Rd-3 | Rd-2 |
| Ugo Humbert | Rd-2 | Rd-1 | Rd-2 | Rd-1 | Rd-1 | Rd-4 | Rd-1 | Rd-1 | Rd-2 | |
| Lorenzo Sonego | Rd-2 | Rd-4 | Rd-1 | Rd-1 | Rd-2 | Rd-1 | Rd-1 | | Rd-2 | Rd-1 |
| John Isner | | Rd-2 | Rd-1 | Rd-3 | Rd-3 | Rd-2 | | Rd-1 | QF | SF |
| Benoit Paire | Rd-1 | Rd-2 | | Rd-2 | Rd-2 | Rd-4 | Rd-4 | Rd-1 | Rd-2 | Rd-3 |
| Adrian Mannarino | Rd-3 | Rd-1 | Rd-3 | Rd-1 | Rd-1 | Rd-1 | Rd-2 | Rd-1 | Rd-1 | Rd-4 |
| Dusan Lajovic | Rd-4 | Rd-2 | Rd-1 | Rd-3 | Rd-2 | Rd-1 | Rd-3 | Rd-1 | Rd-3 | Rd-1 |
| Albert Ramos-Vinolas | Rd-1 | Rd-2 | Rd-1 | Rd-1 | Rd-1 | Rd-1 | Rd-1 | Rd-1 | Rd-1 | Rd-1 |
| Filip Krajinovic | Rd-3 | Rd-1 | Rd-3 | Rd-2 | Rd-1 | Rd-1 | Rd-3 | Rd-3 | Rd-1 | Rd-1 |
| Alexander Bublik | Rd-2 | Rd-2 | Rd-1 | Rd-1 | Rd-3 | Rd-1 | Rd-2 | | | |
| Jan-Lennard Struff | Rd-1 | Rd-2 | Rd-3 | Rd-1 | Rd-2 | Rd-3 | Rd-4 | Rd-1 | Rd-3 | Rd-3 |
| John Millman | Rd-1 | Rd-1 | Rd-2 | Rd-3 | Rd-1 | Rd-3 | Rd-1 | Rd-2 | QF | Rd-2 |
| Marin Cilic | Rd-1 | Rd-1 | Rd-3 | Rd-4 | Rd-4 | Rd-2 | Rd-2 | Rd-4 | QF | Rd-2 |
| Marton Fucsovics | Rd-3 | Rd-4 | Rd-3 | Rd-4 | Rd-1 | Rd-2 | Rd-1 | Rd-2 | Rd-1 | Rd-1 |
| Kei Nishikori | Rd-1 | Rd-2 | | | Rd-3 | QF | QF | QF | SF | QF |
| Miomir Kecmanovic | Rd-2 | Rd-1 | Rd-2 | Rd-1 | Rd-2 | Rd-2 | Rd-2 | Rd-1 | | |
| Reilly Opelka | Rd-2 | Rd-1 | Rd-1 | Rd-1 | Rd-2 | Rd-3 | Rd-1 | Rd-2 | | |
| Alejandro Davidovich Fokina | | Rd-2 | Rd-4 | Rd-2 | | | Rd-1 | | | |
| Cameron Norrie | Rd-3 | Rd-1 | Rd-3 | Rd-1 | Rd-1 | Rd-2 | Rd-1 | Rd-1 | Rd-2 | Rd-1 |
| Dominik Koepfer | Rd-2 | Rd-2 | Rd-1 | Rd-1 | Rd-4 | Rd-2 | | | | |
| Lloyd Harris | Rd-3 | Rd-2 | Rd-2 | Rd-1 | Rd-1 | Rd-1 | Rd-2 | Rd-1 | Rd-1 | |
| Laslo Djere | Rd-1 | Rd-1 | Rd-1 | Rd-1 | Rd-1 | Rd-2 | Rd-3 | Rd-1 | Rd-2 | Rd-1 |
| Richard Gasquet | | Rd-1 | Rd-2 | | Rd-1 | Rd-1 | Rd-2 | | Rd-3 | Rd-1 |
| Jeremy Chardy | Rd-1 | Rd-1 | Rd-1 | Rd-1 | Rd-2 | Rd-2 | Rd-1 | Rd-2 | Rd-2 | Rd-1 |
| Tommy Paul | Rd-2 | Rd-2 | Rd-1 | Rd-3 | | | Rd-1 | | | |
| Aljaz Bedene | Rd-1 | Rd-3 | Rd-1 | Rd-2 | Rd-3 | Rd-1 | Rd-1 | Rd-1 | Rd-1 | Rd-2 |
| Guido Pella | Rd-1 | Rd-2 | Rd-1 | Rd-3 | Rd-1 | QF | Rd-2 | Rd-1 | Rd-3 | Rd-3 |
| Yoshihito Nishioka | Rd-1 | Rd-2 | Rd-1 | Rd-3 | Rd-2 | Rd-1 | Rd-2 | Rd-2 | Rd-1 | Rd-1 |
| Feliciano Lopez | Rd-3 | Rd-1 | Rd-1 | Rd-1 | Rd-3 | Rd-2 | Rd-1 | Rd-1 | Rd-1 | Rd-2 |
| Alexei Popyrin | Rd-2 | Rd-1 | | Rd-3 | Rd-3 | Rd-2 | Rd-2 | Rd-3 | | |
| Jordan Thompson | Rd-1 | Rd-1 | Rd-4 | Rd-2 | Rd-2 | Rd-1 | Rd-3 | Rd-2 | Rd-1 | Rd-1 |
| Federico Delbonis | | Rd-1 | Rd-1 | Rd-2 | Rd-1 | Rd-1 | Rd-2 | Rd-1 | Rd-1 | Rd-1 |
| Tennys Sandgren | Rd-1 | Rd-2 | Rd-1 | QF | Rd-3 | Rd-4 | Rd-1 | Rd-1 | Rd-2 | Rd-1 |
| Sam Querrey | Rd-1 | Rd-1 | Rd-1 | Rd-3 | Rd-1 | QF | | Rd-1 | Rd-1 | Rd-3 |
| Sebastian Korda | | Rd-4 | Rd-1 | | | | | | | |
| Corentin Moutet | Rd-2 | Rd-1 | Rd-3 | Rd-1 | Rd-1 | Rd-2 | Rd-3 | | Rd-1 | |
| Stefano Travaglia | Rd-1 | Rd-3 | Rd-1 | Rd-1 | | | Rd-1 | Rd-2 | Rd-1 | Rd-1 |
| Gilles Simon | Rd-1 | Rd-1 | Rd-2 | Rd-2 | Rd-2 | Rd-2 | Rd-2 | Rd-2 | Rd-2 | Rd-4 |
| Jo-Wilfried Tsonga | | | | Rd-1 | Rd-1 | Rd-3 | Rd-2 | Rd-2 | | |
| Jiri Vesely | Rd-2 | Rd-2 | Rd-1 | | Rd-1 | Rd-3 | Rd-1 | Rd-1 | | Rd-4 |
| Frances Tiafoe | Rd-2 | Rd-1 | Rd-4 | Rd-1 | Rd-2 | Rd-1 | Rd-1 | QF | Rd-2 | Rd-3 |
| Emil Ruusuvuori | Rd-2 | Rd-1 | Rd-2 | | | | | | | |
| Pablo Andujar | Rd-2 | Rd-1 | Rd-1 | Rd-1 | Rd-4 | Rd-1 | Rd-1 | Rd-1 | | |
| Radu Albot | Rd-3 | Rd-2 | Rd-1 | | Rd-1 | Rd-1 | Rd-2 | Rd-2 | Rd-1 | Rd-3 |
| Egor Gerasimov | Rd-2 | Rd-1 | Rd-2 | Rd-2 | Rd-2 | | | | | |
| Thiago Monteiro | Rd-2 | Rd-3 | Rd-1 | Rd-1 | Rd-1 | Rd-1 | Rd-1 | | | |
| Fernando Verdasco | | | | Rd-3 | Rd-2 | Rd-4 | Rd-2 | Rd-3 | Rd-3 | Rd-1 |
| Salvatore Caruso | Rd-2 | Rd-1 | Rd-3 | Rd-1 | | Rd-1 | Rd-3 | | | |
| Lorenzo Musetti | | | | | | | | | | |
| Jaume Munar | | Rd-1 | Rd-1 | Rd-2 | Rd-1 | Rd-1 | Rd-1 | Rd-1 | Rd-2 | |
| Marcos Giron | Rd-1 | Rd-2 | Rd-2 | Rd-1 | Rd-1 | Rd-1 | | | | |
| Steve Johnson | | Rd-1 | Rd-2 | Rd-1 | Rd-1 | Rd-3 | Rd-1 | Rd-1 | Rd-2 | Rd-1 |
| Lucas Pouille | | | | | Rd-2 | Rd-3 | Rd-2 | SF | Rd-3 | Rd-2 |
| Pierre-Hugues Herbert | Rd-1 | Rd-2 | | Rd-2 | Rd-1 | Rd-1 | Rd-2 | Rd-3 | Rd-2 | Rd-2 |
| Norbert Gombos | Rd-1 | Rd-3 | Rd-2 | Rd-1 | | | | | | Rd-1 |
| Soonwoo Kwon | Rd-1 | Rd-1 | Rd-2 | Rd-1 | Rd-1 | Rd-1 | | | | |
| Gianluca Mager | Rd-1 | Rd-1 | Rd-1 | | | | | | | |
| Federico Coria | Rd-1 | Rd-3 | Rd-2 | | | | | | | |
| Ricardas Berankis | Rd-2 | Rd-2 | Rd-3 | Rd-2 | Rd-2 | Rd-2 | Rd-1 | | Rd-1 | Rd-1 |
| Ilya Ivashka | Rd-1 | | | Rd-1 | Rd-1 | | | Rd-2 | | |
| Pedro Martinez | Rd-3 | Rd-3 | Rd-1 | Rd-2 | | | Rd-1 | | | |
| Yannick Hanfmann | Rd-1 | | | | | | Rd-1 | | Rd-1 | |
| Roberto Carballes | Rd-2 | Rd-3 | Rd-2 | Rd-1 | Rd-1 | Rd-1 | Rd-2 | Rd-1 | Rd-2 | Rd-1 |
| Andreas Seppi | Rd-1 | Rd-1 | Rd-1 | Rd-2 | Rd-1 | Rd-2 | Rd-1 | Rd-3 | Rd-2 | Rd-2 |
| Juan Ignacio Londero | Rd-1 | Rd-2 | Rd-2 | Rd-1 | Rd-2 | Rd-1 | Rd-4 | | | |
| Kevin Anderson | Rd-1 | Rd-3 | Rd-1 | Rd-2 | | Rd-3 | | Rd-2 | Rd-4 | RU |
| Marco Cecchinato | Rd-1 | Rd-3 | Rd-1 | Rd-1 | Rd-1 | Rd-1 | Rd-1 | Rd-1 | Rd-1 | Rd-1 |
| James Duckworth | Rd-2 | Rd-1 | Rd-1 | Rd-1 | | | | Rd-1 | Rd-1 | Rd-1 |
| Mikael Ymer | Rd-3 | Rd-1 | Rd-1 | Rd-2 | | | Rd-2 | | | |
| Mikhail Kukushkin | Rd-1 | Rd-2 | Rd-3 | Rd-1 | Rd-2 | Rd-4 | Rd-1 | Rd-1 | Rd-3 | Rd-2 |
| Pablo Cuevas | Rd-2 | Rd-2 | Rd-1 | Rd-1 | Rd-2 | Rd-2 | Rd-3 | Rd-2 | | Rd-1 |
| Facundo Bagnis | | | | | | | | | Rd-1 | |
| Joao Sousa | | Rd-1 | Rd-1 | Rd-1 | Rd-1 | Rd-4 | Rd-1 | Rd-3 | Rd-4 | Rd-1 |
| Philipp Kohlschreiber | | Rd-1 | Rd-1 | Rd-2 | Rd-1 | Rd-1 | Rd-2 | Rd-2 | Rd-4 | Rd-3 |
Discover the latest articles
Read past articles