Mercury Music Prize: Time for jazz nominee to go from token to triumph?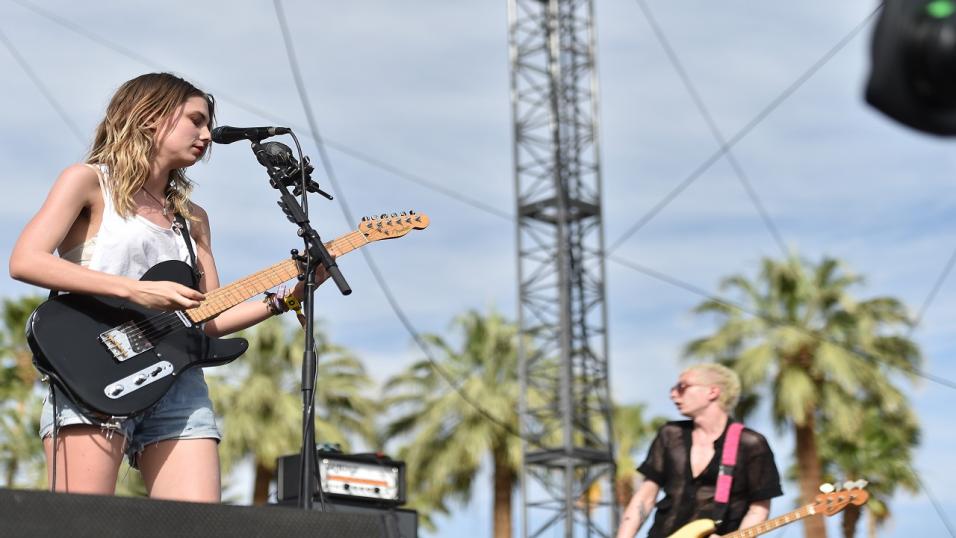 Wolf Alice are a good outside bet to win the 2018 Mercury, says Max
The winner of the Mercury Music Prize will be announced live on BBC Four on Thursday evening, so Max Liu has had a good look and listen to the nominees to select his bet...
"King Krule's 'Biscuit Town' contains my favourite couplet of any track on this shortlist: 'He left the crime scene without the Motorola/Still had dreams of being Gianfranco Zola.'"
When the Mercury Music Prize shortlist was announced in July, and before a market had even gone up on Betfair, I had a good feeling about Sons of Kemet's chances. But last week, when SoK were 7/2 on Sportsbook, I started to get cold feet.
I still liked the band's chances but wasn't keen on their odds, in part due to my aversion to backing the favourite in this famously unpredictable betting event. I've picked bets for this prize ten times (with four winners) and on only two of those occasions did the favourites - The xx (2010) and PJ Harvey (2011) - triumph. Both those artists were likelier winners than SoK.
Early favourites' drift is good news
The good news on the eve of the prize is that SoK have drifted to 5/1, which means they're no longer the market's favourites.
But Your Queen is a Reptile is still a thunderously good album, although it arguably works better when SoK play it live. Just as jazz has achieved mainstream prominence again in America in recent years, with the emergence of artists such as Kamasi Washington, the UK scene is buzzing with a new generation of musicians who are inventive, diverse and passionately political.
Sons of Kemet are all these things and, as with Skepta and grime a couple of years ago, they represent the pinnacle of the scene (or, if you like, the artists with the most potential for achieving mainstream success).
Your Queen... is an accessible jazz record that even features words ("f**k Brexit" among them).
Band leader and saxophonist Shabaka Hutchings was previously nominated for the Mercury with his other outfit, The Comet is Coming, while former-SoK drummer Seb Rochford has twice been shortlisted with Polar Bear. So in terms of pedigree it will be no shock if SoK win.
Nadine Shah is the new favourite at 3/1
The Mercury is synonymous with first albums, with 80% of the prize's 25 winners being debuts, including the past four, but I think that run is about to end. I simply don't believe either Jorja Smith 6/1 or Novelist 12/1 are going to win and I'd also rule out Everything is Recorded 10/1.
Mercury winners of the past decade have been largely male, with PJ Harvey (2011) the most recent woman solo artist to win. But now Nadine Shah is 3/1 favourite for Holiday Destination, a post-punk meditation on refugees, Islamophobia and other contemporary topics. It's a distinctive record but the odds on the Sunderland singer are too short.
Bettors and critics alike rate King Krule 9/2. The Ooz is a subtle and detailed work, although I can see it being the kind of album that wins the Mercury then sinks - a la Speech Debelle (2009) and, to some degree, Sampha (2017) - and the judges might wish to avoid that this year. That said, KK's "Biscuit Town" contains my favourite couplet of any track on this shortlist: "He left the crime scene without the Motorola/Still had dreams of being Gianfranco Zola."
Visions of a victory for Wolf Alice?
A colleague, who made money backing Sampha in 2017, liked the look of Wolf Alice last week at 10/1 for Visions of a Life. They've since shortened to 8/1 but, the lack of an Exchange market where in previous years we've backed artists at long odds, means the price is still appealing.
Mercury winners often spring from the middle of the market and that's exactly where Wolf Alice find themselves. This is their second nomination and, if I were picking an outside bet, I'd back them.
Famous last words perhaps, but I think we can ignore the big names - Arctic Monkeys, Florence and the Machine, Lily Allen, Noel Gallagher and, to a lesser degree, Everything Everything.
Why I'm backing Sons of Kemet at 5/1
It's a Mercury tradition to dismiss the jazz act on the shortlist as "token", while quietly adding that one day the jazzers will surprise us all and win. Some experts believe this is a weak year for the Mercury, while others think the prize is broken, but a victory for Sons of Kemet would be refreshing, relevant and, as the odds indicate, not a huge surprise.
When it comes to betting on the Mercury, I'm a great believer in trying to gauge which artists capture the zeitgeist. It's not always a successful strategy - you'd hardly say Alt-J (2012) or Sampha (2017) distilled the temper of our times - but it worked in 2016 when I tipped Skepta at 8/1 and I sense we could see something similar on Thursday.
That will still apply if Nadine Shah or, in a different way, Wolf Alice win. Having come this far with Sons of Kemet, though, I'm sticking with the south London jazz ensemble as my pick to win the Mercury Music Prize 2018.