2020 US Election: Amy Klobuchar would be Trump's nightmare opponent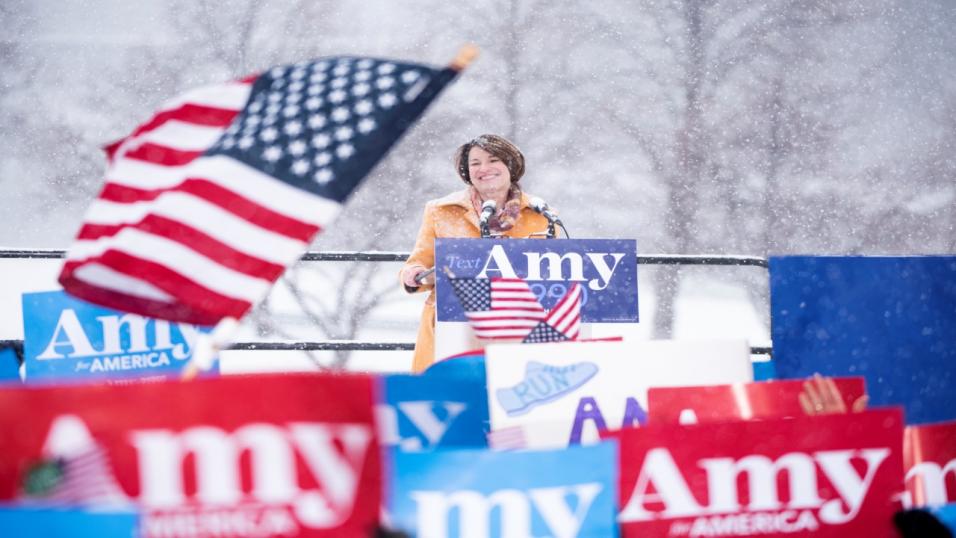 Amy Klobuchar is well-placed to win the decisive midwest states
Minnesota Senator Amy Klobuchar is the latest Democrat to declare her bid for the presidency. Recommending a bet at 23-1, Paul Krishnamurty now rates her second likeliest to win...
"Last November, Klobuchar won 43 Trump-voting counties in one of the best Democrat results among a historic wave."
All elections are, apparently, now fought on social media. After 2016, it would be presumptive for political pundits to confidently predict who will fare best in that anarchic environment. I shall, therefore, just leave last night's exchange between two 2020 candidates here for you to decide.
Well, it happened again. Amy Klobuchar announced that she is running for President, talking proudly of fighting global warming while standing in a virtual blizzard of snow, ice and freezing temperatures. Bad timing. By the end of her speech she looked like a Snowman(woman)!

? Donald J. Trump (@realDonaldTrump) February 10, 2019
Science is on my side, @realDonaldTrump. Looking forward to debating you about climate change (and many other issues). And I wonder how your hair would fare in a blizzard?

Everyone else can join my team and contribute at https://t.co/Hz91NGE8hB https://t.co/Xjjz9I2Fw7

? Amy Klobuchar (@amyklobuchar) February 10, 2019
Yesterday, Klobuchar became the fifth Democrat woman to enter the race - all of whom are trading below 100-1 on Betfair. The Minnesota Senator is one to take very seriously.
Minnesota moderate is rising fast
Now she has confirmed - it wasn't certain - I rate Klobuchar second only to the prohibitively priced Kamala Harris. 24.023/1 represents an excellent value trade to keep going forward - the best on the market. Here's why.
Regular readers will know that I don't think Trump will even be the Republican candidate and if he were, nearly all the 57% who say now they definitely won't vote for Trump will back whoever the Democrats put up. Some, nevertheless, would fare better than others. Lest we forget, they chose a damaged figure with her own negative approval ratings in 2016.
In the absence of Hillary, Trump would ideally prefer a radical opponent that energises his base. One that he could portray as soft on immigration and crime. A socialist he could brand as economically inept and liken to Venezuela, which will remain newsworthy. Someone from New York or California who struggles in the decisive swing states, or alienates the white suburban women that flipped on a vast scale in the mid-terms.
Trump should fear a pragmatic, midwest woman
Klobuchar is none of those things. In fact her greatest weakness regarding the primaries will be her lack of radicalism. She is the antithesis of Trump. A stable, ordinary former prosecutor, labelled 'Minnesota Nice'. It works. In being re-elected for a third Senate term last November, she won 43 Trump-voting counties in one of the best Democrat results among a historic wave.
Her current odds of 24.023/1 reflect a virtual non-presence in early polls for the nomination. Don't read anything into that - they are virtually meaningless at this stage, driven by name recognition. Joe Biden is on 33% but may well not run. Harris is on just 7%. Everything will change once the TV debates start.
This is where betting early on elections is fraught with risk. Candidates can rise and fall in an instant on TV. This time four years ago, Jeb Bush, Scott Walker, Rick Perry and Rand Paul were rated the top-four Republican candidates. Despite spending many tens of millions, none were even competitive. Mike Huckabee couldn't even qualify for the main debate stage.
Perhaps a similar fate awaits the little-known Klobuchar. It is impossible to predict the dynamics this far ahead. On the touchstone policy issues - healthcare, education, immigration - she is more centrist than her main rivals, and this will be attacked. Primary voters who want a female candidate but disagree with Klobuchar on Medicare for all will have plenty of alternative options.
Equally though, the fact Biden is taking one voter in three could imply the Democrat base is relatively centrist. Many saw Bernie Sanders' rapid rise in 2016 as evidence of the party moving left, and it is true that he popularised positions that are becoming mainstream.
However Clinton still won and he was as likely boosted by a reaction against her, than a conversion to socialism. The fact he is on 12% and Elizabeth Warren just 5% doesn't indicate the latter. Interestingly, Democrats are much more concerned with electability this time - another positive for Klobuchar.
Next, she must build name recognition. That shouldn't be a problem given her high profile role in the Senate - she earned many plaudits during the Kavanaugh hearings. Then establish herself in the debates as a serious primary candidate.
Few if any rivals are better placed for Iowa
By this autumn, I doubt there will be a clear front-runner. Focus must shift to the early primary states, where everybody will be embedded. The golden rule for each party nomination is that you have to win either the Iowa Caucus or New Hampshire Primary.
Klobuchar's chance fundamentally hinges on the first. Her state neighbours Iowa and she is a regular visitor. Local polls show her reaching 10% already and her campaign will be laser-focused on the Hawkeye State from now, along with the other midwest targets lost to Trump in 2016 - Wisconsin, Michigan, Ohio.
Win Iowa and she will be certain of making the late February cut, when all but the last few candidates will have withdrawn. Perhaps at this stage, Klobuchar will ultimately lose to a more left-wing candidate, but she will be trading at a fraction of her current odds. Get on now at anything above 20/1.
Bet on the 2020 US Election here
2020 US President
2020 Democrat Nominee
2020 Republican Nominee
Follow Paul on Twitter and check out his website, Political Gambler.
Recommended bets
Back Amy Klobuchar to win the 2020 US Presidential Election @ 24.023/1
Discover the latest articles
Read past articles