The Squeeze Play
Poker Strategy

/ Short-Stacked Shamus / 01 March 2012 / Leave a Comment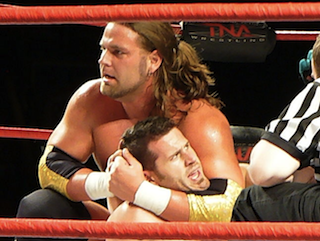 A well-planned squeeze play can put your opponents in a painful spot.
To try the squeeze play requires you know your opponents fairly well. Your own table image is important, too, since your reraise should indicate genuine strength and encourage your opponents to fold.
The term "squeeze play" is sometimes used loosely to describe all sorts of situations in "big bet" games like no-limit hold'em and pot-limit Omaha in which a player exerts pressure on another with a hefty raise. But in fact, the term has a specific meaning, referring to a particular variety of bluffing and a relatively sophisticated strategic move.
In truth, the squeeze play is probably one of those plays many poker players might safely leave at home, particularly lesser-skilled ones or those playing in games in which novices predominate. Not only does the play require strong opponent-reading abilities from the one making the move, but often also needs to be targeted against players who are capable of folding to what Dan Harrington once described as "an advanced and elegant bluff."
The Right Spot to Squeeze
Unlike most other strategic moves in poker involving a single opponent, the squeeze play technically requires three-way action. The play involves making a reraise -- usually a big one -- following a preflop raise and call. You "squeeze" the initial raiser between your own declaration of strength and his or her uncertainty about the caller behind, hopefully forcing the raiser to fold a strong hand, then encourage the caller to fold as well.
To give a concrete example, let's say you are in a multi-table tournament and find yourself in the big blind with a competitive stack. By "competitive" I mean you have enough chips to be able to make moves like a squeeze play preflop without undesirably committing yourself to going all in with a subpar hand. Opinions vary, but generally speaking a stack of at least 30-40 big blinds might be considered competitive, although some daring types -- and solid readers of opponents -- might be willing to try the squeeze with less.
A player in the cutoff makes a raise of 2.5x the big blind, the player on the button calls, and the small blind folds. Regardless of your hand, this is precisely the context in which you might "squeeze" with a reraise.
Since your goal is to induce folds from your two opponents, you want to choose an appropriate amount to pressure the others to let go of their hands. In this case there are 6.5 big blinds in the middle (including your BB), to which there may also be antes which might add up to another big blind. A big pot-sized reraise of around 7-8x the big blind, say, can make it very difficult for the original raiser to just call you, especially since he doesn't know what the player on the button will do.
Of course, if the raiser comes over the top with a four-bet, you know he means business and should step aside. But with most of his probable hands, your reraise has just made life difficult for him. And as far as the caller on the button goes, he, too, now should have poor odds to call with what is likely a speculative hand.
Reading Others, Including How They Read You
As mentioned, to try the squeeze play requires you know your opponents fairly well. Here you have observed the cutoff opening with a wide range from late position, and perhaps in this instance have some other, extra information that suggests he's not opening with a premium hand. You've also seen the button playing passively and/or loosely before the flop, and don't suspect him either of trying to get cheeky with a monster. Finally, you also should be confident that both are capable of folding after committing chips preflop, something we all know certain players -- especially less-skilled ones -- have trouble doing.
Of additional importance is your own table image. Your reraising from out of position in this instance -- or really any preflop three-bet (squeeze plays can be made in position, too) -- should indicate genuine strength to your opponents. In other words, if you've been caught bluffing or getting out of line previously, the chances of a squeeze play working go down considerably.
There is one other point worth mentioning with regard to the squeeze play. Like most other advanced strategies, especially in no-limit hold'em, players today are more familiar with the move, and in fact a reraise out of the blinds (as in our example) often will today be viewed with suspicion by those who have repeatedly seen the squeeze play or use the play themselves.
In fact, such wariness from opponents can benefit you greatly in those instances when you make a preflop reraise following a raise and call and happen to hold a big hand. Players noticing you've three-bet in a spot when a squeeze play is in order may not believe you have the big hand you're representing, and might even try to four-bet lightly in response thinking you'll be folding the rags they think you have.
Then your decision will be easy. Much easier, in fact, than it is to find the right spot to pull an actual squeeze play.