Opening Raise Sizes with Premium Hands
Poker Strategy

/ Short-Stacked Shamus / 23 February 2012 / Leave a Comment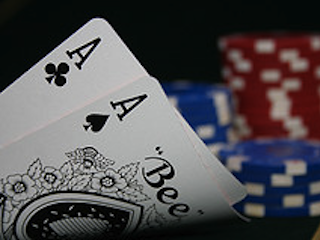 Some players instinctively want to raise more before the flop with pocket aces than they would otherwise, which may or may not be a good instinct depending on the game.
You know you want to raise those premium hands before the flop. But when doing so, think about the game you are in and what size of raise is best-suited to accomplishing your goal of profiting from those big hands.
I recently reviewed Nathan Williams' Crushing the Microstakes and interviewed Williams as well. As the title suggests, the book focuses on the lowest-limit games, with Williams' concentrating primarily on NL2 and NL5 full ring no-limit hold'em. Among the many pieces of advice perhaps unique to microstakes' games that Williams offers is one regarding sizing preflop raises when holding premium hands.
Williams suggests that down at the microstakes where the big blind can be as little as $0.02 or $0.05, it is not at all a bad idea to raise more than you normally might whenever you pick up a premium hand. In other words, if you're dealt A-K or Q-Q, you might open for 6x rather than 3-4x. And with A-A and K-K, Williams says to consider opening for even more, say 8x the big blind.
One reason for the larger raises is that at these lower stakes, many players aren't making much of a distinction between, say, a raise to $0.08 and a raise to $0.16. Of course, one always needs to keep in mind how the table has been playing -- every now and then one does encounter a tableful of tight players at the micros -- as well as position and stack sizes (as always).
But as Williams points out, at these stakes you're often in a spot where "money is no object," at least relatively speaking. And since you want to play big pots with your big hands, take advantage of opponents' loose-calling habits at these limits and start building a pot early. (It should be added that Williams advocates playing deep -- i.e., buying in for the max., typically 100 BB -- and so big preflop raises still allow us to play poker after the flop, too.)
This advice can occasionally apply to higher-stakes games where one might also encounter tables full of loose-passive players who are as quick to call oversized opens as they are to call normal-sized preflop raises.
While players tend to tighten up and (on average) play more skillfully in higher-stakes online poker, live games will often attract the same sort of loose-passive player who calls 6x or 8x preflop raises with speculative holdings, especially in the lowest-stakes hold'em games being spread (e.g., with $1/$2 blinds). Thus it is possible the same strategy of going ahead and raising big with your pocket rockets might in certain instances be worth employing in that context. However, there are reasons against doing so, too.
For one, you always need to consider how the "standard" opening preflop raise changes from table to table. In those $1/$2 live games, a 5x opening raise (or more) is often going to be the norm. Thus will larger-than-normal opening raises be bigger, too, which may actually make following such a strategy with premium holdings less than desirable.
There's another reason why the advice to raise big with premium holdings works well for microstakes but might not necessarily be a good idea for the low-limit live game. As Williams explains, not only are players loosely calling the 8x open at the micros online, they're also often not paying attention to your bet-sizing and so fail to pick up on what should be an exploitable pattern in your betting amounts when raising preflop.
Players in low-limit live games are also often inattentive, but one action that tends to be conspicuous and thus get you notice is to raise an unusual amount before the flop. In fact, a lot of live $1/$2 players often routinely exhibit this very tell -- e.g., raising big with A-A or A-K with such regularity that they might as well turn their cards over. More savvy players then pick up on the pattern, and often take advantage as a result.
Much of poker involves picking up on our opponents' patterns while trying to keep others from discovering our own. You know you want to raise those premium hands in no-limit hold'em. But when doing so, think about the game you are in and what size of raise is best-suited to accomplishing your goal of profiting from those big hands.