A New Year, and a New Idea for Tracking Poker Results
Poker Strategy

/ Short-Stacked Shamus / 05 January 2012 / Leave a Comment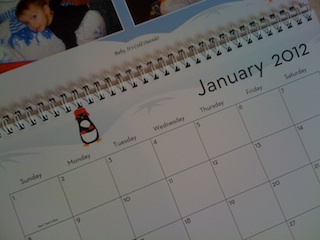 When we turn the calendar over to January, it's hard not to think of ourselves as starting over, too.
"I have been using the time unit called 'a year' because everyone else does," Angelo explains. "But really, I have to contort my mind to fit into that box. Just when exactly does this thing called 'a year' start anyway? January first? Says who?"
For poker players, the start of a new year often occasions at least a couple of familiar ideas. Like everyone else, poker players are inspired to make resolutions when the calendar turns to January 1, perhaps even listing certain habits or intended improvements as extra encouragement. Another thought inspired by the new year concerns record-keeping, namely, the idea to start over and consider ourselves back to even as if we were beginning another year-long session.
I'm necessarily not talking about professional players who live in countries that require them to tally up their gambling wins and losses each year for tax purposes. Rather, I'm referring to any halfway serious poker player who has developed the habit of record-keeping in order to track his or her own results. When December ends and January starts, it's hard not to think about the first session of the new year as wholly separate from what has gone before, and whatever we win or lose representing the start of a new running total we'll be mindful of going forward.
There's nothing specifically wrong with succumbing to this little mental machination every January 1. However, as we are resetting our internal dials to zero and letting go of that positive or negative number from the previous year, we might take a moment to reflect on the relative usefulness of doing so. And perhaps question why it is we only seem to do it once per year.
It is a good idea, of course, to keep track of what you've won or lost at poker. In fact, if you're still looking for a poker resolution for 2012, you could do worse than finally starting yourself a ledger in which to keep track of your sessions, noting which games/stakes you're playing, the number of hands you were dealt, and your wins/losses. (And if you're looking for other resolution ideas, check out "Pud's Poker Resolutions.")
For many simply keeping track of one's results in this uncomplicated way can have a positive effect, helping show at a glance what games/stakes are most profitable as well as other useful information such as whether or not you tend to fare better playing long or short sessions. If you play online and use data-collecting programs you can collect a lot of other useful information, both about yourself and your opponents. But even just keeping a simple ledger either in a notebook or a spreadsheet can be helpful, too.
That said, there is something highly arbitrary about choosing January 1 as the day we all start over with the counting.
"When exactly does this thing called 'a year' start anyway?"
I'm reminded of a short piece that appears in Tommy Angelo's latest A Rubber Band Story and other Poker Tales (reviewed here), a characteristically entertaining and enlightening sketch titled "Data Minding."
Referring back to his time as a live limit hold'em grinder in the pre-online days, Angelo describes his method of record-keeping and how he'd crunch the numbers afterwards in order to reveal to himself what he was making per hour and thus per year. It was during this period that he found himself consciously thinking about various units of time -- an hour, a week, a month, a year -- as meaningful guides for assessing his play.
Later online poker arrived, which helped everyone start thinking in terms of what Angelo calls "the universal time unit of poker" -- the hand. From there we learned to think more concretely about how many big blinds per hand we'd won or lost (in no-limit hold'em) or how many big bets per hand we'd won or lost (in limit games), and so forth.
That revelation -- that thinking of win rates per hand was preferable -- allowed Angelo to reconsider all of those other units of time he'd been using before to chronicle his play, including per year. "I have been using the time unit called 'a year' because everyone else does," Angelo explains. "But really, I have to contort my mind to fit into that box. Just when exactly does this thing called 'a year' start anyway? January first? Says who?"
From there Angelo proposes a new way of looking at past results. Rather than wait until you've finished your last session on December 31 to find out how you did for the year, look at your total for the past year each day you play. In other words, when you finish up today, January 5, look at how you over the last 12 months (dating back to January 6, 2011). And so forth.
If you keep track of hands played and wins/losses, you can calculate what your win rate is per hand. So if you play no-limit hold'em, you'll have a figure representing your BB/100 (big blinds per 100 hands). When you finish playing one day, you look at your total for the last 12 months -- that is, your total profit or loss and your win rate. That will give you an ongoing idea of how you've been doing "lately" according to a decent-sized sample.
Rocking 'n' "Rolling"
Interestingly, what Angelo is suggesting resembles how rankings in many professional sports are calculated. For instance, the Professional Golf Association looks at events played over the last two years, giving more weight to the most recent year when awarding points for its rankings. The Association of Tennis Professionals similarly uses what they call a "52-week rolling ranking" to determine their rankings.
In fact, the new Global Poker Index used by the Epic Poker League is following a similar procedure by looking at players' results from previous 36 months only in order to produce its rankings. (See more about the GPI here.)
If you play online and use a data-collecting program, it is simple enough to filter results to show, say, only "1/6/11 to 1/5/12" once you finish playing today. You can also look at smaller periods, say the last three months or six months, to get a better handle on your past results.
However, as you perform this self-assessment, try if possible to avoid the trap of "self-inflation" Angelo confesses to -- that is, manipulating the data in a way to serve his "emotional needs." ("I am winning 44 BB/100 hands over the last week! I am awesome!") Or, by the same token, the "self-deflation" Angelo's friend Alex performs when he manipulates his results to show himself in the worst possible light.
We can all manipulate our results to tell whatever story most pleases us. Try, though, in 2012 to resolve to be as objective as possible when assessing your performance at the tables.