Sectional Debrief: Wolverhampton, Thursday January 2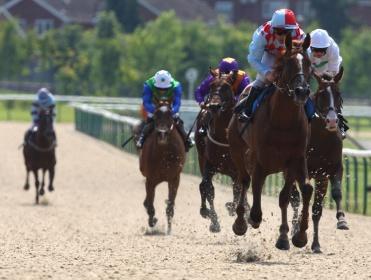 Simon Rowlands has analysed the sectionals at Wolverhampton
Simon Rowlands is now taking sectional times from all four all-weather courses in Britain, and he suggests a horse to follow based on the times at Wolverhampton...
The surface was in the region of 60 lb slower than on 5 August, when the official return was also "standard"...
Thursday's meeting at Wolverhampton provides an opportunity to look at another of the AW tracks, following the study of Southwell in yesterday's Debrief. Sectionals are taken from 2f out at Wolverhampton due to the configuration of the course and customary camerawork.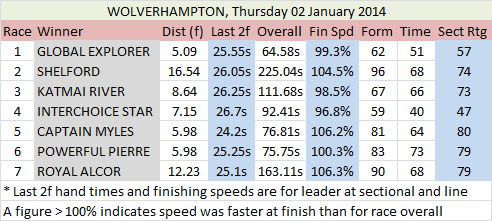 The first point to remark on is not immediately apparent from the above figures. The surface was slower than the "standard" officially given and among the slowest surfaces seen at the track this winter. Such things can be expressed in a number of ways, including in seconds-per-furlong and in the Timeform rating that would be needed to equal standard time by a horse carrying weight-for-age in a truly-run race. By the latter measure, the surface was in the region of 60 lb slower than on 5 August, when the official return was also "standard". Timeform has distinguished clearly between the two.   
Wolverhampton has had well-publicised problems with its polytrack surface, which first manifested itself in slow times soon after that August meeting. The intention is to replace it this coming summer. In the meantime, the speed of the track has varied, while remaining markedly slower than had been the case, and sectionals have at times been erratic. Jockeys seem to know better how to ride it now and races were well-judged on the whole on Thursday's card. 
One race stood out in terms of overall time, compared to what might be expected given the horses' abilities, and that is the extended mile handicap won by Katmai River from Aureolin Gulf. The first two came well clear, and sectionals back up the impression that this is form to view positively (a slightly higher view has been taken than the overall timefigures throughout the card). Both horses should remain competitive at this level, but the runner-up may be slightly the better prospect in the shorter-term.  
The wins of Global Explorer, Captain Myles and Powerful Pierre look better after adjustments, with Captain Myles in particular upgraded. His last 2f just about broke 24 seconds, which is more what one would expect for 5.98f on a fast surface but which reflects a slow early pace (and a fairly useful winner) in this instance. Third-placed Cash Is King can be upgraded by nearly as much, having been last-of-five turning in. 
The slowest finish in % terms came in Interchoice Star's race, and that horse can be upgraded a bit more than the two closers who chased him home. Fourth-placed Starbotton paid for going a bit too hard from the front and looks capable of placing next time under a more conservative ride. 
To follow:
 Aureolin Gulf 
Discover the latest articles