Sectional Debrief: Lingfield, January 4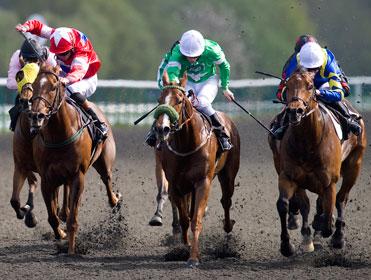 Lingfield played host to racing on Saturday.
Simon Rowlands takes a look at the sectionals from Lingfield's meeting on Saturday...
"Seventh-placed Naabegha was an eye-catcher in Perfect Pasture's race, starting slowly and tanking along before closing..."
Lingfield took centre stage on Saturday, enabling a full house of all-weather courses in these Sectional Debriefs, following Southwell, Wolverhampton and Dundalk in the preceding days. Normal service will be resumed with specialist coverage of Kempton's all-weather meetings hereafter.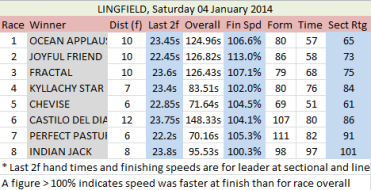 The average race finishing speeds at Lingfield came out at 105.4% of overall race speed - where Southwell was 98.8%, Wolverhampton was 101.7% and Dundalk was 101.8% - but that is somewhat misleading. Lingfield is an easier track than Dundalk and Southwell in particular, and the use of last 2f rather than last 3f distorts things slightly, but there were also a large number of steadily-run races. 
Only the races won by Kyllachy Star and by Indian Jack could be described as truly-run, and both resulted in good times and sectionals (the sectional figures are pitched slightly higher than the overall timefigures). 
Third-placed Shaolin did best of those close up in Kyllachy Star's race, but should not be considered disadvantaged: his 23.7s (101.0% finishing speed) was closest of all to par, with the first two home easily bettering 23.0s. Both Kyllachy Star (visored first time) and Iceblast were well-treated at their best and might well have put up better efforts than it first appears. 
Indian Jack's race saw all of the principals run close to par, with no significant mark-ups required. Both races represent solid form, which should be kept on the right side, though no specific "to follow" or "to oppose" horses originate from them. 
For those, it may pay to look at the tactical affairs won by Chevise and by Perfect Pasture. Fifth-placed One Way Or Another (about 22.1s) and sixth-placed Presumido (about 22.25s) finished fastest in the former and can be rated ahead of/up with the winner. The former - a 11-y-o who I once owned a part of - certainly made late headway but may be a bit of a monkey. Either way, he looks booked for a good run (worth considering for place as well as win purposes) next time. Sectionals have front-running second Parisian Pyramid only sixth-best, and perhaps the wisest thing to do is to put him up as one to oppose. 
Seventh-placed Naabegha was an eye-catcher in Perfect Pasture's race, starting slowly and tanking along before closing, and sectionals confirm he is one to be interested in (his about 21.85s for the last 2f was comfortably quickest on the day). This was his first run for Alan McCabe, who should have a winner on his hands if Naabegha's reluctance at the start can be contained. 
There was a sizeable sectional mark-up for nine-length winner Joyful Friend in one of the early maidens, but also for some of those she beat in a race in which she got to dictate things before quickening well. Fractal's win in a slightly truer race reads a bit better despite a slower finish. 
To Follow: Naabegha
To Oppose: Parisian Pyramid
Discover the latest articles