Sectional Debrief: Kempton, November 27 & 28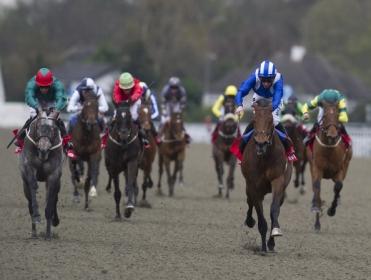 Racing twice took place at Kempton this week.
Simon Rowlands returns with a double-header as he assess the sectionals from the last two meetings at Kempton...
"Third-placed Anfield did the spadework and deserves extra credit (sectional rating of 65), looking one to be interested in if not raised much from the marks in the low-50s..."
Conditions appeared to be slightly faster - by in the region of 8 lb - on the Thursday of Kempton's two-day meeting than on the Wednesday, but well within the "standard" range on both occasions. The sectional ratings include a minor upward adjustment of the timefigures in both cases.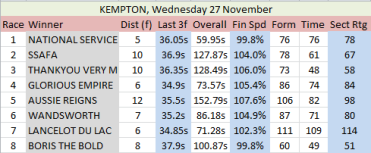 One winning performance stands out on time, form and sectionals, and that is the one of Lancelot du Lac, who could make a name for himself on a bigger stage after taking this contest off a BHA mark of 98. The finish was slightly quicker than par for him and for runner-up Picture Dealer (sectional rating of 103), both recording around 34.0s for the last 3f. The latter can win off this mark of 90, or possibly a bit higher. 
The other race on Wednesday to provide a good sectional rating compared to the winner's putative ability was the opener, in which National Service made a winning debut. This contest may well be somewhat better than it appears, though the sectionals show they went fast and that it suited closers (winner came from around 5 lengths back at the sectional). Third-placed Anfield did the spadework and deserves extra credit (sectional rating of 65), looking one to be interested in if not raised much from the marks in the low-50s from which he has already been beaten five times.
Most of the other races on Wednesday were slowly or steadily-run, with the winners generally doing well. Thankyou Very Much might have been slightly flattered, however, closer to the steady pace in her race than the third and fourth, Spring Tonic and Enriching, with Spring Tonic emerging just best on sectionals. Wandsworth won by fully 7 lengths and sectionals suggest he can be rated at least 2 lengths better than that.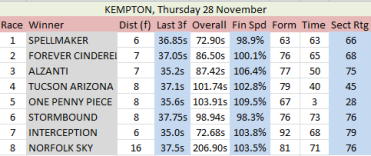 There was more mundane fare on offer on Thursday but still some valuable sectional information to be gleaned. Racing UK pundit James Willoughby delivered a masterclass on the comparisons between the races run at 7f and at 8f, and detailed consideration of the sectionals backs up all that he said. 
Forever Cinderella ran a faster time in division one of the fillies' maiden than did Alzanti in division two, but did so in a much more efficient manner. In sectional terms, Alzanti ran the last 3f nearly 2 seconds quicker and ends up with a sectional rating of 75 compared to Forever Cinderella's 68. Sectional analysts are unlikely to be in much doubt as to which is the better prospect. 
Stormbound's race produced by some way the best time of the mile races, with a good pace meaning only three horses (including the winner) achieved finishing speed %s above 100. Perhaps the most useful insight is that the race won by Tucson Arizona resulted in a poor time that cannot be excused simply on the grounds of a steady pace. The likelihood is that this is substandard form and worth backing against. 
Spellmaker's race featured a good pace which helped closers (winner and second came from several lengths back) and third-placed Rosa Lockwood, who had been in the vanguard throughout, is almost the equal of the winner on sectionals. Her previous run, in better company, suggested she might have improved also. 
Interception quickened well (last 3f of about 34.1s) to win a steadily-run handicap in good style and can be rated a length or two better than the result, for all that the overall time was a bit disappointing. 
It has been a remarkably quiet period for the Sectional Debrief lists, with just one runner (the winner Squirrel Wood) in the last fortnight, but there are plenty of contenders on those lists, with the following taking their number up to 29.
To Follow: Picture Dealer, Anfield, Rosa Lockwood
To Oppose: Tucson Arizona, Forever Cinderella
Discover the latest articles