Grand National Memories: Red Marauder comes through the Aintree mire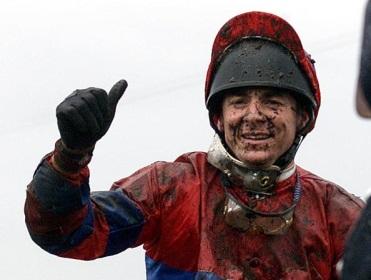 Richard Guest after winning the 2001 Grand National
Keith Melrose looks back on the most eventful National this side of Foinavon...
"Theatre it was not; poetry it was even further from; but compelling, more compelling than just about any other sporting event of this century so far, it most certainly was."
I'm sure that we've all been in a position before, where we've tried to extol the virtues of a certain sport, or indeed sport in general, to a member of the uninitiated or apathetic. Many of us will take the route of Stuart Hall, J.B. Priestley or even Alastair Down, using metaphor and flowery language to put forward the slightly strained idea that sport and art are somehow tantamount; that there's a cerebral appeal that only a scything pass from Andrea Pirlo, a Federer forehand or Sprinter Sacre flying an open ditch can provide.  
Of course, sport at its highest level does have that appeal, but the truth that dare not speak its name is that sport is every bit as thrilling when it's poised, unpredictable, even downright calamitous. It's why so many watch a Grand Prix only for the first bend: the prospect of 22 supercars going hell-for-leather down a thin strip of tarmac promises much more excitement than the 90 minutes or so that follow, which amounts to little more than a somewhat esoteric game of strategy.
There have been moments down the years when watching the Grand National has felt like a perfectly-captured story: Red Rum's first and third wins and Aldaniti's unlikeliest success being the most famous examples. However, the 2001 renewal could go down as the most memorable of all. Theatre it was not; poetry it was even further from; but compelling, more compelling than just about any other sporting event of this century so far, it most certainly was. 
Of course, it helps to create freak events when conditions are similarly unique. There will never be an official admission, but the widely-held view is that under any other circumstances Aintree would have been abandoned on the 7th of April 2001. Rain had saturated the course, but with 50,000 paying spectators already inside, and the anticipation especially keen following the loss of that spring's Cheltenham Festival amid the Foot & Mouth crisis, the Grand National meeting was finally given the go-ahead. 
A full field of 40 took their chance in the 2001 Grand National, though a hasty re-structuring at the head of the betting got underway with conditions projected to be brutal. Proven mudlarks Edmond, Inis Cara and Moral Support were eventually sent off the 10/1 co-favourites, while top weight Beau, similarly proficient on testing ground, went off at 12/1. Papillon and Mely Moss, first and second the previous year, were deposed as favourites and sent off at 14/1, closely followed at 16/1 by the trio of Blowing Wind, Smarty and Paddys Return, each of whom would play significant- if very different- roles in what was to follow.

(NB the above video runs only at 240p)

If anything, the race started more innocuously than the majority of Grand Nationals, with the dash to the first fence tempered by conditions, but it wasn't long before the casualties began to mount. Spanish Main and Art Prince exited at the first fence; Tresor de Mai, Hanakham and Addington Boy followed at the second; Hollybank Buck, Kaki Crazy and Paddy's Return came to grief at the third. 
After they'd crossed Becher's Brook for the first time, the field was already 14 light, but worse was to come. The blinkered loose horse Paddy's Return jumped the seventh (Foinavon) in front and charted a wide path towards the Canal Turn. However, as he approached he presumably decided it wasn't for him, instead slowing right up before cantering directly across the fence. More than a dozen had already crossed by this time, but nothing behind stood much of a chance: 10 runners were either brought down or forced to refuse by the pile-up, including Mely Moss and Moral Support. The horse that Paddy's Return collided with in the first instance came off arguably worst of all, his rider Warren Marston sent flying, but it's fair to say he wasn't too seriously affected by the incident: his name was Amberleigh House.
After the Canal Turn debacle, the exits of Mister One, Espirit de Cotte and Noble Lord rather blended into the background, the crowd just about having their breath back by the time the field approached the Chair in front of the stands with Edmond and Beau contesting the lead. There it was Edmond's turn to come a cropper, taking a shocking fall that he did well to get up from. Some might come to wish that he'd stayed down for just a little longer. Supreme Charm and Moondigua also exited at the Chair, the latter sending jockey Shay Barry flying in quite spectacular fashion.
It was Beau's turn to take them along early on the second circuit past an incredulous crowd, the remaining seven runners fanning out across the track: Brave Highlander, Blowing Wind, Papillon and Smarty raced wide, while Beau raced on the near side with the struggling Unsinkable Boxer and Red Marauder, who'd been blundering his way round but somehow still found himself in contention. The stated intention of Red Marauder's rider, the experienced Richard Guest, had been to 'showjump round, because any horse that was left standing at the end would be in the money'. Guest was certainly being made to work in order to achieve even that modest aim, but his prediction was looking a shrewd one.
At the first obstacle on the second circuit, Beau clouted the fence, rider Carl Llewellyn losing the reins with it, but the real drama was to come at the nineteenth. Edmond, who had continued loose after his crunching fall at the Chair, decided another jump would be one too far and darted to his right, wiping out AP McCoy on Blowing Wind. Smarty, racing widest of all, managed to scrape past, but Papillon and Brave Highlander were also taken out. Unsinkable Boxer seemingly thought Edmond was on to something and refused independently, so then, as they say, there were three: a rider without reins on Beau, one who'd just been within inches of an inglorious end (Timmy Murphy on Smarty) and another that had been in that position several times already (Guest on Red Marauder). 
The calamity finally gave way to farce at the twentieth. Beau, still leading but with Llewellyn reduced to the using his mount's mane as makeshift reins, left his back legs in the fence and sent his jockey over his head. The horse had been going best at the time and Llewellyn, clearly feeling that all wasn't lost, chased the loose Beau for the best part of 100 yards before conceding defeat as Smarty and Red Marauder went on. It is an unforgettable image that would surely have passed into legend by now had it not been quite so comical.
The worst of the madness ended with Beau's departure. Murphy and Guest, realising they were the only two going, steadied things, measuring the fences and even circumnavigating the odd loose horse. Yet another mistake from Red Marauder at the Canal Turn allowed Smarty, who was apparently going the better, to draw practically level and a blunder at the last ditch four out handed him a three-length lead. The jig appeared to be up for Guest's safety-first approach, but inevitably it would be stamina rather than jumping that would win the day.
As they crossed the Melling Road for the last time, it became clear that Guest was sitting on a lot more than Murphy, who appeared to be fearful of going for Smarty in anticipation of no response. Red Marauder soon opened up, finding himself 10 lengths clear by the time he paddled through the second last and the gap a yawning one by the time he cleared the last fence. Smarty was spent. Guest needed only to keep his mount going up the elbow to win by a distance, even mustering the energy to salute the dumbstruck crowd as he crossed the line. Smarty was a distance (then used for anything over 30 lengths) back in second. A few furlongs away, Blowing Wind and Papillon were hunting around, eventually starting to race for third only after the last, yet still a distance separated them by the line, McCoy waving to Walsh as his mount drew away.
By this time, the winning jockey had dismounted and (probably) been caught in the photograph that would come to define the 2001 Grand National. It's on the cover of 'Chasers & Hurdlers 2000/01' with Guest, two pairs of blackened goggles around his neck, drawing Red Marauder's head towards him; every front-facing part of horse and rider is covered with mud, the murky brown obvious on Red Marauder's chestnut face. Both look simultaneously exhausted and relieved. Together, they had prevailed in the most gruelling test seen in National Hunt racing for many years.
The victory was the highlight of Guest's career, and was a perfect redemption for the oldest rider in that year's race. Three years previously, he'd thrown his jockey's licence at the Perth stewards after they referred him to the BHA under the non-trier's rule, but had been persuaded back by permit holder Norman Mason, officially to ride his horses but also to assist in the training of them in County Durham. Mason's stable star then, and in 2001, was Red Marauder. 
Even in victory, Guest remained forthright with his thoughts. Temptation to go all dewy-eyed about the horse that had just carried him to the Grand National was robustly resisted, Guest saying of Red Marauder:
'He must have made 10 mistakes, but he wouldn't go down. He must be the worst jumper ever to win a Grand National... Timmy Murphy and I were talking all the way round. I was always going better and I was sure I would win as long as I could keep him on his feet. It's a miracle it's happened.'
A harsh assertion as Red Marauder was by no means a bad jumper of park fences, but it's certainly hard to think of a worse round of jumping from a Grand National winner.  
That moment of elation would be a last one for all involved: Red Marauder ran only once more, the best part of two years later, while Guest and Mason both retired at the end of the 2002/3 season. Guest has since carved himself a successful career as a trainer, increasingly of horses on the Flat. Whether he'll ever be involved in another race as surreal, as madcap but simultaneously absorbing as the 2001 Grand National must be highly doubtful.