Cheltenham Gold Cup Ante-Post: Pipe & Henderson charges worth a punt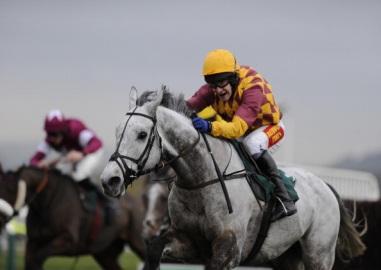 Dynaste would have a good chance in the Gold Cup
After the release of the Gold Cup entries, Keith Melrose from Timeform gives a couple of first-look selection at big prices...
"The 2015 Gold Cup was reportedly Dynaste's target at the end of last season and, if anything, events since should have strengthened the case for him taking that route."
Conti-rarian (kuh n-tee rair-ee-uh n)
noun
a person who overlooks short-priced favourites in big races, often for the sole reason that they are short-priced favourites in big races; a long-sighted punter.
We're all guilty of being a little conti-rarian from time to time. If you're betting ante-post, it's usually preferable over being a slave to the favourites.
Silviniaco Conti, who's well clear in the market for the Gold Cup, is one of those ante-post favourites that I'd normally eschew as the headline selection, but for for no other reason than the idea he's just a little too short a little too soon. He's currently available at 11/4 and, should he head straight to Cheltenham as has been mooted, his odds are unlikely to contract all that much between now and declaration time.
With non-runner-no-bet offers, which are just starting to appear for the feature races at the Festival, we can afford to have it both ways. Yes, there will be some better ante-post value than Silviniaco Conti, but everything I write from here will be underpinned by the assumption that you won't be badly out of pocket should the favourite ultimately win. His claims in this year's Gold Cup are truly outstanding and, with the Betfair Sportsbook now going non-runner-no-bet, there's a fair case for locking him in now.
It's also due to non-runner-no-bet that Dynaste at 16/1 can be treated as an appealing price. Those odds feel like they still factor in the (admittedly very real) possibility of him turning up in the Ryanair instead, though of course we needn't concern ourselves with that as you stand to lose only the interest your stake would have otherwise made in a bank account.
The 2015 Gold Cup was reportedly Dynaste's target at the end of last season and, if anything, events since should have strengthened the case for him taking that route. He seemed to need the run in the Betfair before finishing well to take second behind Silviniaco Conti in the King George, while others have blotted their copybook to leave him as Timeform's second-highest staying chaser on 171. Dynaste would never beat Silviniaco Conti with both on their game, though the fact that Dynaste's relationship with Cheltenham has been a much happier one (only once out of the first two in six runs) might just tempt connections to bid for steeplechasing's top prize.
***
The summit of steeplechasing is one to which Bobs Worth has already climbed; and when he was there it was really tough. The Sir des Champs (second in Bobs Worth's Gold Cup) or Long Run (third) of 2013 would be no worse than a clear second-favourite to Silviniaco Conti in this year's renewal, which doesn't look to have much depth at all. The Lexus Chase seemed to tell us that the Irish challenge is nothing special and few of the strongest among the British contingent are guaranteed Gold Cup runners.
There is only one race for Bobs Worth of course, which in a way makes it just about possible to mitigate for his deplorable run in the Lexus. It's undoubtedly a negative as he was beaten a long way out, though the race wasn't run to suit and there were some parallels with his performance in the 2013 Betfair Chase, which was also his seasonal reappearance. Thereafter he went on to win the Lexus on his next start and traded as low as 1.422/5 in-running during that freakish finish to last year's Gold Cup.
There is a chance, and it's just that, that Bobs Worth has been condemned on incomplete evidence. Can he really have gone at the game so quickly, or is he just playing dead? At 16/1, it's arguably worth paying to find out in such an open renewal of the Gold Cup. The Bobs Worth of old would be a fifth of his current price, at a conservative estimate.
***
Openness would be the message embedded in the stick of Gold Cup rock. It's what has puts Silviniaco Conti so far ahead on form, what makes the race a realistic assignment for Dynaste and what makes the prospect of a resurgence from Bobs Worth, however odds-against, hard to resist. It also gives heart to those who've yet to even take on the best chasers.
In the throng of horses priced between 10/1 and 20/1, we'd be far more inclined to chance those yet to have the limitations exposed. It's easier to see those horses improving by half a stone or so than it is to imagine On His Own, say, doing better than he has so far in his 11 years.
To decide on just one from that band would be difficult- indeed, we probably couldn't reach a consensus in Timeform House. Personally, I'd give the edge to Many Clouds, though Holywell and Shutthefrontdoor are also perfectly legitimate contenders.
Many Clouds has plenty of strong form from his novice days, most notably emerging as the better horse at the weights when O'Faolains Boy (who won the RSA on his next run) picked his pocket in the Reynoldstown. Then, of course, there's his Hennessy win.
The Hennessy looks like proving excellent form this year, though most of all it was attritional. That's just what suits Many Clouds and the form of recent Gold Cups suggests that stamina is playing as important a part as ever in the race. How otherwise could Synchronised or Lord Windermere beat the likes of Long Run or Silviniaco Conti on the biggest day of all? It's equally unlikely that Many Clouds will be the best horse in the Gold Cup, but he might well be the one finishing strongest.
You could say much the same of Shutthefrontdoor, who won the Irish National in the spring. He just doesn't have quite the strength of form that Many Clouds has, while he also seems to be a Grand National horse first and foremost this year. He's currently favourite for that race on most lists.
Hollywell is the don't-forget-about horse in the Gold Cup. Don't forget that he only sparks into life once the blinkers go on (usually at the Festival). Don't forget that he ran a perfectly promising race behind the further-forward Many Clouds at Carlisle. Equally, don't forget that his yard needs to extricate itself from a deep rut if he's to appear as any great value at 14/1 for the Gold Cup.
***
The wide-open nature of this year's Gold Cup makes it a difficult ante-post prospect. Were it a day-of-race market, it'd be difficult to do anything other than make Silviniaco Conti the lead selection as he's so far ahead of the rest on form. Make sure you have something on him between now and mid-March, as to ignore him would be needlessly conti-rarian.
Non-runner-no-bet offers can turn ante-post betting on its head and it's for that reason that  Dynaste, who arguably deserves to be single-figure odds if he turns up, needs to be made part of your portfolio now at 16/1. And if you want a guaranteed runner, try Bobs Worth. He's guaranteed a lot more than to run: he's a master of Cheltenham's undulations, a previous Gold Cup winner and probably the only horse in the field with the talent to match Silviniaco Conti. He won't go off at 16/1, that's all but guaranteed, too, so you may want to get him on your side now.
Recommended bets:
1 pt each-way Dynaste at 16/1
1 pt win Bobs Worth at 16/1

Discover the latest articles
Read past articles