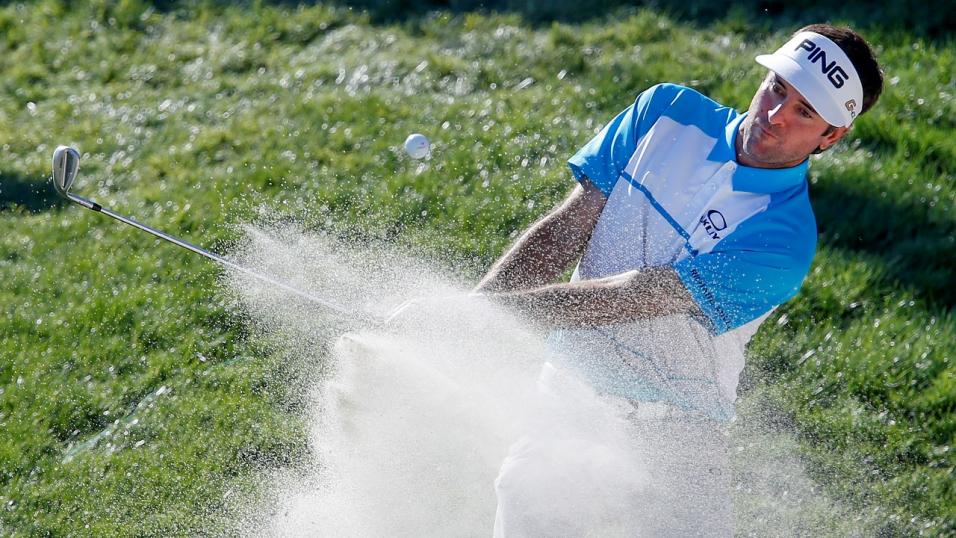 Bubba Watson - one of three picks for The Punter at Sawgrass
We're off to Sawgrass this week for the so-called fifth major - Players Championship - and our man has the lowdown ahead of Thursday's eagerly awaited start here...
"Every now and then I see a price that I just can't fathom and the [90.0] available about Bubba Watson this week is one such price. He's already won twice this season and he's recently finished fifth at the US Masters so why on earth he's so big is baffling."
Tournament History
Originally known at the Tournament Players Championship, the Players Championship began life in 1974 when Jack Nicklaus won the first of his three titles. He's still the only man to achieve the feat and only five other players have won the tournament twice - Fred Couples, Steve Elkington, Hal Sutton, Davis Love and Tiger Woods.
The Players Championship is one of the most prestigious tournaments in the world and it's universally referred to as the fifth major.
The Players has been played in May for 12 years now but it moves to March next season.


Venue
TPC Sawgrass, Ponte Vedra Beach, Florida.
Course Details
Par 72 -7,245 yards
Stroke Index in 2017 - 73.29
Constructed in 1980, specifically for the purpose of hosting this event, the Stadium Course at Sawgrass has been the tournament's venue since 1982. It's a Bermuda-grass Pete Dye design and it's one of the most renowned courses in the world.
With its dramatic island green, the par 3 17th is one of the most recognised holes in golf.
Described as a balanced course, with dog-legged holes going both ways and holes routed so that no two consecutive ever play in the same direction, it's a true test that doesn't tend to favour any one type of player.
In 2006, just before the event moved to its now regular May date, all the tees, fairways and greens were stripped and new drainage, irrigation, and sub-air systems were installed. The changes meant that the firmness of the smaller than average sized greens can be controlled in any weather conditions and they're usually set to run at around 13 on the stimpmeter.
The course underwent a further renovation after the 2016 renewal and the yardage was reduced slightly as a result. All the greens were changed from mini verde to TifEagle Bermudagrass, holes one, four, eight, nine, 11, 13 and 14 underwent modifications to their greens, to better absorb wear and tear and in some cases, to increase the number of available pin positions.
Holes six and seven were both changed to improve spectator viewing via the removal of mounding between the two holes and a body of water was added but the biggest change to the course came at the par four 12th.
Water and bunkering were added and the hole length was reduced from 360 yards off the back tee to just 302 yards. In 2016 it averaged 3.94, was the 14th hardest on the course, and it produced just one eagle and 109 birdies and last year, post changes, it averaged 3.83, was the 15th toughest and there were just two eagles and 127 birdies, so the reduction of length didn't make it much easier. However, the hole has been tweaked again since last year's edition.
The landing area adjacent to the water on the left has been lifted and flattened to reduce the chances of a tee ball rolling into the hazard, the primary rough on that side is wider as an additional defence and the fairway bunker has been elongated nearer the green. The right side of the fairway has also been opened to accentuate the value of that angle of approach.
For more on the course, this hole-by-hole guide on the PGA Tour website is excellent.
TV Coverage
There's a live preview show on Sky Sports on Wednesday night, live Featured Group coverage from 12:30 on Thursday afternoon (UK time) and the full live action starts at 18:00. It's the same again for round two on Friday and there's more Featured Group coverage on Saturday and Sunday afternoon, with full live action starting at 19:00 over the weekend.
Last Five Winners
2017 - Si Woo Kim -10
2016 - Jason Day -15
2015 - Rickie Fowler -7 (playoff)
2014 - Martin Kaymer -13
2013 - Tiger Woods -13
What Will it Take to Win the Players Championship?
Short hitters have enjoyed success here in the past. Tim Clark only ranked 59th for Driving Distance when he won in 2010, Fred Funk caused a shock when he took the title in 2005, ranking just 80th for DD, and Ken Duke and Colt Knost finished tied for third two years ago, ranking only 51st and 72nd for DD, but as the case with the game in general, big hitters are starting to dominate at Sawgrass.
Martin Kaymer ranked 19th for DD when he won here in 2014, Rickie Fowler ranked 11th three years ago, nobody hit the ball further off the tee than the winner in 2016, Jason Day, and last year's champ, Si Woo Kim, ranked 10th for DD.
Greens In Regulation used to be a really important stat and in the decade between 2005 and 2014, the 10 winners had an average GIR ranking of just 7.5 but the last three winners have ranked 51st, 15th and 37th so it's debatable whether that's a stat to concentrate on now.
The last five winners have had an average Putting Average ranking of 18 so it's possible to win without a terrific putting performance but the vast majority of winners scramble well around these much smaller than average greens and that's definitely a key indicator.
The last two winners have both topped the Scrambling stats and only two winners, Sergio Garcia and Matt Kuchar, have ranked outside the top-10 for scrambling in the last 13 years.
In addition to scrambling brilliantly, the last two winners have smashed the par fours. Jason Day played them in nine-under-par in 2016, which was two better than anyone else and Kim played the par fours in seven-under-par and that was four better than his competitors.
The three stats I've concentrated on this year are Scrambling, Par 4 Performance and Driving Distance.
Is There an Angle In?
If you like a course correlation angle in, check out form at the RBC Heritage, the Travelers Championship and the Zurich Classic of New Orleans as those three events are also played on Pete Dye-designed courses.
Other Pete Dyes to consider are Austin Country Club, which has hosted the last two WGC-Match Plays, Whistling Straits, which staged the USPGA Championship in 2004, 2010 and 2015, Crooked Stick, which hosted the 2012 and 2016 BMW Championships and the Ocean Course at Kiawah Island, which hosted the 2012 USPGA Championship.
I like an early tee-time on day one at this event. It's often advantageous to begin the week early on day one but even more so here. Sawgrass soon dries out and gets fast and firm and Thursday morning is often the easiest time to play it - especially if the wind gets up in the afternoon.
Last year's morning starters averaged 1.14 strokes less than those drawn in the afternoon and two years ago it was almost two strokes less and given this tournament favours the frontrunners (see In-Play Tactic below) getting drawn early on Thursday is a big plus.
Is There an Identikit Winner?
First-timers don't have a great record at Sawgrass. In 36 previous renewals here, only two debutants have won - Hal Sutton in 1983 and huge outsider, Craig Perks in 2002.
Si Woo Kim, who was the youngest ever winner of the event at 21, was only playing the event for a second time 12 months ago, having finished 23rd in 2016, but the previous three winners give us a nice indication of the sort of course form portfolios are typical.
Kaymer had form figures reading 55-34-19-15-43, Fowler's read MC-MC-2-MC-MC and Day had also had a few weekends off here. His course form figures read MC-6-MC-19-MC, so they'd all had exactly five previous outings and all had performed poorly at the course on at least a couple of occasions.
It's a difficult event to predict with all sorts of types winning and the title tends to get spread around too. Nobody has ever defended and as already mentioned, Nicklaus is the only three-time winner, so course specialists are few and far between.
Kim was matched at [1000.0] before the off 12 months ago and outsiders have a terrific record. Day was well-fancied two years ago but the list of past champions contains plenty of shock winners so don't be afraid to back an outsider or two. I can't imagine too many picked out the likes of Craig Perks or Fred Funk and I have fond memories of backing Stephen Ames 12 years, as he went off at [170.0].
Fowler wasn't exactly well-fancied three years ago, as he was matched at [70.0] before the off and Kaymer was matched at a triple-figure price four years ago.
Wily old veterans, who know how to plot their way around Sawgrass, tend to do well here. Funk was no spring chicken when he won in 2005 and when 40-year-old K.J Choi won in 2011, he beat 44-year old David Toms in the playoff. Fellow vets, Kenny Perry and Paul Goydos, have both come very close to winning recently. Jim Furyk traded at just [1.77] four years ago, 49-year-old, Jeff Maggert, finished runner-up five years ago. The experienced Ian Poulter and Louis Oosthuizen were tied for second last year, with Lucas Glover sixth, and there were plenty of veteran outsiders in-the-mix two years ago. Retief Goosen, Jerry Kelly, Alex Cejka and Ken Duke all figured over the weekend and if it wasn't for Day's brilliance, one of them may well have fallen over the line.
Americans won the first 13 editions of the Players Championship and for a long time Americans, and to a lesser extent the Aussies, dominated the event but that's changed somewhat in recent years with Americans only winning six of the last 16 renewals.
In-Play Tactics
Kim sat tied for seventh and just two back after round one 12 months ago but two of the last four winners, Day and Kaymer, have won wire-to-wire and a fast start is extremely beneficial. In the previous 44 renewals, as many as 14 winners have been leading after round one, more than half of the winners (23) have been positioned inside the top-three after day one and 21 winners have either been leading or one off the pace after round one.
Interestingly, 14 first round leaders have gone on to victory but only 19 third round leaders have won so being out in front through 54-holes isn't necessarily a big plus. It certainly wasn't for J.B Holmes last year - he shot 84 and finished tied for 41st!
Three of the last five winners were leading after 54 holes but they were all major champions and only two winners in the 12 years previous had been in front with a round to go so it's not an easy place to convert from the front. Kim came from two back and solo fourth last year.
Fowler took the late swoop to extremes three years ago when he was matched at [790.0] in-running before he finished the tournament with a birdie at 13, a par at 14, a birdie at 15, a two-foot tap-in eagle at 16, a birdie at 17, and his first ever career birdie at 18. It was an incredible finish and one that shows us that anything can happen here.
If you are planning to trade in-running, despite what Rickie achieved, it is a tough finish. The par five 11th and the now drivable par four 12th offers up chances to make birdie but after that, the only hole to average below par in the last three years is the par five 16th. At only 523 yards, it's an outside eagle chance (14 were made there last year) and a very good birdie opportunity. Averaging just 4.58, it was the easiest hole on the course again last year but it's the only real opportunity in the last six holes. The par four 18th ranked the hardest hole on the course again last year and the par four 14th ranked second toughest. It's been that way for four of the last five years and the only change came in 2014 when the 14th played harder than 18.
The par three eighth is the hardest hole on the front-nine but after that there's a slight chance of picking up a shot or two between nine and 13.
Market Leaders
Jason Day is impossible to ignore this week. He won the Wells Fargo Championship in brilliant fashion on Sunday and while winning back-to-back is tough, it doesn't seem to be too tough for Day. He's twice won two in-a-row, he finished runner-up at the AT&T Pebble Beach after winning the Farmers Insurance Open in February, and when he gets hot, he tends to stay hot.
He currently ranks highly for all the statistical measures I concentrated on, he plays well at Pete Dye tracks (in addition to winning this event two years ago he's also won the Match Play at Austin CC and the USPGA at Whistling Straits), he's one of the best putters on Bermuda and he has a great record in Florida. The only negatives I can see is that he's drawn in the afternoon, when most of his market rivals have the advantageous day one morning slot, and multiple winners of the Players are rare. Other than that, he's the man to beat this week and he's rightfully heading the market.
Justin Thomas ranks very highly for the three stats I looked at the closest, he was third here in 2016 and he has to be respected with such a tremendous strike rate (won seven of his last 37 starts) I wouldn't want to put anyone off him at a very fair 16/1 but he's been a little disappointing of late, he missed the cut here 12 months ago, and he doesn't have a scintillating bank of Pete Dye form on his CV so there are negatives.
Jordan Spieth is equally difficult to dismiss. He doesn't have the length off the tee of his market rivals, he's missed the last two cuts here and he hasn't been at his best for much of 2018 but he has a decent record on Pete Dye tracks and he was fourth here on debut three years ago. I'm a little concerned that he may not have completely worked out this year's Augusta hangover and the same goes for Rory McIlroy...
Rory's stats are great, he loves Florida and he putts great on Bermuda but it was a case of one step forwards and two back last week at a venue he loves so I'm happy to leave him alone again here where his form figures read MC-MC-MC-8-6-8-12-35.
Selections
The draw is a slight concern but I can't let the event kick off without getting Jason Day onside. I've only had a small wager, which I may well build on during the opening round if he starts okay and there are a few afternoon starters I liked who I'll be keeping an eye on but my only two other picks are drawn in the morning.
Every now and then I see a price that I just can't fathom and the [90.0] available about Bubba Watson this week is one such price. He's already won twice this season and he's recently finished fifth at the US Masters so why on earth he's so big is baffling.
He doesn't have a great record at Sawgrass but that's not stopped many a previous winner and he does play Pete Dye designs really well. He's twice won the Travellers and he romped to victory at Austin CC in March.
Ian Poulter came in from the wilderness to win the Texas Open last month and he's another that looks far too big on the Exchange. Poulter's stats are impressive, he putts really well on Bermuda, has a great record in Florida, plays Pete Dye designs well and he's twice finished runner-up here before.
Selections:
Jason Day @ [17.5]
Bubba Watson @ [90.0]
Ian Poulter @ [110.0]
I'll be back shortly with my Rocco Forte Open preview.
*You can follow me on Twitter @SteveThePunter