The Betfair Big Interview: Paul Parker on his World Cup memories and hopes for 2018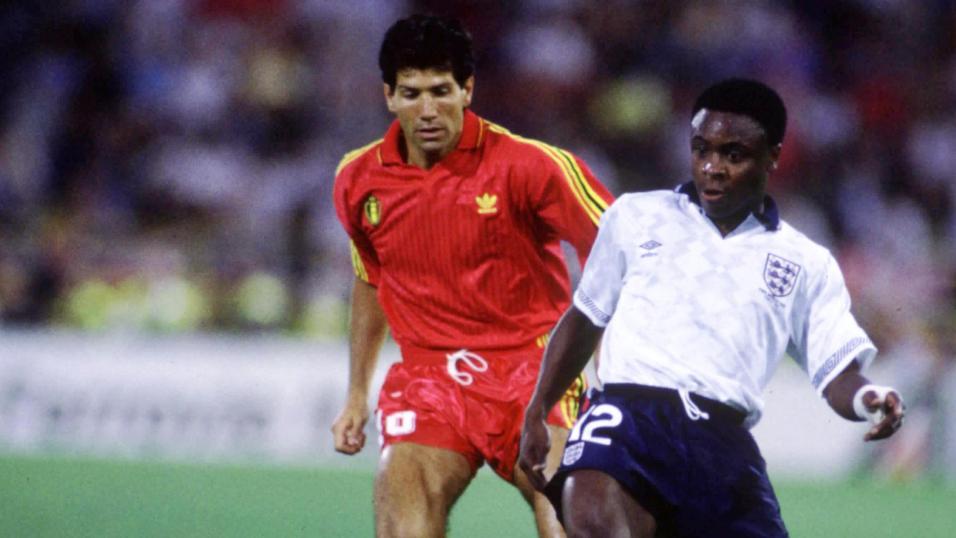 Paul Parker rose up the divisions to star in a World Cup
Italia 1990 remains England's best World Cup since 1966 so Betfair met Paul Parker to learn that side's secrets...
"After what happened to me I can't dismiss this England team. If you look logically you say they can't do much, they are too young, too inexperienced, but I know - and it is there in black and white, on Betamax and VHS – what can happen."
Hi Paul. England are heading for another World Cup - it must stir great memories for you every four years.
It does, although I get enough reminders anyway. My name comes up and the first thing they show is the ball deflecting off me from Andreas Brehme's free kick and looping over Peter Shilton for Germany's goal!
That's cruel, doesn't anybody remember you provided the assist for Gary Lineker's equaliser?
I do, and you just have done, but that's about it!
It was a great tournament, though. What was so special about that squad?
It was more about our unity than anything. The game has evolved since so much both on and off the pitch. Players now are far more technical. England have had to play catch up with a lot of the other top countries. What we did have was a great togetherness - I see people talking in recent years about club rivalries but that didn't affect our squad. We were very much together, I think in the first instance because we were all behind Bobby Robson who had taken such stick in the build-up.
What were his qualities as a manager?
He was just an ordinary man who commanded respect. When he came into a room it went quiet, not because we feared him, but because we respected him. Yes, we laughed and joked, taking the mick that he got people's names wrong and mixed up sentences, but he saw us laughing and he knew about it all, and that went to what we were on the pitch.
Explain more.
It was just that if you made a mistake you would feel guilty that you had let him down, but he wouldn't shout and scream, he would ask you about it, and you would feel you wanted to go out and make amends. Football fans now want a manager who is jumping around, who is a disco dancer, and they think that is showing passion. Bobby showed passion not by jumping around, but when he got off the bench that was enough. He was a presence, when he got off that bench, and only so many managers have that presence and aura about them.
Young players aren't scared
You were the player who came from nowhere. How did that happen?
It all happened very quickly. In 1987 I had arrived at QPR from playing three years in the third division with Fulham, and by 1988 I had made an England squad. I don't think that has happened that quickly with anybody between me and Dele Alli. Today's football doesn't cater for that. Even so I only played 15 minutes of the qualifiers. Bobby was loyal to his players and I had to wait for my chance.
Your thoughts on this England team?
It's a hell of a question, but after what happened to me I can't dismiss them. If you look logically you say they can't do much, they are too young, too inexperienced, but I know - and it is there in black and white, on Betamax and VHS - what can happen. Yes, you need a bit of good fortune and we had that, but I can't turn round and say they don't have enough experience because I hadn't even played a game in Europe. The thing about young players is they are fearless, they are not scared of making a mistake.
Gareth Southgate seems to be encouraging that attitude.
Exactly. He is saying to players: "If you think it is the right decision, go ahead, if you make a mistake and it doesn't work out we will talk about it, but nine times out of ten if I believe it is the right decision too I want you to try it again and not shy away from it." Just look at what that's done for Marcus Rashford.
Has he played his way into the starting line-up?
I don't know, he did great against Costa Rica but they were a team playing at 50%. Nobody wanted to close down or make big tackles. But it boiled down to him being comfortable and having a manager encouraging him. England looked more creative against Costa Rica than I have ever seen, and that's because there wasn't a fear factor.
Spain are my favourites
On the subject of players coming from nowhere, what about Trent Alexander-Arnold in the wing-back role you played?
I think he's OK. Is he right to start with him? I don't think so, but I am not a manager. He could be a hell of a story and everybody is sitting there hoping to write it. We have to wait and see.
There seem to be a lot of potential positive stories.
Definitely. England are going there with the right mindset, thinking about what could go right rather than what could go wrong. This team might just go out there and express themselves and try different things, which a lot of people won't expect from England. Over the years we've been predictable and we've also had wrong managers. I want this to work out because it just embarrasses the FA that made two bad decisions in choices for managers. At best we stalled but I think we went backwards. Gareth has gone in for the right reasons, is doing something different, and I think everybody is on his side for that reason.
Who does win it?
I've been saying Spain - [7.4] third favourites on the Betfair Exchange - so I won't change. They have a mixture of experience and some very good young players who are playing regularly in their domestic league, they know the system. You can never write off the Germans, either, even if they have been having an indifferent spell.
Paul thanks for your time and we've a free £50 bet for a favourite charity.
Great I'll put that to Prostate Cancer UK and I'll back Spain to win the World Cup at [7.4].
*Paul Parker is available for corporate functions and after dinner speaking. Contact Michael Hall Mcpherson on 07577 831090.