Hawk Eye on South Africa v England Third T20: Take on Rabada for top bowler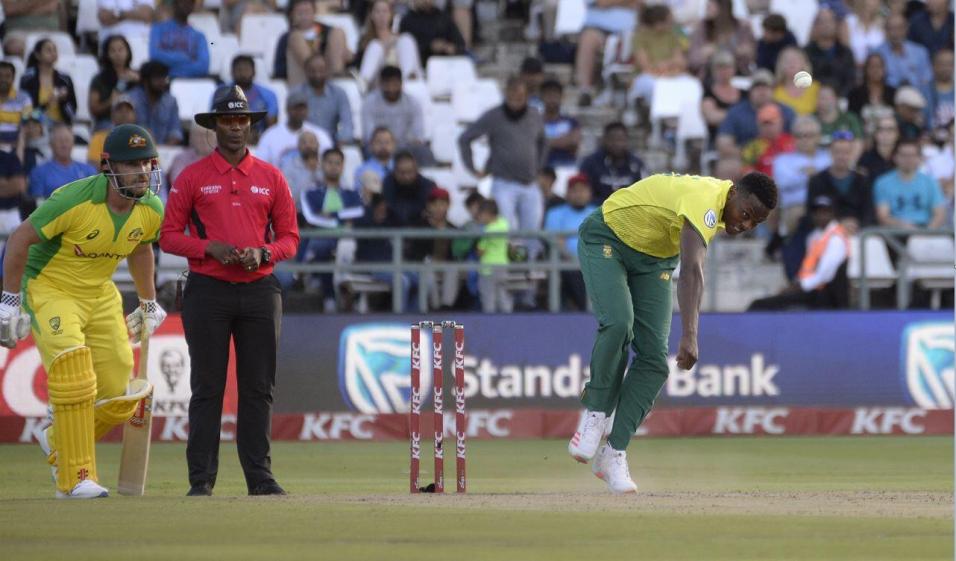 Rabada is a fine bowler but is not tops value
Ed Hawkins has two picks on the side markets for the final match of the South Africa v England T20 series from Cape Town on Tuesday...
"Perhaps the biggest surprise of the series is Sportsbook's steadfast refusal to cut Lungi Ngidi for top wicket-taker"
Buttler primed
For a year at least this corner of betting.betfair has been singing the praises of Dawid Malan. During lockdown he topped our 'most underrated T20 batsmen' lists and in series against Australia and South Africa that followed he produced the goods.
Ahead of the Cape Town finale, a dead rubber as discussed in our match preview, we are hoping for another score from the left-hander to propel him to overall top England series honours. He is 15 behind Jonny Bairstow, whose 86 in game one could be now tough to trump.
But it is still worth reiterating the point that Malan is underrated. Sportsbook have cut his odds to 10/3 for top England bat. It is one of the shortest prices we have seen but we have no doubt that as time passes between now and the next T20 series he will be pushed out to 4s, particularly if Jason Roy rediscovers form in the opening berth with Jos Buttler.
Malan has an extraordinary record in the last two and a bit years. He has six wins in 14, which equates pretty close to a 7/5 chance. Crazy. On career form he is also value to be top scorer in the match with five wins in 18. It's another extraordinary hit rate as the numbers below attest. He is on course to be one of the most reliable T20 batters ever.
Malan is 6/1 for top match bat with Sportsbook. It is value. However, we have a rule of not going in for back-to-back winners, based on our research for Myth Buster on our Cricket...Only Bettor podcast. There is the additional issue of needing Malan to outscore team-mates to take the overall honours.
We also have an inkling that Jos Buttler could go well. He is overdue a score, although he doesn't rate a bet on the overall match scorer at 4/1 favourite. His win rate is poor, skewed by his former role in the middle order.
His price for top England has been boosted to 3/1. With four wins in 15 he gives us an edge of 1.6% on implied probability.
Most times top scored in match in career
De Kock 9/46
Morgan 9/96
Du Plessis 8/49
Buttler 5/73
Bairstow 5/45
Malan 5/18
Ngidi a bet
Perhaps the biggest surprise of the series is Sportsbook's steadfast refusal to cut Lungi Ngidi for top wicket-taker. As we said before game one, on every wicket-taking metric Ngidi outperforms the favourite Kagiso Rabada.
And so it has proved, Ngidi has four and Rabada one. We don't make this point to suggest that Rabada is a poor bowler, far from it. It's just to show that at 7/2 and 9/4 respectively, Ngidi should be jolly and Rabada second in line.
Tabraiz Shamsi won for the first time in 21 in game two so we are not concerned he could put together back-to-back wins. His position raises the question of whether Imran Tahir could return for the T20 World Cup. And then you start to think about AB De Villiers, too. On that point, this South Africa XI could be better equipped for glory: De Kock, Bavuma, Du Plessis, De Villiers, Klaasen, Miller, Linde, Phehlukwayo, Ngidi, Rabada, Tahir.
SA last two years top bowler wins/matches
Phehlukwayo 3 2t/18
Rabada 1 2t/10
Ngidi 4 4t/12
Shamsi 1 5t/21
SA last two years top bat wins/matches
De Kock 6/15
Du Plessis 4/10
Miller 2/21
R Hendricks 2/15
Van Der Dussen 2/17
Klaasen 2/13
Bavuma 1/7
England last two years top bat wins/matches
Bairstow 4/19
Buttler 4/15
Morgan 3/24
Malan 6/14
Ali 1/8
Billings 1/13
Stokes 0/7
Discover the latest articles
Read past articles