The Gambling Scholar, Girolamo Cardano
Poker News

/ Short-Stacked Shamus / 28 January 2011 / Leave a Comment
In 1564, an Italian by the name of Girolamo Cardano wrote a book about various games then occupying the attention of many of his contemporaries, including dice-based games, card games, and even backgammon. His book, Liber de Lude Aleae or Book on Games of Chance, was not published until well after his death -- about 100 years later -- but nonetheless holds an important place as one of the earliest treatments of probability theory.
In his 2009 history of poker Cowboys Full (reviewed here), James McManus shares some of Cardano's interesting story. A true "Renaissance man" whose writings show him to have been expert in several areas including mathematics, music, and medicine, Cardano's life was filled with remarkable highs and lows, summarized by McManus and detailed more comprehensively in Øystein Ore's 1953 biography Cardano: The Gambling Scholar.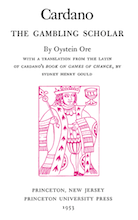 Intrigued by McManus's reference, I recently picked up Ore's book which also happens to contain a full translation of Liber de Lude Aleae into English by Ore's colleague, Sydney Henry Gould.
For a book written almost 450 years ago -- well before poker (as we know it) came to be -- Liber de Lude Aleae contains a lot of useful advice for poker players, as well as a number of other observations and anecdotes poker players would likely find interesting.
Cardano's book consists of 32 short chapters. The first few talk about gambling, generally speaking, then Cardano spends some time examining in great detail the math behind dice-based games. About halfway through he turns his attention to card games, and from there offers some comparisons between dice and cards that include observations about the relative roles of luck and skill in each. Liber de Lude Aleae then concludes with some talk of backgammon, "knucklebones" and gambling games played by the ancients, and some parting shots about gambling's use and purpose.
Here are a few highlights from Cardano's text, ones I thought might be of special interest to poker players:
Gambling Is In Our Nature: "One of the incurable diseases"
The early chapters show Cardano both defending gambling as an acceptable pursuit and warning against its destructive or unhealthy effects. He recommends moderation, and that the reader never gamble simply to relieve boredom. Other activities -- such as reading or painting -- are much better ways to pass the time, argues Cardano, both because with those you are more apt to learn something and you won't "present a bad example... to one's children and servants."
Picking up a book or paintbrush will also help you remain emotionally balanced, since "gambling arouses anger and disturbs the mind." Moral objections to gambling are also worth considering, says Cardano, who recognizes that many frown upon gambling, and that "the greater the amount of money involved, the greater the disgrace."
That said, Cardano believes gambling has some "useful features," too, including providing "a means of gaining friendship." And besides, nearly everybody is doing it -- so why not look into it more closely? "Even if gambling were altogether an evil," Cardano hypothesizes, "still, on account of the very large number of people who play, it would seem a natural evil. For that very reason it ought to be discussed by a medical doctor like one of the incurable diseases."
Cardano adds that philosophers have always found vice a worthy subject of study. But unlike vice, gambling isn't necessarily wholly bad, having both advantages and disadvantages. And so he wants to point out both, to promote the former and "in order that the latter may be reduced to a minimum."
Find a Fair Game: "The most fundamental principle of gambling"
The chapters on dice games are quickly marked by a lot of equations detailing various probabilities -- important historically, but perhaps not so interesting to some readers. As McManus says, the book "blazed a wonky trail for such bestselling pokeraticians" as Sklansky, Malmuth, Harrington and the like. These chapters nonetheless contain some interesting and even useful observations about gambling, generally speaking.
"The most fundamental principle of gambling is simply equal conditions" argues Cardano. In other words, the game really has to be fair, and the reader is warned to look out for collusion and other forms of cheating as well as distracting table talk.
Along those same lines, Cardano brings up Aristotle's objections to gambling as "disgraceful" in his Ethics, noting that the least disgraceful form of gambling is, in fact, the one in which the game is fair and all participants are equally aware of the enterprise in which they are engaged. In other words, "gain [via gambling] from those who are both willing and aware is best."
Remain Vigilant: "Let no one examine the cards in private"
When Cardano moves on to discuss card games -- focusing in particular on Primero, a precursor to poker -- he not only offers strategy recommendations (and some more probability talk), but again talks about the need for players to watch out for cheats.
Just like happens in poker much later on, players in 16th-century Italy were apparently marking cards, stacking the deck, dealing from the bottom, and using mirrors placed inside rings to catch glimpses of cards as they are dealt. One gets the sense that cheating -- like gambling -- is also perhaps part of human nature, or at least some human's nature.
Cardano offers advice for combating such cheating (e.g., "Have your own cards," "let no one examine the cards in private," etc.), but also suggests the danger of being cheated might be another reason to avoid gambling altogether.
On Skill Games: "It is more fitting for the wise man to play at cards than dice"
Cardano notes a few important differences between card games and dice, one of which is the fact that with dice the play "is open, whereas play with cards takes place from ambush, for they are hidden" -- sort of an early version of Dan Harrington's point about Texas hold'em being a "partial information game."
He goes on to note how some games, such as the Venetian game trappola, reward those with good memories (e.g., being able to recall discards) and thus incorporate skill. And, indeed, most card games -- if played fairly -- are going to afford players more opportunities to use skill than they'll encounter when pitching dice.
"In play with dice... everything depends entirely on pure chance, if the die is honest" writes Cardano. "But in cards, apart from the recognition of cards from the back [i.e., marked cards] there are a thousand other natural and worthy ways of recognizing them which are at the disposal of the prudent man." Thus, he concludes, "it is more fitting for the wise man to play at cards than at dice"
The Lucky Streak: "There is something in this"
All forms of gambling nonetheless inspire a lot of irrational behavior, explains the Italian. He notes how some players consult astrology, "yet I have never seen an astrologer who was lucky at gambling." Others use geomancy to guide their play, using tossed grounds of dirt or rocks and examining them for the purposes of divination. He also mentions players carrying lucky charms (stones, amulets, etc.).
All such foolishness obviously goes against the mathematician's mindset, although he does admit to having himself sometimes wondered about the ways of chance. Cardano tells a story about his own gambling -- one involving a remarkable streak of apparent luck -- which caused him to concede "there is something in this, although we do not know the law which connects the parts."
Such is the nature of gambling -- even in card games that involve skill -- that the chance element can cause even the most logical among us to wonder if other, hard-to-explain factors can influence the course of play.
Playing vs. Teaching: "Do Those Who Teach Also Play Well?"
That autobiographical anecdote perhaps shows Cardano possesses a bit of humility, as does his title of Chapter 26 asking whether teachers necessarily make good players. There he goes on to admit that "it is one thing to know and another to exercise one's knowledge successfully... for although acumen depends on both knowledge and practice, still practice and experience can do more than knowledge."
"So it was right for Hannibal to make fun of the philosopher who had never seen a battle line and was discoursing on war," adds Cardano, who apparently was himself not a very successful gambler, even winding up in debtor's prison at one point due to his gambling losses.
Jerks at the Table: "Certain people are so contentious"
Finally, among the latter chapters comes one "On the Character of Players" in which Cardano reprises his earlier warning about being distracted by table talk or other extraneous activities while gambling. Read the following and see if what the 16-century Italian is saying reminds you of anyone you've ever played with before:
"There are some who with many words drive both themselves and others from their proper senses.... Certain people are so contentious that they provoke others to such anger that they forget everything."
Cardano admonishes such behavior -- what we might call "tilt-inducing" -- and recommends the reader avoid such opponents. On the other hand, Cardano also speaks against those who are too quiet at the tables, saying "that taciturnity which verges on utter silence is too hard and severe, since it is a greater pleasure to talk without playing than to play without talking." The point recalls one of those "useful features" of gambling games Cardano mentioned early on, namely, that it provides an occasion for fun and friendship.
In the end, one gets the sense that without this social benefit, Cardano would never recommend anyone gamble. But as he notes repeatedly, he well understands man's attraction to gambling games, implicitly arguing that a desire to gamble could be said to define what makes us human.
Thus does Liber de Lude Aleae do a good job (in my opinion) defending gambling as a subject worthy of a scholar's attention.