The Timeform Knowledge: Ante-Post Betting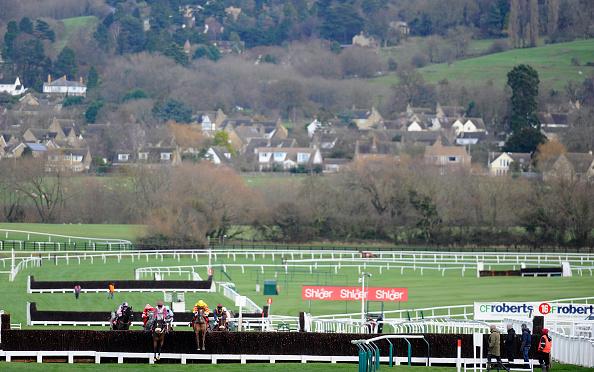 Establishing what it takes to win races at the Cheltenham Festival can lead to good value ante-post bets
Simon Rowlands looks at ante-post betting in the latest module of the Timeform Knowledge.
"Prepare yourself to know what to expect and to respond to what actually happens when, say, a trial for a classic takes place. The immediate post-race odds quoted for the classic itself may be done in ignorance of some important nuggets of information, such as the time and sectional value of the performance."
In most crucial respects, ante-post betting - or wagering on an event that is some way in the future - is much like any other betting. The same principles of seeking value and of staking sensibly apply.
However, the timescale and the incomplete nature of some of the information on which a punter acts is greater, of course.
Timeform's "Long Ranger" ante-post guru Martin Dixon observes:
"Because we are dealing with the big races, at the big meetings, as ante-post punters we are often trying to find the winner of some of the most competitive events weeks or months in advance.
This is a tough ask, working without the knowledge of the field, the going, the draw (in Flat races), the jockey and other variants which race-day bettors can factor in.
As such, don't expect strike-rates to be high, and rather than trying to 'find the winner' focus primarily on finding horses that will shorten up in the market so you are in a position to trade out, either for a profit or a 'free bet'.
It's not sufficient to simply think 'that's a Grand National type', for instance, because connections aren't sure to view that race as a target. So, as well as form study, it's important to listen to interviews and read quotes to give yourself the best possible chance of actually backing a runner.
Despite what some may say, if you're a decent judge and do your background work, there is still value to be found in modern ante-post markets, particularly in the non-handicap National Hunt races where we are regularly dealing with established horses for whom there is a well-structured race programme."
An ante-post bet could, perhaps, be viewed as a double on the horse to run in the race in question and then to win it.
There is a potential asymmetry in information, with the punter knowing less about some aspects of a potential bet than do others. But this is part of the challenge, rather than an insurmountable hurdle.
For instance, when trying to determine the intentions of a trainer it is worth understanding that usually only a few at most of a block entry from one trainer or one operation will contest a given race, no matter how prestigious. If a horse is clearly the stable star it is more likely to run in a suitable but specific high-profile event than if it was one of several stars in a high-powered set-up.
Ante-post prices which are issued immediately after a race can sometimes offer great value, albeit fleetingly. Bookmakers' representatives do not always sing from the same hymn sheet to the degree they seem to at other times.
Prepare yourself to know what to expect and to respond to what actually happens when, say, a trial for a classic takes place. The immediate post-race odds quoted for the classic itself may be done in ignorance of some important nuggets of information, such as the time and sectional value of the performance.
As with other forms of betting, evidence and preparation are important considerations when striking an ante-post bet. There is likely to be some sort of a precedent for the kind of bet you are striking, if not for the precise bet itself.
For instance, with nearly all roads in jump racing leading to the Cheltenham Festival in March, it should be both possible and relevant to establish what it takes to win there - or run well there if you prefer - from past evidence.
A basic count of winners since 2001 gives the following: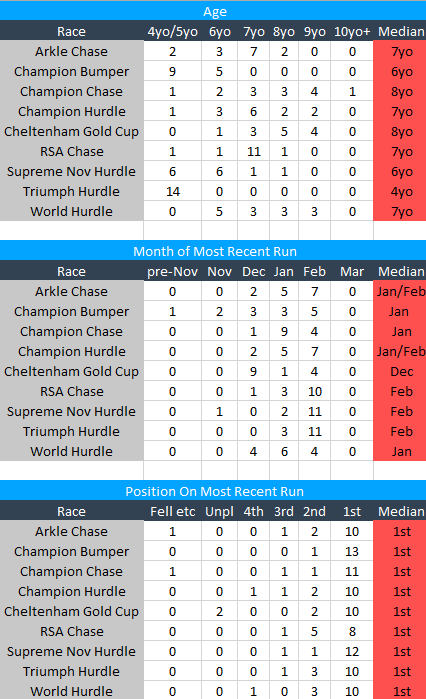 From which it might be deduced that:
• Seven-year-olds have a particularly good winning record in the Arkle and RSA Chases but five-year-olds have done best in the Champion Bumper
• That February is, unsurprisingly, the best month overall for a horse to have had its final race before the following month's Cheltenham Festival, but that December (the month of the King George VI and Lexus Chases) is strong for the Cheltenham Gold Cup and January for the Champion Chase
• That a last-time win is, unsurprisingly, a positive indicator overall, but more so for the Champion Bumper (in which non-winners may be balloted out) and less so for the RSA Chase
This is not the same as stating that a horse of a given age or profile should be overlooked come the day.
For instance, five-year-olds have performed perfectly well as an age-group in the World Hurdle, finishing placed a few times, but for one reason or other very few of them turn up in the race, and it is hardly surprising therefore that none of them has won. That is worth knowing at the time you strike an ante-post bet.
It could be observed that, among current short-priced favourites for the 2016 Cheltenham Festival, Douvan (six next March) would be a younger-than-average winner of the Arkle Chase, that Faugheen (eight next March) would be an older-than-average winner of the Champion Hurdle, and that Un de Sceaux (eight next March) falls in the mid-range of winners of the Champion Chase (but age seems not to be an especially dominant factor in that race).
One last thing where ante-post betting on the Cheltenham Festival in particular is concerned is that it should be noted that many bookmakers start offering non-runner/money-back guarantees in the weeks leading up to the event.
One of the downsides of ante-post betting is failing to get a run for your money. If that risk is removed a borderline value bet may become a decidedly good one. Those bookmakers are scrambling over one another for your business: it would be rude not to indulge them!
Tying up your money for months on end on an ante-post bet is not everyone's cup of tea, but it can give you both entertainment - every fluctuation in the betting or favourable/unfavourable stable report can become very personal - and the possibility of having struck a good bet.
Consider, for instance, the current ante-post market on Betfair Exchange for the 2016 Two Thousand Guineas at Newmarket.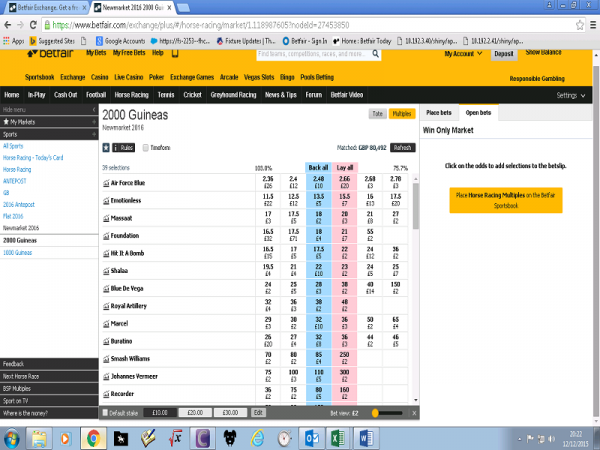 There is a fairly straightforward proposition here. Air Force Blue is a short-priced favourite: if you fancy him then that price may still seem attractive; if you don't, then you have a number of options, including simply trying to lay him.
Pretty much everyone is likely to agree that Air Force Blue ended up the dominant two-year-old in this part of the world, and he is in the care of a genius trainer in Aidan O'Brien. The Two Thousand Guineas at Newmarket on April 30 is very likely to be the colt's aim, if all goes well.
How easily, and credibly, can you make an argument that he is under-priced?
You could point out that it is over four months until the race, and that it is unknown how Air Force Blue (or his stablemates) will come through the winter.
You could point out that O'Brien himself will almost certainly have several three-year-olds who start to show form much better than previously come the spring.
You could point out that, good though Air Force Blue's form is (he got a Timeform rating of 128p at the end of his two-year-old season), it is not definitely going to be superior to that of a good winner of The Craven Stakes, The Greenham Stakes, or one of the other trials for The Guineas.
You could question whether Air Force Blue will stay The Guineas distance of a mile, or, more convincingly, whether he will stay it if the ground comes up soft and/or the pace ends up searching.
There are numerous other things that could go wrong. But, then again, Air Force Blue has proved himself in a manner which cannot be said of his peers.
If your Air Force Blue glass is half empty, you may be tempted to click on that lowest pink-shaded price and lay it, or at least offer a price larger than the 2.48 which is the best the colt can be backed at; if your Air Force Blue glass is half full then you may be tempted to click on that best blue-shaded price, or at least ask for a price smaller than the 2.66 which heads that side of the market.
The choice is yours: and Exchange betting gives you the kind of flexibility of options that is not generally available elsewhere.

Discover the latest articles
Read past articles