Myth-busting: 'Weight does not matter'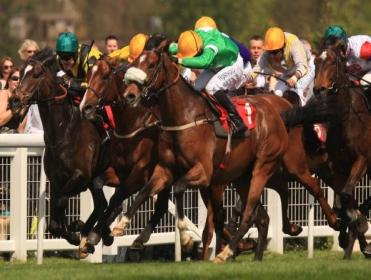 Weight certainly matters in racing
Fresh from busting some Cheltenham Festival-related myths, Simon Rowlands looks at the theory that 'weight does not matter'...
There is convincing evidence that superior horses are not always penalised enough in UK racing. In addition, studies undertaken by Bob Wilkins in his acclaimed "Bioenergetics and Racehorse Ratings" support this proposition...  
This myth-busting blog could easily be just five characters long, those five characters being: 
F = m*a
But that would have left me approximately 800 words shy of my usual blog length. That, along with the continued misunderstanding of the role of weight in horseracing (and not just in our universe), obliges me to explain further.
The above equation is Sir Isaac Newton's Second Law of Motion, in which "F" is force, "m" is mass and "a" is acceleration. It was first published in the 17th Century and still holds true other than at the subatomic level.
Mass can be treated as synonymous with weight on the surface of the Earth, while acceleration indicates the rate of change of velocity and is a function of speed in this context.  
In other words, an increase in weight (such as the combined weight of the horse, jockey and equipment) will require an increase in force to maintain the same speed or will result in a decrease in speed if force remains constant. The ability to transmit force is finite in a given individual, and any increase in force will be paid for subsequently.
Weight matters, therefore. Despite what some might wish for, horseracing is not exempt from this fundamental law. 
There is really no further explanation required regarding the myth in the title of this blog: that is all the proof that is needed.
But weight is just one of a multitude of factors in our universe, and, in particular, it is a factor whose effect may be masked by other factors in horseracing. 
"Weight does not matter" is an easy myth to bust, but "how much does weight matter?" is a remarkably difficult question to answer, because "it depends". It depends on the circumstances of going, track and race distance among other things.
Weight is the preferred means for trying to equalise differences in abilities between horses. There are alternatives, but, for reasons that should be obvious, things like staggered starts or starting horses at different times have been deemed impractical. 
The upshot is that weight not only "matters" but is simply unavoidable in horseracing. 
As a result, performance is often measured in weight terms (which is what many ratings, including Timeform's, represent). It is the dominant language of performance measurement if you like. But performance could also be expressed in time or distance differentials, or in other ways if preferred, so long as weight is not ignored. 
As weight matters, it might be expected that horses carrying more weight would fare worse than horses carrying less weight. This seems to be where the weight deniers get confused. 
That would be true if there was no bias in the sample and if all external factors remained constant, but that is clearly not the case. Horses are given more weight as they are perceived to be (and often manifestly are) superior to their lesser-weighted rivals. If this weight differential is too little (or too much) it will skew the results. 
There is convincing evidence that superior horses are not always penalised enough in UK racing. In addition, studies undertaken by Bob Wilkins in his acclaimed "Bioenergetics and Racehorse Ratings" support this proposition.  
In older-horse all-weather handicaps from January to April 2012 inclusive, horses that had won a handicap the time before finished first or second in a handicap 1.49 times as often as would be expected by chance (or if all horses had equal prospects, as is the stated intention of handicaps). 
Horses that had finished second made the first two 1.32 times chance, horses that had finished third did so 1.27 times chance, and horses that had finished fourth did so 1.05 times chance. 
Far from being evidence that a fundamental law of the universe was wrong, and that increasing weight on a horse's back actually improved its performance, this is precisely what you would expect to see if the weight increase was inadequate!
If a superior horse is penalised 9 lbs when it should be penalised 12 lbs (and this is the sort of magnitude of the discrepancy in question here) then it is likely to outperform its rivals despite carrying more weight. 
Performance by absolute weight carried in the same January to April 2012 sample shows a clear correlation: the more weight carried, the better the prospects. Indeed, horses in the lower weight range, carrying between 114 lbs (8-02) and 126 lbs (9-00), had a first-two impact value of less than 1 for every pound increment. 
But the important thing to realise is not that this is evidence that "weight does not matter" (let alone that it matters in reverse!) but that horses carrying more weight tend to be superior, more superior than the weight offset implies. 
Having started with a blog that could have been just five characters long, I find that there is much, much more that could be said! A topic to return to another day.  
My thanks go to Thomas Rusga of the Sports Science course at UWIC for his help with some of the more technical aspects of this blog.
 Horses To Follow 2013. 50 of the best Flat prospects & much more. Out now. 136 pages. Only £9.95