Sectional Debrief: 2013 Arc de Triomphe Day, Longchamp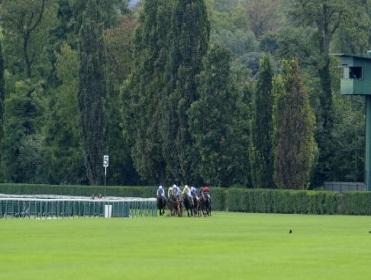 Simon Rowlands has analysed the sectional times at Longchamp
Simon Rowlands has examined the sectional times at Longchamp on Arc de Triomphe day...
Treve's final 200m broke 12 seconds comfortably and is equivalent to a 11.95s furlong...
Followers of sectional times are likely to be on good terms with themselves after an Arc in which the horse identified as best by that measure from Trials Day came out on top. That horse was Treve, and you don't need sectionals to tell that she was mightily impressive in the Arc itself. But what do those sectionals tell us about how she went about registering one of the best performances of recent times? And what do they tell us about other efforts on what was a most memorable Arc Day?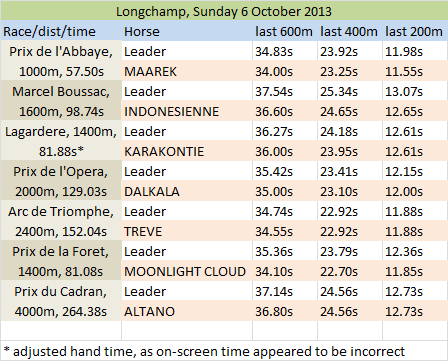 Sectionals were taken from on-screen figures (though the overall time for the Lagardere appeared to be incorrect, so has been amended), and individual times were engineered from estimated visual margins at those sectional junctures. It should also be remembered that sectionals have long identified the 1400-metre course as short of the distance advertised, to the tune of something like 40 metres (opening sectionals are implausibly fast). Overall times and sectionals in unison suggest ground conditions were not as testing as had been forecast in some places: Timeform has gone for "good to soft". 
The headline figures may make it look as if the 2013 Prix de l'Arc de Triomphe was steadily-run. Treve came home in finishing speed %s of 106.5 (last 1000m), 110.0 (last 600m), 110.6 (last 400m) and 106.6 (last 200m), all well above par. But those are the individual figures for an exceptional filly who burst clear of her field and showed no signs of stopping thereafter. A better guide are the leaders' figures, which suggest the pace was fair until 1000m out, then steadied a bit, at which point Treve swept through and quickly put the race to bed. Her final 200m broke 12 seconds comfortably and is equivalent to a 11.95s furlong. That is some time for a horse in such circumstances!
It appeared to be bettered, but only just, by Moonlight Cloud at a much shorter trip later on, though it should be remembered that the Arc and the Foret do not use the same finishing posts. Nonetheless, the Foret sectionals do identify that it was not just a remarkable burst of acceleration from Moonlight Cloud that enabled her to come from last to first in the space of about 200m: her rivals started to flag a bit late on also.
The Lagardere earlier on had a similar sectional profile to the Foret, in terms of leaders' finishing speed %s, but Karakontie's final furlong was slow compared to Moonlight Cloud's. 
The sectionals for the Abbaye confirm visual impressions that the winner, Maarek, picked off horses who had gone a bit too fast. 
And the sectionals suggest that the best filly probably did not win the Marcel Boussac. Indonesienne can be credited with a smart effort in coming from behind to prevail, but runner-up Lesstalk In Paris was the "moral" winner, making most at a strong pace and still a couple of lengths to the good 200m out. 
A slightly less forcing pace in Paris next spring could easily see Lesstalk In Paris triumphant in the French equivalent of the 1000 Guineas. 
Have you checked out our new, improved Facebook page? It's the place to go for our features & tips!

Discover the latest articles