Paul Nicholls: Dodging Bullets set to return and news on my other big-race Festival plans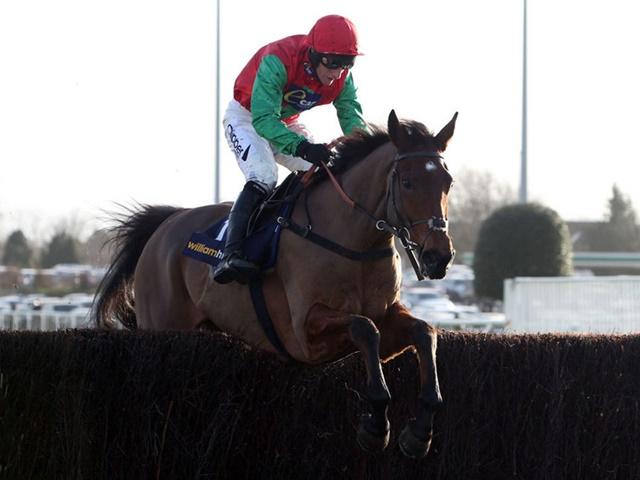 Paul reveals that Dodging Bullets is on course to defend his Champion Chase crown
With the 2016 Cheltenham Festival just eight weeks away Betfair Ambassador Paul Nicholls brings us the latest news on some of his stable stars such as Dodging Bullets, Silviniaco Conti, and Saphir Du Rheu...

"The timing of the race at Newbury is perfect to bring him on for his bid to retain his title at Cheltenham in the Champion Chase just over four weeks later."
World Hurdle a possibility for Conti
Punters will have seen that I have not given Silviniaco Conti an entry in the Cheltenham Gold Cup as he has come up short in it for the last two years after falling on his first attempt at the race.
If he does go to the Festival in March it will be in the World Hurdle.
Conti has been a major flag-bearer for the yard over the past three years but disappointed last time when he was seeking to win the King George V1 Chase on Boxing Day.
As I felt he was struggling a bit with his breathing I sent him straight off to the vets to have an operation to cauterise his soft palate. On his return to Dicheat he had 10 days on our mechanical horse walker, was then ridden each morning, and will resume cantering tomorrow.
If I decide to send Conti to Cheltenham then with normal progress he should be ready in time for the World Hurdle which I see as an ideal prep race for his two main targets towards the end of the season at Aintree and Punchestown.
He will have an entry at Aintree in the Grand National and the Bowl Chase which he has won for the last two years.
News on my other World Hurdle possibilities
We have also have three more candidates - Saphir Du Rheu, Aux Ptits Soins and Ptit Zig - for the World Hurdle.
Saphir, too, had surgery to help his breathing a few days after finishing fifth in the Hennessy Gold Cup. I felt his wind had become a concern as he didn't finish the Hennessy as I would like on soft ground or at Ascot on his previous outing.
Saphir has been back been cantering for a while, is doing plenty each morning and I still retain plenty of faith in him. He is in very good shape and bang on course for the World Hurdle.
Aux Ptis Soins has had a torrid time with two bouts of surgery to sort out a persistent issue which began with a fractured tooth and then led to a sinus problem.
It is all sorted now at long last and he returned to us earlier this month after a fortnight's exercise on Claire Dyson's water treadmill.
While he hasn't done too much yet, he has lots of class, looks in grand shape and I know my nephew Harry Dirham, who rides him frequently, is very happy with him so far.
But I am nervous that we only have eight weeks to prepare him for the World Hurdle, though further down the line there is Aintree and Auteuil for him.
I don't mind admitting it is in the back of my mind that after such a tough time towards the end of last year Aux Ptits Soins will be a better horse next season with the benefit of a summer holiday.
Ptit Zig reverts to hurdle at Cheltenham on Saturday week after his latest mishap over fences at Kempton over Xmas. We schooled him yesterday and the ironic thing is that you wouldn't know there was a problem with his jumping.
A run over hurdles will do him good and he might even stay over hurdles with some valuable races for him at Auteuil later in the campaign as he has won over hurdles there in the past.
But to cover all bases he also has an entry at the Festival in the Ryanair Chase, a race which is the plan for Sound Investment and also Vibrato Valtat after the Clarence House Chase at Ascot on Saturday.
Bullets on track to defend Champion Chase crown
The news on the reigning champion two mile chaser Dodging Bullets is all good. We are thrilled with the way he is going at home after recovering from a splint problem that forced him onto the sidelines for several weeks.
He is sound as a pound and working hard though I'd say it will be impossible for him to be at his best for his comeback in the Betfair Price Rush Chase at Newbury on February 13 after such an untimely interruption to his campaign.
The timing of the race at Newbury is perfect to bring him on for his bid to retain his title at Cheltenham in the Champion Chase just over four weeks later.
Exciting times ahead as rebuilding process continues
The horses continue to look really well at home after a quiet start to the year following their regular mid winter flu vaccinations.
After putting a handful on the transfer list we still have a team of 120 in full work and schooling regularly, with dozens of nice youngsters to run in the coming weeks once the ground dries out a bit.
There is so much to look forward to as we continue to rebuild.