WGC-Bridgestone Invitational: Rose the perfect fit for Firestone finale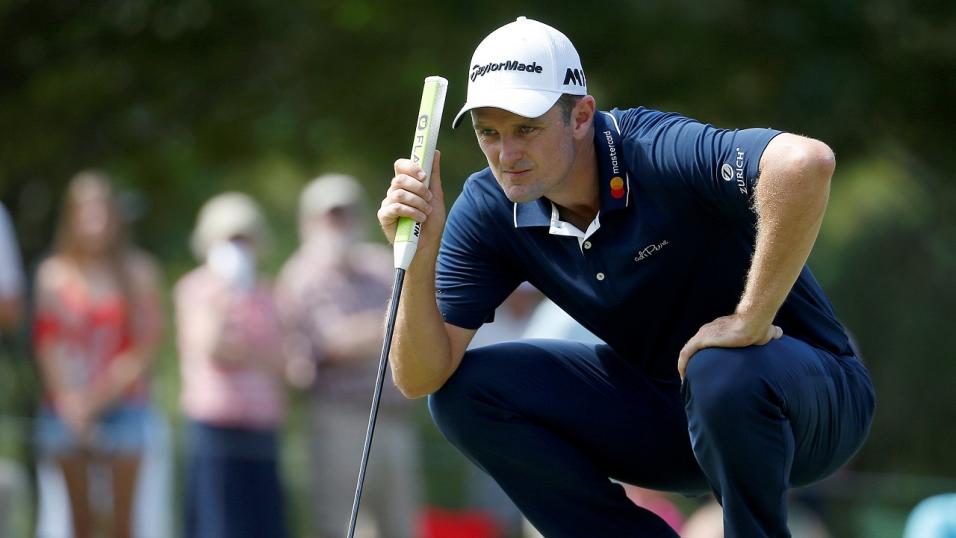 Justin Rose - one of The Punter's fancies in Akron
We're off to Akron this week for the last ever edition of the WGC-Bridgestone Invitational so read our man's in depth preview ahead of Thursday start here...
"I've had a small bet on Dustin Johnson but the one I like at the prices is Justin Rose. He's been in terrific form of late and his second place at Carnoustie, having only just made the cut, was a tremendous effort. His putting's improved immeasurably of late and he ticks all the right boxes."
Tournament History
Originally known as the World Series of Golf, the WGC - Bridgestone Invitational was first played in 1976 and it became a World Golf Championship event in 1999. It's a lucrative limited field tournament featuring the world's best players with no cut.
Apart form 2016, when the Olympics disrupted the schedule, the event has always been played in the week before the year's final major - the USPGA Championship.
This will be the final edition of the WGC-Bridgestone Invitational, with the St Jude Classic being promoted to WGC status next year replacing it on the schedule.
Venue
Firestone Country Club (South Course), Akron, Ohio
Course Details
Par 70 - 7,400 yards
Hole Average in 2017 - 69.76
Originally designed by Bert Wray in 1928, Robert Trent Jones completely remodelled the South Course at Firestone prior to the USPGA Championship in 1960, before Jack Nicklaus did some touch-up work in 1986.
It's very long for a par 70 at 7,400 yards and with seven par fours measuring at least 464 yards, unsurprisingly, it's the longest par 70 encountered on the PGA Tour. The signature hole is the 667 yard par 5 16th, which is the longest hole played in any non-major.
The 16th was nicknamed 'The Monster' by Arnold Palmer during the 1960 USPGA. With a pond guarding the front of the green, it used to be considered an impossible hole to reach in two but thanks to its downhill fairway, a few longer hitters have been able to reach the green in two recently.
It's a tough course and last year's scoring is best ignored. Rain kept the course really soft and very scorable. The winner, Hideki Matsuyama went round in just 61 strokes on Sunday and his winning total of 16-under-par was unusually high.
The fairways are fairly generous and straight, with very few doglegs, but it's important to find them in order to attack the fast (usually over 13 on the stimpmeter), bentgrass and poa annua mixed greens. They're not especially small greens but they have false fronts that need to be avoided.
TV Coverage
Live on Sky Sports all four days. Featured Group coverage begins at 14:00 behind the red button on Thursday and full live coverage starts at 18:30.
Last Five Winners
2017 - Hideki Matsuyama -16
2016 - Dustin Johnson -6
2015 - Shane Lowry -11
2014 - Rory McIlroy -15
2013 - Tiger Woods - 15
What Will it Take to Win the WGC-Bridgestone Invitational?
As demonstrated below, with the key stats for the last five winners, there isn't really anywhere to hide at Firestone and all aspects of a player's game need to be on point. Length off the tee is most certainly advantageous and there was a time where a few winners didn't have especially good driving accuracy stats but the most recent winners have all driven fairly well.
2017 Hideki Matsuyama (DD 12, DA 27, GIR 1, Scr 15, PA 8, AA 1)
2016 Dustin Johnson (DD 2, DA 4, GIR 5, Scr 19, PA 2, AA 1)
2015 Shane Lowry (DD 23, DA 29, GIR 5, Scr 13, PA 9, AA 2)
2014 Rory McIlroy (DD 1, DA 12, GIR 1, Scr 7, PA 14, AA 1)
2013 Tiger Woods (DD 6, DA 13, GIR 2, Scr 4, PA 5, AA 1)
Greens In Regulation has been the most important stat, with all five winners ranking inside the top-five, but the fact that all five ranked first or second for the All Around stat tells us all we need to know and probably explains why winners of this event tend to be in great form beforehand. This isn't a track where players suddenly find something and contend out of the blue.
Looking at the last five winners, course specialist, Tiger Woods had won four times previously in 2013 and he'd finished sixth in the Open Championship in his penultimate start. Rory McIlroy and Dustin Johnson had both won majors in their penultimate outings and Hideki Matsuyama's three starts before winning here last year had seen him finish second in the US Open, 14th in the Irish Open and 14th in the Open Championship. Shane Lowry was a surprise winner and he didn't have sparkling form figures but he'd contended in both the BMW PGA Championship and the US Open so he'd certainly shown glimpses.
Is There an Angle In?
Course form used to be an important angle in but that's not been the case in the last three years. In two previous visits, Lowry had only finished 76th and 48th, DJ had form figures reading 21-15-48-29-33-53 and Matsuyama's weren't any better, reading 21-12-37-42. Course form used to be king but then again, Tiger Woods winning eight times here skewed the figures somewhat and after the last three renewals, we can't be put off by a poor run of form here. A good performance at Augusta looks like a good indicator though...
Lowry missed the cut at the US Masters in 2015 but 14 of the last 15 winners had finished inside the top-30 in the year's first major before they won here.
Is There an Identikit Winner?
It's a small field and the cream rises to the top. As already stated, Lowry wasn't on many people's radar but three of the last five winners began the event trading as the first or second favourite, Matsuyama had just four ahead of him in the market 12 months ago, and huge outsiders just don't win.
Immediately after his victory 12 months ago, Matsuyama traded at odds-on in the US PGA Championship but he eventually finished fifth and he's yet to win a major so now all bar three winners at the venue since 1999 have won a major championship. Hunter Mahan, in 2010, and Lowry three years ago are the other two. Mahan and Lowry may not have won majors but just like Matsuyama, they've both come close. Lowry led the 2016 US Open by four with a round to go and Mahan had chances to win a couple of majors at around the time he reached number four in the world rankings.
Tiger is the only man to win the WGC-Bridgestone Invitational more than once and that tells you all you need to know. This is a tough but true test and it always sorts the wheat from the chaff and the fact that the best of his generation finished in front eight times highlights just how much this track suits the very best players.
In-Play Tactics
Hunter Mahan trailed by seven strokes in a tie for 37th after round one before going on to win in 2010 and that's as far back as any winner has been after round one at this course since 1996. Matsuyama opened up with a round of 69 to sit four off the pace after round one last year and up until four years ago, Mahan, who opened up with a round of 71, had been the only player to win having not opened with a round in the 60s, since Phil Mickelson won the World Series of Golf after an opening round of 70 in 1996. A super low round hasn't been the norm of late though and the three winners before Matsuyama all failed to break 70 on day one. And they all trailed by five strokes after the opening round.
A slow start is hard to overcome though and both Rory and Lowry, in 2015 and 2016, shot 66 in round two to close to within four strokes of the lead at halfway. Matsuyama moved from 15th after round one to third after round two and from four adrift to three back. Rory sat third and Lowry second at halfway and 18 of the last 21 winners here have been inside the top-ten at the halfway stage. DJ did it the hard way. He sat tied for 22nd and six adrift after round two and that's as far back as anyone has come from at the course since 1996.
DJ's win from that far off the pace was quite incredible and something we're not likely to witness again. His putting was phenomenal over the weekend and he was helped considerably by a shocking collapse by third round leader, Jason Day.
This used to be a venue where a fast start was essential and being in the van after 36 holes was vital. In the dozen events staged here between 1996 and 2008, 11 of the 12 winners were within two of the lead at halfway and the only exception was Tiger Woods in 2007, who trailed by four, but things have changed a bit of late and where I used to feel a fast start was imperative, it's clearly not absolutely vital now.
Since 2007, seven of the 11 winners have trailed by at least four strokes at halfway, suggesting we can't just focus on the leaders after 36 holes.
Being right up there with a round to go has been key though. Matsuyama, who was fourth but only two adrift, DJ, a year earlier, who trailed by three strokes in a tied for fifth, and Mahan in 2010 are the only winners to be outside the top-three places with a round to go. Although surprisingly, given those stats, only eight third round leaders have successfully converted since 1996 so sitting second or third, a couple of strokes back, looks a great spot to be through 54 holes.
Market Leaders
It's impossible to dismiss world number one and 2016 winner, Dustin Johnson. In his last four starts, he's hacked up at the FedEx St Jude Classic, led at halfway in the US Open and then trotted up in Canada last week after a bizarre missed cut in the Open.
He's bang in form, he's won ten of his last 45 starts which equates to a 22.2% strike rate since he won the US Open, he has no problem at all winning back-to-back tournaments, and he's worth a saver at least at anything above 7/1.
Tiger Woods has been popular in the market already and DJ is the only man trading shorter. As an eight-time winner of the event, it's stating the obvious to say his course form is spectacular but he's definitely not for me at such a skinny price. I know he contended at Carnoustie but the conditions suited him, with a premium on plotting and nudging it around the famous old links. He won here in his pomp and I have my doubts whether the injury ravaged 42-year-old Tiger's best is quite up to the best of the likes of DJ and others now and we still haven't seen him look close to finishing the job off yet since his return.
He was far from convincing in contention at the Valspar Championship in March when Paul 'flaky' Casey took the title and he went double bogey-bogey when he hit the front in round four at Carnoustie last time out. We can make excuses all we want but the fact is, he was in pole position there and he blew it and he hasn't won anywhere since he took this title fully five years ago.
With course form figures reading 68-9-6-5-27-1-5, and fresh off a tied second in the Open Championship, Rory McIlroy commands respect but I just can't trust his putting. So good is his tee-to-green game at present that if he gets it together on the greens he's bound to go very close but that's a big if for me on the bulk of the evidence we've witnessed this year.
Selections
I've had a small bet on Dustin Johnson but the one I like at the prices is Justin Rose. He's been in terrific form of late and his second place at Carnoustie, having only just made the cut, was a tremendous effort. His putting's improved immeasurably of late and he ticks all the right boxes.
I've also had a small bet on the brand new major champion, Francesco Molinari, who I thought was insultingly big at 30.029/1.
Selections:
Dustin Johnson @ 9.08/1
Justin Rose @ 16.5
Francesco Molinari @ 30.029/1
*You can follow me on Twitter @SteveThePunter

Discover the latest articles
Read past articles