The Punter's In-Play Blog: Long too short in the Dominican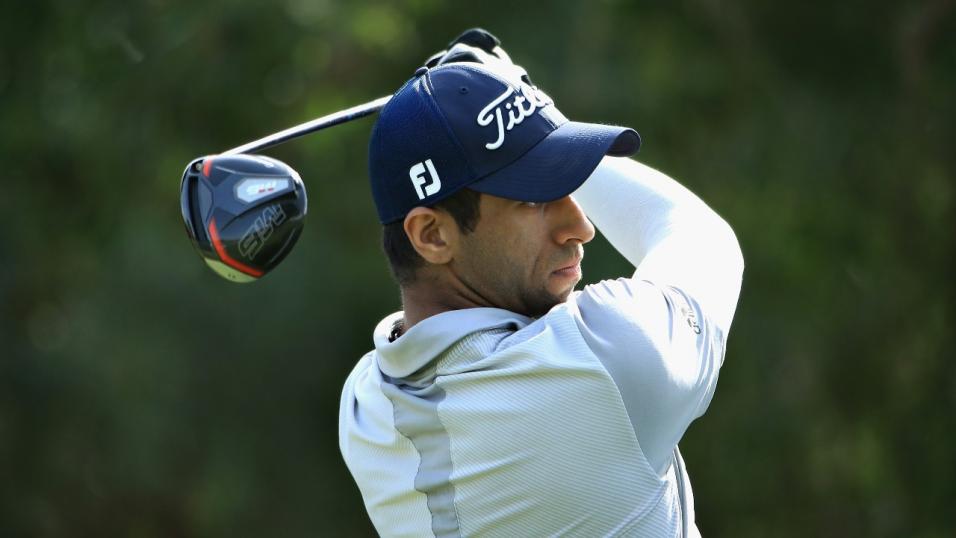 Aaron Rai - leading by a stroke at the Irish Open
Arron Rai leads the Irish Open by a stroke and Adam Long is two clear at the Corales Puntacana R & C Championship. Can either or both convert their slender leads?
"Aaron Rai is the tenth man to take a one stroke lead into the final round of a European Tour event in 2020 and six of the first nine went on to win."
10:30 - September 26, 2020
There's just one more round to go at the Irish Open, where frost has again delayed the start, and Wolverhampton's Aaron Rai, who was tied for the lead with Maverick Antcliff at halfway, still leads the way. Here's the top-ten with prices to back at 10:20.
Aaron Rai -8 85/403.1
Maverick Antcliff -7 7/18.2
Jazz Janewattananond -6 8/19.0
Dean Burmester -6 8/19.0
Oscar Lengden -6 13.5
Lucas Herbert -5 10/111.0
Toby Tree -5 31/132.0
Justin Harding -4 27/128.0
John Catlin -4 28/129.0
Jordan Smith -4 33/134.0
-3 and 59/160.0 bar
Aaron Rai is the tenth man to take a one stroke lead into the final round of a European Tour event in 2020 and six of the first nine went on to win. And since 1996, one-stroke 54-hole leaders on the European Tour have a better than 40% strike rate, so I wouldn't want to put anyone off the overnight leader.
Rai has only ever held an outright 54-hole lead once before and he went on to win. He won by a stroke at the Hong Kong Open at the end of 2018, having led by six with a round to go. Prior to his sole success to date on the European Tour, Rai had been tied for the lead through three rounds three times.
On the first occasion, on the Challenge Tour in 2016, he shot 76 in round four and finished 27th but a year later he won the Le Vauxhall Golf Challenge by five after a Sunday 66. He was then tied for the lead at the BMW International on the European Tour in June 2018 but could only finish fifth.
Rai has been extremely steady all week, ranking 11th for Driving Accuracy, 26th for Greens In Regulation, fourth for Scrambling and 10th for Putting Average and it's very hard to envisage him putting in a poor round today but with the wind dropping, I just wonder if he's vulnerable to a low score from slightly off the pace.
At over 2/1, Rai is a perfectly fair price and alternatives are hard to pinpoint but I'm happy to put the spade down for now and see what the final round brings. Both my in-play picks have been poor and I'm happy to leave the event alone now and hope for something sensational from pre-event pick, John Catlin, who was disappointing after such a good start yesterday. He hit the front after his third birdie of the day at the seventh but he then bogeyed the next two before paring every hole on the back-nine for the second day running.
Dubai Desert Classic winner, Lucas Herbert, is close enough at just three back but he's short enough at around 10/1 and yesterday's in-play pick, Joakim Lagergren, may play with more freedom now that he trails by five. He may well be a decent back-to-lay trade at 59/160.0 given he came from off the pace at the Portugal Masters last time out.
Over on the PGA Tour, following an eight-under-par 64 in round three, Adam Long will take a two-stroke lead into the final round of the Corales Puntacana R & C Championship. Here's the 54- hole leaderboard with prices to back at 10:25.
Adam Long -17 20/211.95
Hudson Swafford -15 11/26.4
Mackenzie Hughes -14 5/15.9
Xinjun Zhang -13 13/114.0
Nate Lashley -12 47/148.0
Sean O'Hair -12 54/155.0
Luke List -11 59/160.0
-11 and 119/1120.0 bar
Given how congested the leaderboard was in the early stages of the third round, it's quite strange to see we have an odds-on shot to evaluate with a round to go, and he looks worth taking on.
Adam Long's sole success to date came in the Desert Classic last year, an event formerly called the CareerBuilder Classic, and won by the man currently sitting second, Hudson Swafford, in 2017, so he has won before, and he was very impressive too, despite beginning the tournament as an unconsidered 1000.0 chance.
We saw nothing that week to suggest that he can't handle the pressure of leading a PGA Tour event with a round to go but he did come from three strokes off the pace through 54 holes and he's never before led with a round to go on any tour. It's impossible to know how he'll handle the pressure today but the stats suggest he's too short at odds-on.
The last four players to lead by two with a round to go on the PGA Tour have all been beaten and since 1996 only 50% have gone on to win. I would want a bit better than evens about Long and I'm happy to take him on.
I'll look to trade the event in running tonight, but having already gotten Swafford onside yesterday, I've now added the two men trailing by five, former winner, Nate Lashley, and Sean O'Hair, as well as Luke List, who trails by six, at juicy odds this morning.
I'll be back tomorrow with the De-brief.
10:25 - September 26, 2020
After the early delay at the Irish Open yesterday, play was halted due to darkness and 27 players needed to return to the course this morning to finish off their second rounds and it looks like Galgorm is going to play slightly easier today than it has for the first few days.
Jordan Smith, who didn't make a single birdie yesterday, bogeyed the 16th (his first hole this morning) but he finished round two with back-to-back birdies and he wasn't the only one to make hay first thing.
Maverick Antcliff birdied two of his first three holes (11 and 13) and he eagled the last (also bogeyed 14 and 15) to tie the lead and Toby Tree birdied the 18th. Looking at the forecast, the wind has dropped fractionally but I don't expect the tournament to transform into a birdie-fest of all of a sudden.
Now that they've finally caught up, here's the 36-hole leaderboard with prices to back at 10:15.
Aaron Rai -5 6/17.0
Maverick Antcliff -5 15/116.0
Joakim Lagergren -4 7/18.2
Jordan Smith -4 10/111.0
Dean Burmester -4 10/111.0
Robert Rock -4 14.5
Toby Tree -4 31/132.0
John Catlin -3 11/112.0
Justin Harding -3 13.5
Scott Hend -3 33/134.0
Ewan Ferguson -3 64/165.0
-2 and 31/132.0 bar
I missed the juicy early prices on Monday about in-form course winner, Joakim Lagergren, who's one of Matt Cooper's each-way fancies, but I'm happy to get him onside this morning at 7/18.2.
He was the star of the show in the tricky afternoon conditions yesterday, playing the last eight in four-under-par. If he can continue that form into today, he'll still be on the premises tomorrow and he's the one most likely to make a low score in Sunday's benign conditions.
Over on the PGA Tour, the Corales Puntacana R & C Championship looks wide open with as many as 14 players inside the top-nine and ties and within four of the lead. Here's the 36 hole leaderboard with prices to back at 10:20
Hudson Swafford -12 7/18.0
Luke List -10 8/19.0
John Suh -10 15/116.0
Sean O'Hair -10 23/124.0
Mackenzie Hughes -9 9/19.8
Adam Long -9 12.5
Sepp Straka -9 15.5
Xinjun Zhang -9 18.5
Sam Burns -8 14.5
Patrick Rodgers -8 25/126.0
James Hahn -8 35/136.0
Joseph Bramlett -8 54/155.0
Kelly Kraft -8 59/160.0
Tyler McCumber -8 79/180.0
Thomas Detry -7 33/134.0
-7 and 49/150.0 bar
Brice Garnett, who won the tournament wire-to-wire two years ago, was a couple clear at this stage but the other three event winners all trailed by three, four and five strokes - although none of them were outside the top-eight and ties at halfway.
If history is to repeat itself, those tied for 15th and five off the lead are too far back but this is a venue where outlying low scores can be posted. For example, Graham DeLaet has missed the cut after an opening 78 but he shot 64 yesterday and both Luke List and Adam Long shot seven-under-par 65s in round two but the next best on the day was 67.
I wouldn't rule anyone out from further than four adrift but with as many as 14 players within four, there's a lot of traffic to pass and it's long odds-on that one of the top-nine and ties will have a decent enough weekend to take the title.
Mackenzie Hughes (three off the lead) and Sam Burns (four back) were both well-fancied before the off and if they can improve their putting a bit over the weekend they're huge dangers and the same can certainly be said about my pre-event pick, James Hahn, who trails by four. He ranks eighth for Driving Accuracy and first for Greens In Regulation so if he can start holing a few more putts he should put in a charge but I'm happy to play the leader at this stage.
Hudson Swafford has only ever led at the halfway stage of a PGA Tour event once before - at the 2017 CareerBuilder Challenge - and he went on to win, despite a slightly disappointing 71 in round three that saw him slip to third.
Given two-stroke halfway leaders of 72-hole stroke play events on the PGA Tour have a 33% strike-rate since 1996, odds of 7/1 look fair for someone that's already done it before. With hindsight, although out of form, at 33 years-old and with three top-tens in the Sony Open, Swafford ticked a few boxes before the off, and I'm happy to play him modestly at 15/28.4.
The Sportsbook go 7/1 for both Lagergren and Swafford so in addition to the two exchange plays, I've also had a tiny, ambitious double.
08:30 - September 25, 2020
Although the evidence is somewhat limited, from an in-running perspective, this week's two tournament venues have been like chalk and cheese, statistically.
The Irish Open is being staged at the Galgorm Spa & Golf Club in Ballymena, Northern Ireland for the first time this week but Galgorm has staged the Northern Ireland Open on the Challenge Tour since 2013, and we're yet to see anyone win there from anything close to off the pace.
In each of the last eight years, nobody has won from any more than four strokes back at any stage, suggesting making up ground here will be tough.
Winning scores have fluctuated greatly so the tournament must have been played in varying weather conditions but the closest we've come to someone winning from off the pace is in the last two editions of the NI Open.
Tyler Koivisto, who won here just two weeks ago, was tied for 12th and four back at halfway after shooting 71 in round two, having sat second after the opening round, and Jack Senior sat 20th and four off the lead after round one last year, but he's the only winner to be more than three adrift after round one, so concentrating on the leaders might make sense today.
There wasn't a huge differential in scores between the morning and the afternoon yesterday but the early starters did average 0.7 of a stroke less than the PM starters and looking at the weather forecast, I suspect that will even out today, with those teeing off this morning getting fractionally easier conditions.
With all that in mind, I'm more than happy with the start made by my two pre-event picks, John Catlin and Garrick Higgo, who tee off this morning trailing by two and three strokes respectively and I've added one more early starter in the shape of Denmark's Lucas Bjerregaard, at 39/140.0, who sits alongside Higgo on -2 and three back. He's been in the wilderness for some time but he's been showing signs of life of late and he's a class act on his day.
There have only been four previous editions of the Corales Puntacana R & C Championship but there's already plenty of evidence that a fast start is far from essential there. Brice Garnett won wire-to-wire in 2018 but the other three winners all started slowly.
Dominic Bozzelli, who won the inaugural event in 2016, sat tied for 45th after the opening round, Nate Lashley, the 2017 winner, in the last year before it became a PGA Tour event, was tied 53rd, and last year's winner, Graeme McDowell, was matched at a high of 229/1230.0 at this stage after his first round 73 had seen him trailing by seven in a tie for 81st!
As was the case in Ireland, the advantage was with the early starters yesterday (AM wave averaged 1.16 less than the PM starters) but with the weather forecasting a level playing field all day today, that may not even itself out and those teeing off later are just as liable to score well as those starting early.
Of the four winners here so far, Garnett led all the way but the other three trailed at halfway by three, four and five strokes so ground has been made up after 36 holes but all four were inside the top-eight places at halfway so jumping on one or two this evening or waiting until the morning, could be the way to go here.
It was a somewhat chaotic day in the Dominican Republic yesterday with lots of score changes - some of which were quite drastic - so caution is advised if you're planning to bet in-running.
My pre-event picks, with the exception of James Hahn, were all disappointing yesterday but I'm still going to leave this one alone for now and take another look either late tonight or tomorrow morning.
Irish Open Pre-Event Selections:
Garrick Higgo @ 45/146.0
John Catlin @ 64/165.0
In-Play Picks:
Lucas Bjerregaard @ 39/140.0
Joakim Lagergren @ 7/18.2
Corales Puntacana R & C Championship Pre-Event Selections:
Kristoffer Ventura @ 41/142.0
James Hahn @ 109/1110.0
Graeme McDowell @ 119/1120.0
Rob Oppenheim @ 149/1150.0
Kyoung-Hoon Lee @ 159/1160.0 (added after preview published)
In-Play Picks:
Hudson Swafford @ 15/28.4
Nate Lashley @ 49/150.0
Sean O'Hair @ 49/150.0
Luke List @ 64/165.0
*You can follow me on Twitter @SteveThePunter
New on Betting.Betfair – Betslip
You can now bet without leaving Betting.Betfair with our brand new on-site betslip for Exchange markets. You'll see the Exchange back and lay prices at the end of articles - simply login and place your bets as you would do on the main Exchange site