The Punter's In-Play Blog: George takes pole in Portugal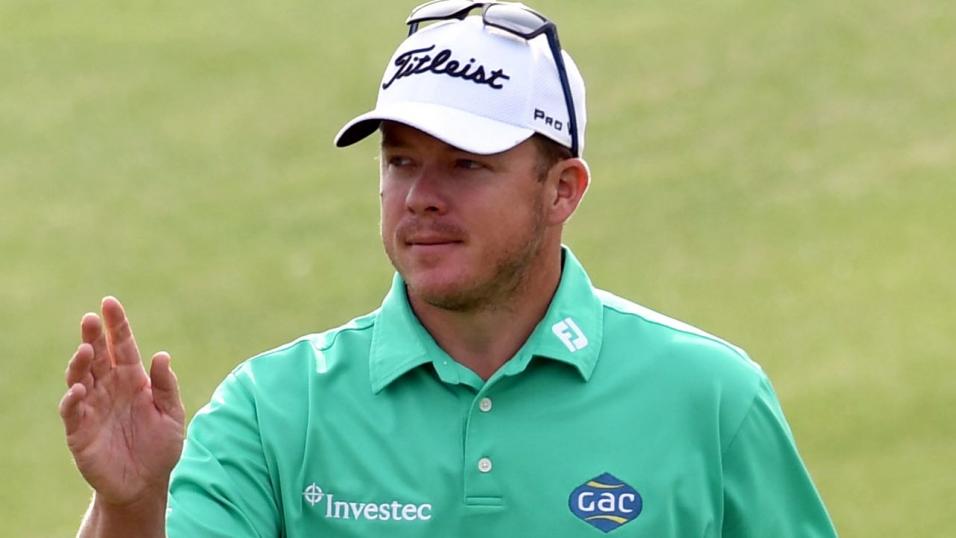 George Coetzee - the leader in Portugal with a round to go
There's just one round to go at both the Portugal Masters and the Safeway Open so read our man's final in-running thoughts for the week here...
"In 12 previous renewals, only three third round leaders have gone on to win the Portugal Masters and we've seen players win from four (twice), six and even seven strokes adrift with a round to go."
09:55 - September 13, 2020
Halfway leader, Julien Guerrier, failed to make a single birdie in the third round of the Portugal Masters, as he limped round Vilamoura in 75 strokes, and he's been caught and passed by pre-event [17.5] chance, George Coetzee, who finished his third round in style. He closed out with four threes in-a-row which equated to a birdie-par-eagle-birdie finish. Here's the 54-hole leaderboard with prices to back at 9:40.
George Coetzee -11 [2.6]
Julien Guerrier -10 [9.0]
Masahiro Kawamura -10 [9.0]
Laurie Canter -9 [13.0]
Niklas Lemke -9 [20.0]
Sihwan Kim -8 [36.0]
Sebastian Garcia Rodriguez -8 [40.0]
Liam Johnston -8 [46.0]
John Catlin -7 [40.0]
Lucas Bjerregaard -7 [42.0]
Joakim Lagergren -7 [55.0]
Tommy Fleetwood -6 [28.0]
-6 and [70.0] bar
After another tougher day than we're used to seeing at Vilamoura, this event is fascinatingly poised and one to look forward to this afternoon. The wind is forecasted to blow hard early on but die down as the day wares on so although it's something to consider, it shouldn't inconvenience the leaders too much.
George Coetzee, who won at his home course in Pretoria as recently as last week, is clearly the man to beat now. He was well fancied before the off and with the seven players directly below him on the leaderboard all looking to win on the European Tour for the first time, there's a chance he'll get an easy passage but I'm not convinced.
Coetzee's recent record in-contention in his homeland is decent and only last week he went form tied for the lead to four clear in the final round of the Titleist Championship but like the majority of Sunshine Tour events, that was staged over 54 holes and his record in 72 hole tournaments isn't spectacular.
Coetzee was beaten on the first five occasions that he led or co-led with a round to go in 72-hole tournaments and although he's successfully converted four of his last six - two of those wins came in the Tshwane Open at his beloved Pretoria (where he won last week) and he's clearly very comfortable around his home course.
In all likelihood, we'll get some jittery moments from George and he's playing so well that he could well be too strong for the rest today but if he does put in a poor round, the tournament's wide open.
As highlighted in the In-Play Tactics section of the preview, we've seen some incredible final round comebacks here and I can see us witnessing another today. In 12 previous renewals, only three third round leaders have gone on to win and we've seen players win from four (twice), six and even seven strokes adrift with a round to go.
The breezy early conditions may hinder the players coming from a long way back but I certainly wouldn't discount anyone within five and inside the top-19 on the leaderboard. Having backed Guerrier yesterday morning, and having gone in again before he teed off when he drifted out to over [2.8], my book's a bit of a mess but I haven't given up on pre-event pick, Brandon Stone, who sits tied for 12th and five off the lead and I've also added the three players that trail by four - last week's winner, John Catlin, the 2017 winner here, Lucas Bjerregaard, and Sweden's Joakim Lagergren, who's game really suits the venue.
It's even tighter at the Safeway Open. There are three men tied at the top with a round to go, 11 players are within two strokes of the lead, a further six are only three back and as many as 28 players are within four. Here's the 54-hole leaderboard with prices to back at 9:45.
Brian Stuard -16 [7.6]
James Hahn -16 [8.2]
Cameron Percy -16 [9.8]
Sam Burns -15 [8.2]
Harry Higgs -15 [10.5]
Kristoffer Ventura -15 [11.5]
Emiliano Grillo -14 [14.5]
Russell Knox -14 [23.0]
Doug Ghim -14 [34.0]
Stewart Cink -14 [42.0]
D.J Trahan -14 [48.0]
-13 and [34.0] bar
This was one of those wide-open events in which I could have easily thrown ten or 12 darts at before the off and I'm kicking myself a little bit that I didn't. James Hahn is a player I've backed on many occasions and he came on the radar as Californians have a such strong record here and I also looked closely at fellow 54-hole leader, Brian Stuard, who was fourth at the Texas Open last year. As highlighted in the preview, that's a course that correlates very strongly with Silverado.
Having finished fourth at the Texas Open in 2016 (led with a round to go) and having been born in California, one other player that came to my attention before the off was 39-year-old Ricky Barnes, who's never won a PGA Tour event. The 2009 US Open runner-up has always been poor in-contention but I was happy to throw a few pounds at him now at [500.0] and he's also 400/1 with the Sportsbook with four places up for grabs. That's a big price given he trails by only four.
Other than the tiny Barnes punt, I'm going to leave this one alone for now as I'm going to spend much of today finishing off my US Open preview, which I hope to publish late this afternoon, and I'm not sure I have the capacity to stay up and trade the final round. That may change, and if it does, I'll update twitter with any bets but please refer to the In-Play Tactics section of the preview if you want to get involved.
We've only had half-a-dozen editions here but four of the six winners were trailing by at least a couple of strokes at this stage and Ryan Moore got into a playoff having trailed by seven with a round to go. As detailed in the preview, we've witnessed all sorts of market carnage in round four so if I can manage the late night/early morning it may well be worth the sleep deprivation.
10:30 - September 12, 2020
We've reached the halfway point of the Portugal Masters and 35-year-old Frenchman, Julien Guerrier, has moved five strokes clear of the field. Here's the 36-hole leaderboard with prices to back at 10:20.
Julien Guerrier -14 [2.54]
Sihwan Kim -9 [20.0]
Wilco Nienaber -7 [14.5]
Matthew Jordan -7 [24.0]
Antoine Rozner -7 [25.0]
Marcus Armitage -7 [36.0]
Adrian Meronk -7 [38.0]
Scott Vincent -7 [40.0]
Adrien Saddier -7 [48.0]
Martin Simonsen -7 [70.0]
Liam Johnson -7 [90.0]
George Coetzee -6 [22.0]
Ryan Fox -6 [28.0]
Paul Waring -6 [30.0]
-6 and [46.0] bar
In addition to having to contend with some thicker rough than expected this week, half of the field had to deal with a fairly significant draw bias, with those drawn early on Thursday averaging 1.94 strokes more than those drawn PM-AM. Runaway leader, Guerrier, was one of those fortunate enough to be drawn late-early but that doesn't wholly explain his dominance.
The pre-event [200.0] chance ranks highly in every stat so far this week and he's clearly playing the golf of his life but can he convert his advantage to win his first European Tour event? The stats suggest he can and that he's most definitely value to do so at odds in excess of [2.5].
Since 1996, 12 players have led a European Tour event by five strokes at halfway and only two of them failed to convert. Michael Campbell was beaten by a stroke by Darren Clarke at the English Open in 2000, having led by five, and Ross Fisher shot a pair of 78s over the weekend at the 2005 South African Open to finish ninth. The last seven have all gone on to win and it's almost impossible to make a case for taking on Guerrier.
Layers will point to the fact that he's never won on the European Tour and that he's led or co-led at this stage on various tours five times previously without converting but I was happy to play him at [2.6].
Guerrier won twice on the Challenge Tour in 2017 so he does know how to get the job done and although there are as many as nine players on -7 and seven adrift, and that one or two of them are sure to make a move today, his lead is just too big for him to be considered a poor price at around 6/4.
If Guerrier has a really bad day today he'll obviously get swallowed up and the fact that the course is playing tougher means that's more likely than if conditions were easier but if he plays sensibly and doesn't take any unnecessary risks, he really should get over the line. I'm never in a hurry to take a short price about a golfer and especially one that's in his mid-30s and looking to win on a major tour for the first time, but given the circumstances, Guerrier should be much shorter than he is.
We've also reached the halfway stage of the Safeway Open on the PGA Tour and we have a clear leader there too. He's the 36-hole leaderboard with prices to back at 10:25.
Sam Burns -15 [3.3]
Harry Higgs -13 [8.0]
Russell Knox -12 [15.0]
Cameron Percy -12 [24.0]
D.J Trahan -12 [36.0]
James Hahn -11 [34.0]
Doug Ghim -11 [34.0]
Tom Hoge -10 [32.0]
Pat Perez -10 [40.0]
Brian Stuard -10 [44.0]
Rob Oppenheim -10 [65.0]
Brendan Steele -9 [20.0]
Si Woo Kim -9 [20.0]
-9 and [70.0] bar
It's only a matter of time before the hugely talented 24-year-old, Sam Burns, gets off the mark on the PGA Tour and this looks like a great chance now but I'm happy to swerve him at just over 2/1.
Burns was tied for the lead through 54 holes when he won his sole title to date, the Savannah Golf Championship on the Korn Ferry Tour, so there's no reason to think he won't be comfortable leading here but that's the only time he's ever led in-between rounds and the tournament stats are against him.
In the six renewals of the Safeway Open at Silverado to date we're yet to see a 36-hole leader go on to win and we've seen a couple of winners come from way back...
The last two winners only trailed by three and four strokes at this stage and Brendan Steele trailed by just a stroke at halfway when he defended the title in 2017 but the 2015 winner, Emiliano Grillo, was six back and tied for 19th. The first nine home that year were all outside the top-five places through 36 holes and when Steele won the first of his two titles in 2016, he was nine strokes adrift at halfway and tied for 19th.
I'm not massively against Burns at all but those stats suggest the event could look quite different tomorrow and with the leaders not teeing off until late tonight (UK time), I'm just going to leave it alone for now and see how it looks tomorrow.
13:20 - September 11, 2020
The second round of the Portugal Masters is well underway and Frenchman, Julien Guerrier, has hit the front with a few holes to play of his second round.
The big talk before the off was the length of the rough. Mark Roe on Sky said in the first live broadcast on Thursday that he'd happily take -15 as a total for the week and one of my pre-event picks, Brandon Stone, demonstrated how thick it was in places with this tweet on Wednesday.
Does a #ProV1 count as a "burrowing animal" this week Some brutal patches of rough around ... (insert cliche fairways and greens strategy) #PortugalMasters @EuropeanTour @TitleistEurope pic.twitter.com/LGt5JmXRlH

? Brandon Stone (@BrandonMStone) September 9, 2020
The general feeling was that scoring would be quite a bit tougher this year but it hasn't been massively different. The round one scoring average was 70.83, compared to last year's 70.18 on day one and we still had a player threaten to break 60 again.
Oliver Fisher posted 59 at Vilamoura two years ago - the European Tour's one and only sub-60 to date - but Liam Johnson stood on the par five 17th tee yesterday needing an eagle-birdie finish to emulate him. He finished birdie-par to shoot 61 to lead overnight but Guerrier, who at the time of writing has three holes to play, has now gone passed him by three.
Johnson has yet to start his second round and I'll be back later today or in the morning to take a look at the sate of play at halfway. And I'm also leaving things alone at the Safeway Open, where scoring there has also been low...
Having started an hour late because of fog, day one was suspended due to darkness yesterday with a few players yet to finish their opening rounds but none of them are close enough to threaten Russell Knox's nine-under-par lead.
The 35 year-old Scot came into the event with form figures since the restart reading an uninspiring MC-MC-MC-MC-MC-25-72 and course form figures reading 68-MC-MC so it's no surprise to see he was a [240.0] chance before the off. There are three players tied for second and two players tied for fifth and two back. One of which is two-time winner and course specialist, Brandan Steele, who now heads the market.
I had a small bet on Steele before the off but I'd be backing him not if I hadn't. Given how much he loves the place, odds in excess of 7/1 look fair after such a good start.
Portugal Masters Pre-Event Selections:
Markus Kinhult @ [42.0] (added after preview published)
Guido Migliozzi @ [65.0]
Brandon Stone @ [70.0]
Ashun Wu @ [140.0] (added after preview published)
In-Play Picks:
Julien Guerrier @ [2.6]
John Catlin @ [40.0]
Lucas Bjerregaard @ [42.0]
Joakim Lagergren @ [55.0]

Safeway Open Pre-Event Selections:
Brendan Steele @ [26.0]
Adam Schenk @ [90.0]
Charley Hoffman @ [95.0]
Kevin Chappell @ [150.0]
In-Play Pick:
Ricky Barnes @ [500.0]
*You can follow me on Twitter @SteveThePunter
New on Betting.Betfair – Betslip
You can now bet without leaving Betting.Betfair with our brand new on-site betslip for Exchange markets. You'll see the Exchange back and lay prices at the end of articles - simply login and place your bets as you would do on the main Exchange site