The 2018 Open Championship: The Punter's Preview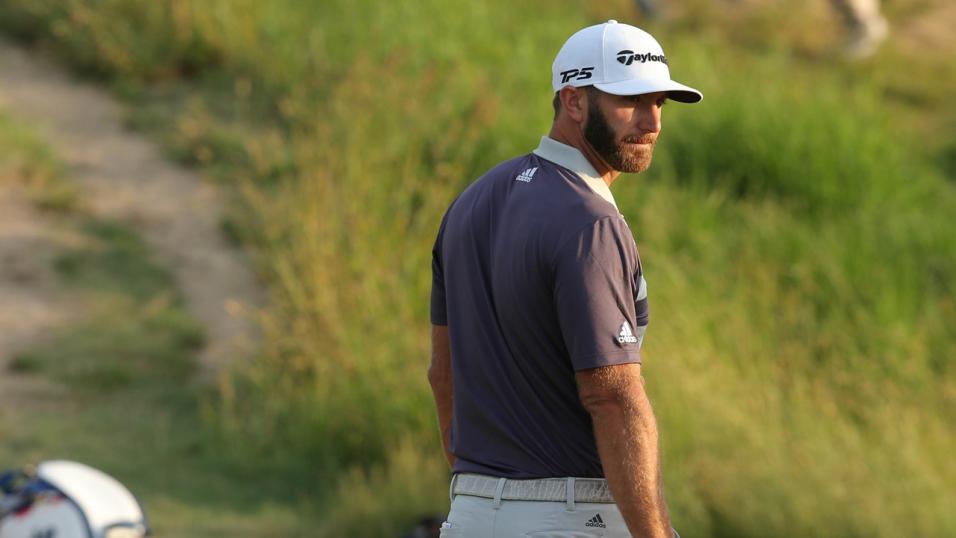 Steve thinks Dustin Johnson will have every player behind him at this week's Open Championship
We're off to one of the toughest courses in the world for this year's third major, the Open Championship at Carnoustie, and here you can read Steve Rawlings' comprehensive preview, with all the stats, facts and betting savvy you'll ever need...
"A cold putter cost Dustin Johnson dearly over the final 36 holes at the US Open last time out but he'd won with ease the week before at the St Jude Classic and he's most definitely the one they all have to beat."
Tournament History
Organised by the Royal and Ancient Golf Club of St. Andrews (the R&A), the Open Championship is the third major of the year and it's the oldest of the four staged. Often referred to as the British Open, it's the only one of the four majors to be played outside of the USA. Willie Park won the inaugural tournament way back in 1860 and this will be the 147th edition.
Venue
Championship Course, Carnoustie, Angus, Scotland.
Course Details
Par 71, 7,402 yards
Hole averages in 2007 - 73.38
Carnoustie is one of the three courses used at the Alfred Dunhill Links Championship each autumn (when it's played as a par 72) and it's been used for the Open Championship seven times previously (listed below). The last occasion was in 2007 when Padraig Harrington edged out Sergio Garcia in a playoff but it's best remembered as the venue where Jean Van De Velde lost the plot in 1999, when on the 72nd hole he blew a three-shot lead after finding the Barry Burn.
Often referred to as Carnasty, Carnoustie is a long course with only two par fives. Out of Bounds is in play more often than at other Open venues and Carnoustie is famous for its treacherous pot bunkers. It's arguably the hardest venue on the Open roster.
The course record of 63 was set last year by Tommy Fleetwood during the ADLC but that needs to be put into context. The course is set up as easily as it can be to aid the amateurs in the field for that event. There's no rough to speak off and the pin placements are as easy as they can make them. We'll see a very different set up this week and the word is, it's running even faster than Gullane (host of last week's Scottish Open) and that was like a road at times!
Brandt Snedeker isn't the longest but he's just tweeted that he hit a drive on 18 over 400 yards in practice!
Just hit one 427 on 18 @TheOpen .. Guys would be hitting it in the burn in front of green 450+.. Carnoustie is baked out but greens are pure.. Never seen an Open this firm.. Will be an awesome week if it stays like this.. pic.twitter.com/AUXyPGF4iu

? Brandt Snedeker (@BrandtSnedeker) July 14, 2018

Open winners at Carnoustie
1931 Tommy Armour +8
1937 Henry Cotton +6
1953 Ben Hogan -6
1968 Gary Player +1
1975 Tom Watson -9 (playoff)
1999 Paul Lawrie +6 (playoff)
2007 Padraig Harrington -7 (playoff)
For more on the course, please see the course guide on The Open website here.
TV Coverage
The live coverage on Sky starts as early as Monday with Live at The Open at 16:00 and the live coverage of the event itself starts at 6:30 on Thursday morning.
Last Ten Winners
2017 - Jordan Spieth -12
2016 - Henrik Stenson -20
2015 - Zach Johnson -15 (playoff)
2014 - Rory McIlroy -17
2013 - Phil Mickelson -3
2012 - Ernie Els -7
2011 - Darren Clarke -5
2010 - Louis Oosthuizen -16
2009 - Stewart Cink -2 (playoff)
2008 - Padraig Harrington +3
What Will it Take to Win the Open Championship?
Here's a quick look at the stats from the last 10 Opens and from the last two editions at Carnoustie.
Average key stats for the last 10 Open winners
Driving Accuracy - 30.4
Driving Distance - 28.8
G.I.R - 16.1
Scrambling - 19.2
Putting Average - 10.1
All Round - 7.3
Average key stats for the top-five at Carnoustie in 2007
Driving Accuracy - 41.6
Driving Distance - 20.6
G.I.R - 17.8
Scrambling - 9.8
Putting Average - 20.2
All Round - 10
Average key stats for the top-five at Carnoustie in 1999
Driving Accuracy - 37.4
Driving Distance - 51.4
G.I.R - 31.8
Scrambling - 4.8
Putting Average - 22.6
All Round - 18.8
Looking at the 10-year average rankings, no single stat stands out and the All Round stat has the lowest average ranking but if we dig a little deeper, and look to the more recent editions, Scrambling looks like the key stat.
In 2011 and 2012, both Darren Clarke and Ernie Els won the title ranking 61st for Scrambling but the five winners since have ranked first, fourth, second, seventh and fourth. Padraig Harrington topped the Scrambling stats when he won at Carnoustie in 2007 and look at the average ranking of the top-five in 1999 - just 4.8! Scrambling is the key stat.
The current Scrambling rankings on the PGA Tour are here, and the current European Tour Scrambling rankings are here.
Is There an Angle In?
With three very different approaches to Open Championship preparation getting the same glorious result, very recent history suggests what you did last week is fairly unimportant.
Zach Johnson won the 2015 Open a week after finishing third in the John Deere Classic on the PGA Tour, Henrik Stenson beat Phil Mickelson in that tremendous duel at Royal Troon, seven days after he'd finished 13th in the Scottish Open, and Spieth won 12 months ago having taken a three-week break following victory in the Travelers Championship. Play in the States, play in Scotland or take a break? All three preparations have paid dividends in the last three years but I'm in absolutely no doubt whatsoever that the best preparation is playing in the Scottish.
The Scottish Open has been played on a links course since 2011 and it's proved to be a fabulous warm up event. Matt Kuchar, who finished fourth in the Scottish Open 12 months ago, came agonisingly close to winning the Open, trading at just 1.341/3 in-running, and seven of the top-ten at Birkdale last year had played at the Dundonald Links the week before. The first four home at Troon in 2016 had all played at Castle Stuart the week before and six of the last eight Open winners have now warmed-up in the Scottish Open.
The Irish Open, which was played two weeks ago, was moved in the schedule last year, and like the Scottish, that too is now played on a links course, but the likes of Jon Rahm, Justin Rose, Tommy Fleetwood, and Hideki Matsuyama, all played in the Irish and not the Scottish and they didn't fare well in the Open. Interestingly, Rahm has stuck to that routine so it will be interesting to see if he fares any better this time around and Rory McIlroy played Ireland but skipped Scotland too but on what limited evidence we have, an appearance in Ireland and then a week off hasn't worked yet.
We have the same three-week links golf stretch of Irish, Scottish and Open Championship again this year and it's the best innovation the European Tour has introduced in many a year. The chance to acclimatise yourself again with links golf ahead of the world's biggest event has clearly been beneficial and it beggars belief how many top quality players haven't taken advantage of the new scheduling.
I know Spieth won last year but history suggests a week off beforehand doesn't seem a particularly good idea given Stewart Cink, in 2009, was the last player to win having had the week off before the Open and playing in the States doesn't seem like a great idea either given in the last 27 years, only two winners, Todd Hamilton in 2004 and Zach Johnson in 2015, have played on the PGA Tour the week before they won the Open.
Phil Mickelson won the Scottish Open before he won at Muirfield in 2013 but an under the radar performance in the Scottish is perhaps a better prep.
In the last year before it was played at a links venue, Louis Oosthuizen missed the cut at Loch Lomond in 2010 before scooting up at St. Andrews. Both Clarke and Els, the 2011 and 2012 winners, made the cut but finished down the field at Castle Stuart and in 2014, Rory, having led at Royal Aberdeen after round one, finished 14th in the Scottish Open before winning at Hoylake. And, as already mentioned, Stenson won at Troon in 2016 after a never in the hunt 13th in the Scottish.
In addition to his outing in Scotland, Stenson was a great fit before the off for a number of other reasons too. He had won just a few weeks previously, he had finished inside the top three (three times) at an Open previously, he'd just turned 40 (see identikit winner section below) and he'd won the Qatar Masters...
Only Ben Curtis, Stewart Cink, Ernie Els, and Zach Johnson, have won the Open this century without winning on either the PGA Tour or the European Tour in the 12 months previously and after Spieth's win 12 months ago, 12 of the last 13 winners have now finished inside the top-six in an Open prior to winning. And a remarkable eight of them have finished inside the top-three (Spieth just missed out - he was fourth in 2015). Open form is clearly a massive plus.
The Qatar Masters, an event Henrik won in 2006, is played at Doha Golf Club. It's not a links course but it's very exposed and wind-affected and year after year the leaderboard there is jam-packed with links specialists, so that's a tournament to look at and consider form at other links events too.
As already alluded to, look at the Scottish Open over the last eight years, the Irish Open in 2012 (Royal Portrush), 2015 (Royal County Down), 2017 (Portstewart Links) and two weeks ago at Ballyliffin, and the aforementioned Alfred Dunhill Links Championship, which is staged each autumn over three links courses, including Carnoustie, should be a great form guide too.
The 1999 winner of the Open Championship here, Paul Lawrie, won the inaugural ADLC in 2001 and Padraig Harrington won it a year later before doubling up in the event in 2006, prior to his Open victory here in 2007.
Is There an Identikit Winner?
Spieth bucked the trends last year. Not playing the week before should have been a negative and his age (23) should have gone against him too looking at previous results...
Stenson had turned 40 just three months before he won in 2016 and the 2105 winner, Zach Johnson, turned 40 eight months after he'd won. Had he been born a little earlier, five of the last seven Open winners would have been aged 40 or above and it would have been five from seven if Kuch had won 12 months ago. He turned 40 a month before Spieth edged him out at Birkdale. In addition to Stenson winning two years ago, 46 year-old Phil Mickelson finished second and 49 year-old Steve Stricker finished fourth and yet they were mere pups in comparison to a couple of fairly recent contenders...
At Royal Birkdale 10 years ago, 53-year-old two-time Open Champion, Greg Norman, led the field by two strokes after three tough, windy days and he was the oldest player to ever lead the Open Championship through 54-holes but only 12 months later, 59-year-old, Tom Watson, smashed that record when he took a one-stroke lead into round four at Turnberry. Both men were eventually collared but they emphasise the point I'm labouring.
Given he was only 23, Spieth went against the grain, but this is clearly a tournament where plenty of experience is a huge plus and age is no barrier.
Given how well experienced players fare, it's perhaps not surprising that debutants have a woeful record. Ben Curtis, in 2003, was the last champion to win on debut and before him it was Tom Watson in 1975.
Even though it's played at a different venue each year, the examination is always similar and it's totally unique to anything else encountered so previous tournament experience is very important.
Spieth won last year in just his fifth Open appearance and that was also unusual. Henrik Stenson was playing in his 12th Open and he had learnt his trade. Having missed two of his first four cuts, he'd finished inside the top-three three times. Zach Johnson was making his 12th appearance in the event when he won too and having missed his first three event cuts, he was finally trending the right way. He'd finished 16th, ninth, sixth and 47th in his previous four Opens. Mickelson was playing in his 19th Open Championship when he won five years ago, Darren Clarke was playing in his 20th when he notched in 2011 and even greats like Tiger Woods and Rory McIlroy needed half a dozen event outings before they won it for the first time.
Think very carefully before backing someone that's only played in the Open a couple of times and make sure you're getting a huge price about a debutant. Or better still, pick someone else.
Looking specifically at Opens staged at Carnoustie, all the winners bar one - Paul Lawrie in 1999 - have been absolutely top-class.
In-Play Tactics
In the first Open here, way back in 1931, Tommy Armour sat just a stroke off the lead after rounds one and two before he slipped to five adrift after 54 holes. The third and fourth rounds were played on the same day then and Armour stormed back in the afternoon with a 71 to win by a stroke in +8, having shot 77 in round three.
When Henry Cotton won the second of his three Open titles here in 1937, he trailed by four after rounds one and two and by three through 54 holes before going on to win by two strokes in +2.
Ben Hogan's victory in 1953 was something special. He won five of six tournaments entered that year and the only reason he didn't win all four majors was that the US PGA Championship bizarrely overlapped the Open Championship and he couldn't play in both. Hogan trailed by three after the opening round, two at halfway and he was tied for the lead after three rounds before he went on to win by four. He's the only Open Champion winner at Carnoustie to be leading at any stage other than the end of round four.
Gary Player won the second of his three Opens at Carnoustie exactly 50 years ago and he trailed by four, five and two after rounds one, two and three and Tom Watson won the first of his five Opens here in 1975, having trailed by three, two and three strokes after the first three rounds so the first five Carnoustie champs had all trailed but none of them had come from miles back. That all changed in 1999!
I first looked at this event here at Christmas and there's some footage included of the '99 and 2007 editions when both winners came from well off the pace. Padraig Harrington, won the first of his two Opens here in 2007, when he trailed by four, six and six shots after rounds one, two and three and having trailed by only two and four strokes after rounds one and two, Paul Lawrie had slipped to ten adrift with a round to go in 1999. No major winner has ever trailed by more through three rounds.
Paul Krishnamurty has had a look at past events here and like me, he suspects we'll see all sorts of trading opportunities, but we thought that last year at Royal Birkdale and Spieth won wire-to wire!
It's hard to know what we'll see this year and a lot will depend on who is up with the pace early. If weather conditions aren't too unkind, and at this stage they're not forecasted to be bad at all, up with the pace is the place to be in Open Championships. Harrington in 2004 and Henrik Stenson two years ago are the only winners in the last 14 years to be outside the top-ten after the opening round and five strokes is the furthest any winner has trailed after round one this century.
Even though Spieth led after every round last year, and on paper it looks like an easy win, we still saw all sorts of shenanigans during round four. As Paul highlights, 1999 and 2007 provided plenty of drama and lots of change in the market so whatever happens, trading is highly likely to be manic on Sunday and anyone posting a score may well be worth keeping onside. Even if they aren't leading when they finish.
I have vivid memories of watching the leaderboard in '99 and watching Lawrie's name climb and climb before eventually hitting the top. I doubt we'll ever see anything like that ever again but given the last four holes averaged 1.66 strokes over-par in 2007 and that the par four 18th averaged 4.61, posting a score from slightly off the pace and sitting in the clubhouse could well be the way the tournament's won here yet again.
Market Leaders
Given the list of Open winners at Carnoustie, we can probably expect one of the fancied players to lift the Claret Jug and Dustin Johnson, who heads the market, is far and away the market leader I like the most.
The 2016 US Open winner looked unbeatable before he fell down the stairs of his rented accommodation before the US Masters last year and it took him a long time to get back to his best but he's very close now. A cold putter cost him dearly over the final 36 holes at the US Open last time out but he'd won with ease the week before at the St Jude Classic and he's most definitely the one they all have to beat.
DJ's stats are very good and his Scrambling figures in particular are magnificent. He's a superb links exponent who's threatened to win this title several times before (was in the running in 2011, 2013, 2014 and 2015) and this could very easily be his year. The lack of a recent outing (hasn't played since the US Open) is a sizable concern but he will have been preparing quietly somewhere and he looks a great price to me at anything around 12/1.
Justin Rose is a perfectly plausible candidate. He comes into the event in fine form and he's even improved his putting of late. He won the Fort Worth Invitational at the end of May and he's followed that with a sixth in the Memorial Tournament, 10th in the US Open and tied ninth at the Scottish Open. That warm up at Gullane is perfect but his links and Open form is iffy. He won the Scottish Open at Royal Aberdeen back in 2014 but his best effort in this tournament remains to be tied fourth as an amateur way back in 1998.
Rickie Fowler is the best player on the planet without a major success and it's always been felt that this is his best chance. He's a fabulous links exponent and he comes here fresh off the back of a decent tied sixth in Scotland but he's too short once you factor in his inability to convert chances and he's another one I'm not remotely interested in at the price.
Rory McIlroy won his Open at Hoylake in 2014 with a 17-under-par score and he's a far better links player in benign conditions so the weather forecast is in his favour but Carnoustie is a really tough track. I'm not at all convinced four days of intense concentration and grinding around a course this tough suits him.
McIlroy has been playing some immaculate golf tee-to-green over the last month or so but his putting has been deplorable and that's a huge negative too so he's not for me.
Selections
I backed Dustin Johnson last week at 16.015/1 and he's shortened up a bit since but he's still value. As mentioned above, he's my idea of the most likely winner.
I'm a little surprised that Patrick Reed is still available at above 40.039/1 given how well he's playing and that he's now a major champion. The likes of Tom Watson, Mark O'Meara, Nick Faldo and Tiger Woods have all won the Open Championship and the US Masters in the same season since Gary Player achieved the feat in 1974, so he certainly wouldn't be setting a precedent.
Tyrrell Hatton (backed at Christmas) will be disappointed by his finish in the Scottish but I'm happy enough with his form and the only other players I've backed before the off are Ian Poulter and Thorbjørn Olesen.
At 42, with a previous second and third at the Open in the bank, a win on the PGA Tour this year, and a decent warm up at the Scottish Open, Poults ticks plenty of boxes and he's a logical play at 80.079/1.
And finally, recent Italian Open winner, Olesen, has a top-ten in the Open (2012) and he's a former winner of the ADLC. He's simply too big at 150.0149/1.
Selections:
Dustin Johnson @ 16.015/1
Patrick Reed @ 44.043/1
Tyrrell Hatton @ 55.054/1
Ian Poulter @ 80.079/1
Thorbjørn Olesen @ 150.0149/1

*You can follow me on Twitter @SteveThePunter
Discover the latest articles
Read past articles