Tour Championship 2020: Form stats for the concluding week of the FedEx Cup Play-Offs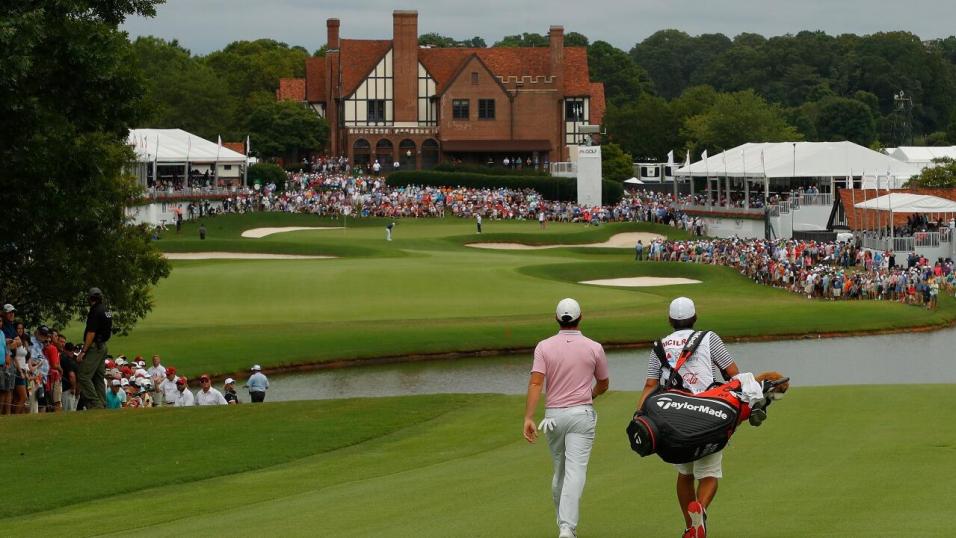 Rory McIlroy strides to victory at East Lake in 2019
The curtain comes down on the PGA Tour season next Monday, when the FedEx Cup champion is crowned in Atlanta. Course and current form stats compiled by Andy Swales...
"McIlroy is a two-time champion here, while the other standout course specialist is the consistent Xander Schauffele, winner in 2017 and runner-up 12 months ago."
East Lake Golf Club will once again host the season-ending Tour Championship, which heads to Georgia for the 21st time.
In a year ravaged by the deadly effects of Covid-19, with resulted in the cancellation of 13 PGA Tour events, it is in many ways a relief that the season is able to finish at all.
This third and final Play-Off event will feature the leading 30 players in the FedEx Cup standings, and is one of the most prestigious titles on the calendar won last year by Rory McIIroy.
Last year's tournament also witnessed a radical change to the scoring format, which remains in place for 2020.
In 2019, PGA Tour officials decided to employ an unusual handicap system, which ensured that the player who won the Tour Championship, would also be crowned FedEx Cup champion for the season.
All 30 players will start the 72-hole event this Friday with a handicap based on their position in the FedEx Cup standings - through last Sunday's BMW Championship.
Thus Dustin Johnson, as current leader, will tee-off at East Lake at 10-under-par, while Jon Rahm who is second in the standings, begins on minus eight. Those golfers ranked between 26th and 30th start at level par.
The full list of handicaps is as follows:
FedEx Cup positions (1-30):
1st: 10-Under-Par
2nd: - 8
3rd: - 7
4th: - 6
5th: - 5
6th-10th: - 4
11th-15th: - 3
16th-20th: - 2
21st-25th: - 1
26th-30th: Level Par
Check out the latest betting ahead of this week's Tour Championship
By strange coincidence, the top three players in the FedEx Cup table are also 1st-2nd-3rd in the current World Ranking.
As for the 2019 event, McIlroy teed off with a handicap of minus five, but emerged as the rightful winner by taking fewer strokes than the rest of the field to complete 72 holes.
His four-round total of 267 was three strokes better than the next best competitor, although his official margin of victory, because of handicaps, was four.
Justin Thomas, who had been leading the FedEx Cup standings going into the final event, finished in a tie-for-third even though eight of the 30 players had hit fewer shots over the four days.
Hopefully, that explains how this rather bizarre scoring format works. Whether you believe it is an appropriate way to decide who wins the season-long prize of the FedEx Cup, is certainly a topic for debate but on another day!
Rory chasing third East Lake success
Regarding this week, and with the tournament set to finish next Monday, defending champion McIlroy will begin at minus three, which reflects his current position of 12th in the FedEx Cup standings.
McIlroy is a two-time champion here, while the other standout course specialist is the consistent Xander Schauffele, winner in 2017 and runner-up 12 months ago.
World No 1 Dustin Johnson is on a hot streak (2nd-1st-2nd) as he chases victory No.3 of the season - in his 14th start on the PGA Tour.
Tony Finau, who tees-off eight shots behind Johnson, is unlikely to regain this lost ground but with the pressure a little less intense than normal, he is more than capable of registering one of the lowest 72 hole totals of the tournament.
Check out latest betting for Lowest 72-Hole Totals at East Lake
East Lake history
East Lake in Atlanta is where all-time great Bobby Jones played his first and last rounds of golf.
The course opened in 1904 but not long after staging the 1963 Ryder Cup, the site fell into disrepair.
However, in 1994, a local charitable foundation set about restoring the venue to its former glories, and four years later it hosted the Tour Championship for the first time.
When the FedEx Cup Play-Offs began more than a dozen years ago, the Tour Championship was moved from early November to late September.
In order for its putting surfaces to cope with a significant rise in temperatures, East Lake's Bentgrass greens were re-seeded with Bermuda.
And with the PGA Tour calendar changing once again in 2019, temperatures are now even hotter in the Deep South when the leading 30 pros come to town.
As for the venue itself, which is situated five miles east of Downtown Atlanta, East Lake is a traditional parkland course where tight, tree-lined fairways demand accuracy from the tee.
The greens are usually firm and quick, with water coming into play on six holes.
Twitter: Andy Swales@GolfStatsAlive
Please Note: Last year's Course Position relates to a player's 72-hole total, rather than their position after handicap. Thus, Justin Thomas posted the 9th lowest 72-hole total, but finished 3rd after his -10 handicap was applied.
| Player | W35 | W34 | W33 | W32 | W31 | W30 | W29 | W28 | W27 | W26 |
| --- | --- | --- | --- | --- | --- | --- | --- | --- | --- | --- |
| Dustin Johnson | 2 | 1 | | 2 | 12 | Wd | MC | | | 1 |
| Jon Rahm | 1 | 6 | | 13 | 52 | | 1 | 27 | | 37 |
| Justin Thomas | 25 | 49 | | 37 | 1 | | 18 | 2 | | MC |
| Rory McIlroy | 12 | 65 | | 33 | 47 | | 32 | | | 11 |
| Collin Morikawa | 20 | MC | | 1 | 20 | | 48 | 1 | | MC |
| Webb Simpson | | 6 | 3 | 37 | 12 | | MC | | 8 | |
| Bryson DeChambeau | 50 | MC | | 4 | 30 | | MC | | 1 | 6 |
| Patrick Reed | 40 | 49 | 9 | 13 | 47 | | 10 | 39 | MC | 24 |
| Xander Schauffele | 25 | 25 | | 10 | 6 | | 13 | 14 | | 20 |
| Daniel Berger | 25 | 3 | | 13 | 2 | | MC | | | |
| Tyrrell Hatton | 16 | 25 | | MC | 69 | | | | 4 | |
| Tony Finau | 5 | MC | | 4 | 65 | 3 | 8 | | 53 | MC |
| Marc Leishman | 69 | MC | | MC | 52 | | 40 | MC | | 58 |
| Sung Jae Im | 56 | MC | 9 | MC | 35 | | MC | 63 | 53 | 58 |
| Abraham Ancer | 33 | MC | | 43 | 15 | | 58 | | | 11 |
| Hideki Matsuyama | 3 | 29 | | 22 | 20 | | MC | 22 | 21 | |
| Kevin Kisner | 25 | 4 | 3 | 19 | 25 | | MC | | 3 | MC |
| Viktor Hovland | 40 | 18 | | 33 | 59 | | 48 | 3 | 12 | 11 |
| Billy Horschel | 33 | MC | 2 | 43 | 25 | | 13 | 7 | | MC |
| Kevin Na | 51 | 39 | | MC | 35 | | 9 | | Wd | 5 |
| Ryan Palmer | 40 | 8 | | 43 | 15 | | 2 | MC | | MC |
| Scottie Scheffler | 20 | 4 | | 4 | 15 | | 22 | MC | MC | MC |
| Brendon Todd | 8 | 64 | MC | 17 | 15 | | 22 | | 57 | 11 |
| Cameron Smith | 20 | 18 | | 43 | 59 | | 68 | | | MC |
| Harris English | 40 | 2 | 23 | 19 | | 18 | 13 | | | |
| Mackenzie Hughes | 10 | 13 | | 58 | 44 | | 6 | 48 | | 3 |
| Joaquin Niemann | 3 | MC | 42 | MC | 52 | | MC | 31 | | 63 |
| Cameron Champ | 65 | MC | | 10 | 25 | | MC | 67 | 12 | |
| Lanto Griffin | 10 | 58 | | 19 | 58 | | 44 | MC | 21 | 24 |
| Sebastian Munoz | 8 | 18 | 74 | MC | | | 48 | MC | MC | MC |
| Player | `19 | `18 | `17 | `16 | `15 | `14 | `13 | `12 | `11 | `10 |
| --- | --- | --- | --- | --- | --- | --- | --- | --- | --- | --- |
| Dustin Johnson | 30 | 3 | 17 | 6 | 5 | | 5 | 10 | 23 | 22 |
| Jon Rahm | 13 | 11 | 7 | | | | | | | |
| Justin Thomas | 9 | 7 | 2 | 6 | | | | | | |
| Rory McIlroy | 1 | 7 | | 1 | 16 | 2 | | 10 | | |
| Collin Morikawa | | | | | | | | | | |
| Webb Simpson | 20 | 4 | 13 | | | 23 | 4 | 5 | 22 | |
| Bryson DeChambeau | 7 | 19 | | | | | | | | |
| Patrick Reed | 15 | 28 | 13 | 24 | 27 | 19 | | | | |
| Xander Schauffele | 2 | 7 | 1 | | | | | | | |
| Daniel Berger | | | 15 | 15 | 12 | | | | | |
| Tyrrell Hatton | | | | | | | | | | |
| Tony Finau | 7 | 15 | 7 | | | | | | | |
| Marc Leishman | 20 | 21 | 24 | | | | | | | |
| Sung Jae Im | 15 | | | | | | | | | |
| Abraham Ancer | 26 | | | | | | | | | |
| Hideki Matsuyama | 12 | 4 | 26 | 5 | 12 | 22 | | | | |
| Kevin Kisner | 9 | | 3 | 26 | 28 | | | | | |
| Viktor Hovland | | | | | | | | | | |
| Billy Horschel | | 2 | | | | 1 | 7 | | | |
| Kevin Na | | 25 | | 29 | 16 | 19 | | | | 17 |
| Ryan Palmer | | | | | | 7 | | | | 28 |
| Scottie Scheffler | | | | | | | | | | |
| Brendon Todd | | | | | | 17 | | | | |
| Cameron Smith | | 20 | | | | | | | | |
| Harris English | | | | | 22 | | | | | |
| Mackenzie Hughes | | | | | | | | | | |
| Joaquin Niemann | | | | | | | | | | |
| Cameron Champ | | | | | | | | | | |
| Lanto Griffin | | | | | | | | | | |
| Sebastian Munoz | | | | | | | | | | |
Discover the latest articles
Read past articles