The Masters 2021: Course stats for this year's opening major championship at Augusta National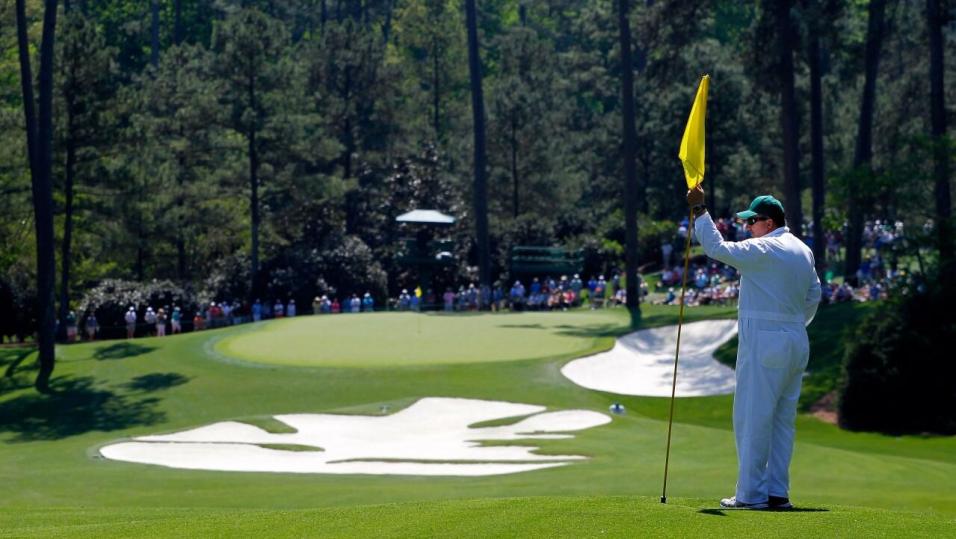 The unmistakable Augusta National, home of The Masters
Augusta National's notoriously treacherous greens play a huge role in deciding every golfer's fate at The Masters. Check out our course stats supplied by Andy Swales...
"Rarely in PGA Tour events does anyone average more than two putts per green. However, at Augusta, only one player in the last eight editions (2013-20) has managed to average below 2.0 (GiR) for 72 holes."

Approximately five months after the major championship circus last departed Augusta National , the world's elite are back in town to contest the 2021 Masters.
Not since 1970-71, has the last major of one campaign, also opened the following year's calendar.
Back then, Dave Stockton's reign as PGA champion lasted barely six months before Jack Nicklaus collected his ninth major title at Palm Beach Gardens in Florida.
When the 2020 Masters was held mid-November, having been rescheduled following last spring's Covid-lockdown, the weather was cooler, which meant the ball travelled shorter distances through the air and there was less run on softer fairways.
Approach shots required a little more club than usual, although putting surfaces remained incredibly quick.
If you examine data from the last five editions (view Masters Stats (2016-20) below), you will see how softer fairways, less run and marginally slower greens played their parts during last November's tournament.
Latest betting ahead of this week's US Masters
More golfers managed to keep their tee shots on the fairway in 2020, than during the previous four events, and this was replicated for Greens in Regulation which yielded a higher average percentage success rate. There were also fewer putts taken on greens, although the tournament average remained much higher than at all other PGA Tour events.
When the golfers meet up again this week, playing conditions at Augusta are likely to have 'returned to normal' for its early to mid-April slot.
Remarkable putting data
Generally speaking, hitting fairways off the tee has never been a major issue at Augusta. Over the previous five years (2016-20), only three of the 29 regular courses had a higher average percentage for Driving Accuracy.
But from there it becomes so much more difficult for approach shots to remain on putting surfaces - certainly not helped by Augusta's incredibly fast and undulating greens.
Check the latest odds for an Each-Way finish at Augusta
As for the greens, the stats are astounding. Rarely in PGA Tour events does anyone average more than two putts per green.
However, at Augusta, only one player in the last eight editions (2013-20) has managed to average below 2.0 (GiR) for 72 holes.
Not including tournaments at Augusta, the Tour average for the years 2016-20 is 1.749 yet, in The Masters, it's 2.668. Quite a stark reminder of what putting surfaces are like in The Masters.
All about accurate iron play
What is particularly telling is the importance of the Greens in Regulation and Putting tables at Augusta.
Five of the last eight champions topped the Putting stats, with two of the other three winners ending up second in this table. The odd one out is Danny Willet in 2016.
Regarding Greens in Regulation, five of the last eight winners registered a top-three position in this category.
And an analysis undertaken by Golf magazine a few years ago suggests that accuracy with the irons play a greater role at Augusta than in any other event.
According to this study, there was little difference between the percentage of putts holed in the 3-10 foot range at The Masters, as in other Tour events. But from outside 20-25 feet, the difference is quite abrupt.
Therefore, the player who consistently hits his iron shots to within 10 feet of the flag, has a much greater advantage at Augusta than at the majority of Tour layouts.
And if you can limit the number of times you end three-putting - which will certainly happen frequently here - your chances will be better than most.
Click here to view Augusta Scoring Ratings (and explanation) for The Masters (2015-20)
Masters Stats (2016-20)

Putting Averages for Greens Hit in Regulation*
`16: 3.059
`17: 2.737
`18: 2.569
`19: 2.521
`20: 2.484
Driving Accuracy (%)*
`16: 66.42
`17: 65.11
`18: 67.79
`19: 68.38
`21: 70.35
Greens in Regulation (%)*
`16: 57.47
`17: 63.07
`18: 65.02
`19: 66.16
`21: 67.92
* - Tournament averages for those completing at least 54 holes.
Course Comparisons (1.1.16 - 31.12.20)

Driving Accuracy (%)
73.88: Sea Island (RSM Classic) (1/29)
67.69: Augusta National (Masters) (4/29)
52.24: Torrey Pines (Farmers Insurance) (29/29)
Greens in Regulation (%)
75.98: Sedgefield (Wyndham) (1/29)
64.03: Augusta National (Masters) (21/29)
58.99: Innisbrook (Valspar) (29/29)
Putting (GiR)
1.664: PGA West (host) (American Express) (1/29)
1.789: Chapultepec (WGC Mexico Ch'ship) (28/29)
2.668: Augusta National (Masters) (29/29)
Key: Above stats are for all 29 courses which staged four or more PGA Tour events between January 1st, 2016 and December 31st, 2020. To qualify for a ranking (between 1 & 29), tournaments must have a minimum of 50 players competing over the final two rounds of the event. Averages do not include players who failed to complete at least 54 holes.
Augusta Champions (2013-20)

Category positions: GiR & Putting (GiR)
`20: Dustin Johnson (GiR - 1st); (Putts - 1st)
`19: Tiger Woods (GiR - 1st); (Putts - 1st)
`18: Patrick Reed (GiR - 21st); (Putts - 2nd)
`17: Sergio Garcia (GiR - 2nd); (Putts - 1st)
`16: Danny Willett (GiR - 31st); (Putts - 36th)
`15: Jordan Spieth (GiR - 3rd); (Putts - 1st)
`14: Bubba Watson (GiR - 5th); (Putts - 2nd)
`13: Adam Scott (GiR - 1st); (Putts - 1st)
Twitter: Andy Swales@GolfStatsAlive
Betfair is paying 10 places on the 2021 Masters!
Each-way bets on the Betfair Sportsbook will get paid out down to 10th place at this year's Masters. T&Cs apply. Click here for more information.
Augusta National Form (2011-20)
| Player | `20 | `19 | `18 | `17 | `16 | `15 | `14 | `13 | `12 | `11 |
| --- | --- | --- | --- | --- | --- | --- | --- | --- | --- | --- |
| Dustin Johnson | 1 | 2 | 10 | | 4 | 6 | MC | 13 | | 38 |
| Justin Thomas | 4 | 12 | 17 | 22 | 39 | | | | | |
| Jon Rahm | 7 | 9 | 4 | 27 | | | | | | |
| Collin Morikawa | 44 | | | | | | | | | |
| Bryson DeChambeau | 34 | 29 | 38 | | 21 | | | | | |
| Xander Schauffele | 17 | 2 | 50 | | | | | | | |
| Patrick Reed | 10 | 36 | 1 | MC | 49 | 22 | MC | | | |
| Tyrrell Hatton | MC | 56 | 44 | MC | | | | | | |
| Webb Simpson | 10 | 5 | 20 | MC | 29 | 28 | MC | MC | 44 | |
| Patrick Cantlay | 17 | 9 | MC | | | | | | 47 | |
| Rory McIlroy | 5 | 21 | 5 | 7 | 10 | 4 | 8 | 25 | 40 | 15 |
| Brooks Koepka | 7 | 2 | | 11 | 21 | 33 | | | | |
| Tony Finau | 38 | 5 | 10 | | | | | | | |
| Viktor Hovland | | 32 | | | | | | | | |
| Daniel Berger | | | 32 | 27 | 10 | | | | | |
| Matt Fitzpatrick | 46 | 21 | 38 | 32 | 7 | | MC | | | |
| Jordan Spieth | 46 | 21 | 3 | 11 | 2 | 1 | 2 | | | |
| Billy Horschel | 38 | 56 | MC | | 17 | MC | 37 | | | |
| Sung Jae Im | 2 | | | | | | | | | |
| Paul Casey | 38 | MC | 15 | 6 | 4 | 6 | | | MC | 38 |
| Lee Westwood | 38 | | | 18 | 2 | 46 | 7 | 8 | 3 | 11 |
| Harris English | | | | | 42 | | MC | | | |
| Scottie Scheffler | 19 | | | | | | | | | |
| Matthew Wolff | MC | | | | | | | | | |
| Tommy Fleetwood | 19 | 36 | 17 | MC | | | | | | |
| Hideki Matsuyama | 13 | 32 | 19 | 11 | 7 | 5 | MC | | 54 | 27 |
| Ryan Palmer | | | | | | 33 | | | MC | 10 |
| Louis Oosthuizen | 23 | 29 | 12 | 41 | 15 | 19 | 25 | MC | 2 | MC |
| Joaquin Niemann | | | MC | | | | | | | |
| Adam Scott | 34 | 18 | 32 | 9 | 42 | 38 | 14 | 1 | 8 | 2 |
| Victor Perez | 46 | | | | | | | | | |
| Abraham Ancer | 13 | | | | | | | | | |
| Cameron Smith | 2 | 51 | 5 | | 55 | | | | | |
| Jason Kokrak | MC | | | | | | | | | |
| Kevin Na | 13 | 46 | | MC | 55 | 12 | | 59 | 12 | MC |
| Christiaan Bezuidenhout | 38 | | | | | | | | | |
| Kevin Kisner | MC | 21 | 28 | 43 | 37 | | | | | |
| Max Homa | MC | | | | | | | | | |
| Marc Leishman | 13 | 49 | 9 | 43 | MC | | MC | 4 | | |
| Justin Rose | 23 | MC | 12 | 2 | 10 | 2 | 14 | 25 | 8 | 11 |
| Sergio Garcia | | MC | MC | 1 | 34 | 17 | MC | 8 | 12 | 35 |
| Corey Conners | 10 | 46 | | | | MC | | | | |
| Shane Lowry | 25 | MC | | MC | 39 | MC | | | | |
| Matt Kuchar | MC | 12 | 28 | 4 | 24 | 46 | 5 | 8 | 3 | 27 |
| Robert MacIntyre | | | | | | | | | | |
| Will Zalatoris | | | | | | | | | | |
| Carlos Ortiz | | | | | | | | | | |
| Bernd Wiesberger | 58 | | 24 | 43 | 34 | 22 | | | | |
| Jason Day | MC | 5 | 20 | 22 | 10 | 28 | 20 | 3 | Wd | 2 |
| Matt Wallace | 46 | MC | | | | | | | | |
| Brian Harman | | | 44 | | | MC | | | | |
| Mackenzie Hughes | | | | MC | | | | | | |
| Si Woo Kim | 34 | 21 | 24 | MC | | | | | | |
| Brendon Todd | MC | | | | | MC | | | | |
| Matt Jones | | | | | | | MC | | | |
| Lanto Griffin | MC | | | | | | | | | |
| Bubba Watson | 57 | 12 | 5 | MC | 37 | 38 | 1 | 50 | 1 | 38 |
| Gary Woodland | MC | 32 | MC | MC | | MC | 26 | | Wd | 24 |
| Ian Poulter | 25 | 12 | 44 | | 49 | 6 | 20 | MC | 7 | 27 |
| Sebastian Munoz | 19 | | | | | | | | | |
| Dylan Frittelli | 5 | | MC | | | | | | | |
| Danny Willett | 25 | MC | MC | MC | 1 | 38 | | | | |
| Cameron Champ | 19 | | | | | | | | | |
| Martin Laird | | | | | | | | MC | 57 | 20 |
| Michael Thompson | | | | | | | | 25 | | |
| Francesco Molinari | MC | 5 | 20 | 33 | | | 50 | MC | 19 | MC |
| Phil Mickelson | 55 | 18 | 36 | 22 | MC | 2 | MC | 54 | 3 | 27 |
| Zach Johnson | 51 | 58 | 36 | MC | MC | 9 | MC | 35 | 32 | MC |
| Henrik Stenson | MC | 36 | 5 | MC | 24 | 19 | 14 | 18 | 40 | MC |
| Robert Streb | | | | | MC | MC | | | | |
| Jim Herman | | | | | MC | | | | | |
| Stewart Cink | | MC | | | | | 14 | 25 | 50 | MC |
| CT Pan | 7 | | | | | | | | | |
| Hudson Swafford | | | | MC | | | | | | |
| Brian Gay | | | | | | | | 38 | | |
| Charl Schwartzel | 25 | MC | MC | 3 | MC | 38 | MC | 25 | 50 | 1 |
| Jimmy Walker | 60 | 36 | 20 | 18 | 29 | 38 | 8 | | | |
| Bernhard Langer | 29 | 62 | 38 | MC | 24 | MC | 8 | 25 | MC | |
| Mike Weir | 51 | MC | MC | MC | MC | MC | 44 | MC | MC | MC |
| Fred Couples | MC | MC | 38 | 18 | | MC | 20 | 13 | 12 | 15 |
| Jose Maria Olazabal | MC | MC | MC | MC | | MC | 34 | 50 | MC | MC |
| Vijay Singh | Ret | MC | 49 | MC | MC | 54 | 37 | 38 | 27 | MC |
| Sandy Lyle | MC | MC | MC | MC | MC | MC | 44 | 54 | MC | MC |
| Larry Mize | MC | MC | MC | 52 | 52 | MC | 51 | MC | MC | MC |
| Tyler Strafaci | | | | | | | | | | |
| Ian Woosnam | | MC | MC | MC | MC | MC | MC | MC | MC | MC |
| Joe Long | | | | | | | | | | |
| Ollie Osborne | | | | | | | | | | |
Discover the latest articles
Read past articles