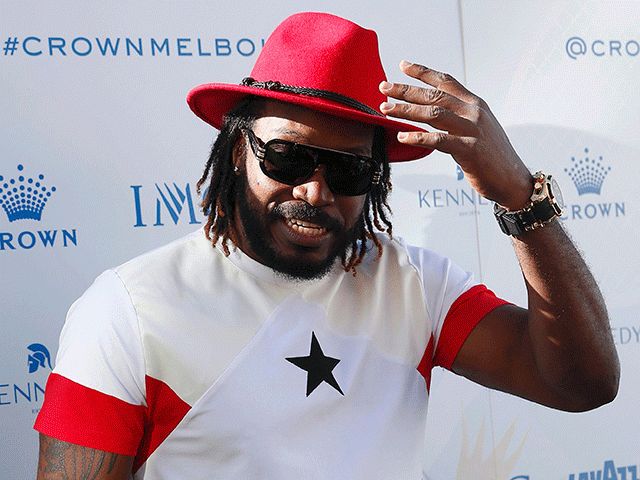 Gayle and co should go into hiding
Ed Hawkins analyses why the Royal Challengers are consistently going off at odds-on despite being the worst team in the tournament...

"It might not be a bad idea to indict some of the Bangalore players on charges of impersonating professional cricketers"
The Bangalore Royal Challengers bring the curtain down on their Indian Premier League season against Delhi Daredevils on Sunday, sorry in the knowledge that they are guaranteed to finish bottom of the pile.

They have won two matches from 13, were bowled out for a record low of 49 against a rampant Kolkata Knight Riders and, perhaps more ignominious than that, were bundled out for 119 against a Kings XI Punjab team who forgot to sign bowlers of any discernible international quality.

To top it all, their founder Vijay Mallya was arrested by British police and later found guilty of contempt by an Indian court. It might not be a bad idea to indict some of the Bangalore players on charges of impersonating professional cricketers.

This mob have been nothing but frauds since a ball was bowled. And just as Mallya is accused of owing banks around £600 million there will be a few punters who will feel short-changed. Bangalore, let us not forget, were favourites to win this IPL at skinny prices in the region of [5.0].

But this is about more than a jolly sinking without a trace. It happens a lot. It happens a lot to Bangalore, actually, who are routinely at the head of affairs on the outright market. They have never won the title. This is about punters' bizarre relationship with them.

Despite there being a library of evidence that odds-on shots in Twenty20 are poor value, Bangalore are routinely sub [2.0]. Despite there being a library of evidence that they are in fact one of the worst value teams off all time - in any sport - they are still going off at sleight odds.

This season they have been favourites nine times. They lost six of them and had one no result. The [1.61] failure against Kings XI was the biggest Bismarck of the whole tournament so far. It is perhaps understandable that they began the competition as warm orders but when the writing was on the wall that they were a bad team, the money kept coming for them.

Following their pathetic batting effort against Kolkata their next game was against Sunrisers, who are considered to be one of the best bowling attacks. Yet they were [1.82] to win. How could that be? Rain saved them from further embarrassment.

The question is, then, why? Why are punters glutton for punishment as far as Bangalore are concerned?

The answer is lowest common denominator stuff. The big bats of Virat Kohli, Chris Gayle and AB De Villiers are considered to be so powerful that they are capable of having the game in their pocket after the first six overs, batting first or second.

It is mad, of course. But then Mallya, right from day one, reckoned that was the way to win tournaments. Sign as many superstar batsmen as one possibly can. It has been proven to be utterly flawed.

For most editions Bangalore didn't actually bother with bowlers. And that is perhaps most surprising about this year's effort. Tymal Mills, at a hefty price, was a good signing to complement a spin-heavy attack of Yuz Chahal, Samuel Badree and Pawan Negi. Adam Milne, the Kiwi speedster, was not a shabby acquisition, either.

But Mills has played only five matches. He suffered an injury halfway through but since a comeback he has been a forgotten man, coming down with illness. What the malady was is not clear but it may be something unique to the Bangalore camp.

The sickness which has spread throughout the camp is most probably one of the mind and is ego-related. Simply, there are just too many big heads in this team. Kohli, De Villiers, Gayle and Shane Watson are probably trying to outdo each other rather than the opposition.

For the rest, there is little motivation. They will always, although they will never admit it, sub-consciously relax too much reckoning that it is not their job to pull the match from the fire. In terms of talent and pay cheque, that is Kohli's job, or AB's, or Gayle's.

If you dig deeper, the reason that Bangalore are so short with routine is fear itself. Kohli and De Villiers, in particular, are men with such vaunted reputations that it is hard to reckon that a team containing such talent can consistently fail despite the defeats stacking up. Indeed, the mindset is 'well, they are due to come good any time soon'.

No doubt that will be the rationale for their last match against Delhi on Sunday. If they are odds-on again you would be mad to bet them.

Bangalore's charge sheet
[1.94] Lost to Sunrisers [2.0]
[1.68] beat Delhi [2.48]
[1.61] lost to Kings XI [2.5]
[1.74] lost to Mumbai [2.24]
[1.65] Lost to Pune [2.3]
[1.74] beat Gujarat [2.18]
[2.0] lost to KKR [1.9]
[1.82] no result to Sunrisers [2.2]
[1.70] beat Gujarat [2.38]
[1.83] lost to Pune [2.0]
[2.24] lost to MI [1.79]
[1.83] lost to Kings [2.2]
[2.1] lost to KKR [1.9]
Ed Hawkins P-L
2017: +12.51pts
2016: +18.1pts
2015: +38pts
2014: +31.5pts
2013: +25pts
Based only on available prices. Does not include back-to-lay in-running match advice or commission rate. Figures 2013-2016 on 1pt level stakes. New points system (0.5pt-5) introduced for 2017.
*Follow Ed on Twitter @cricketbetting