Cricket Betting: Four ways to make money on the IPL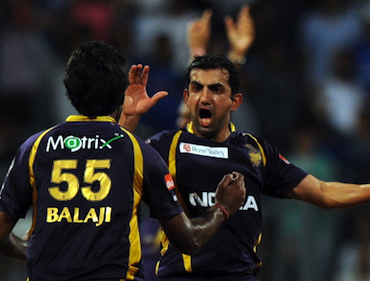 Gautam Gambhir's Kolkata are expected to put up a strong defence of their title
Get ready for the start of IPL with Paul Krishnamurty's advice for the eight week betting bonanza, including both pre-tournament tips and in-running strategy
"Led by a classy, well-balanced top-three of Gambhir, McCullum and Kallis, Kolkata's impressive squad includes Sunil Narine, who could be the star bowler of the tournament."
Back the favourites outright
The thrills, spills and turnarounds associated with the T20 might give the impression that cricket's shortest format is something of a lottery. That couldn't be further from the truth. The formbook has stood up remarkably well in this league, with the usual suspects tending to reach the final-four play-offs every year. Chennai have never missed the play-offs, winning the title twice and losing two finals. Mumbai have reached the last three play-offs. Bangalore three of the last four.
In footballing terms, Chennai are the IPL's Manchester United. Their star-studded batting line-up goes so deep that low first innings totals are extremely rare, while even the unlikeliest run-chases become possible when your middle-order consists of Raina, Dhoni and Dwayne Bravo, with several more capable hitters further down. Their consistency makes a play-off spot a virtual certainty, at which stage the current 5.59/2 will offer the chance to bank a considerable profit if desired.
Equally there's plenty to like about defending champions Kolkata at 7.06/1 in anticipation of a third consecutive play-off appearance. Led by a classy, well-balanced top-three of Gambhir, McCullum and Kallis, Kolkata's impressive squad includes Sunil Narine, who could be the star bowler of the tournament.
Recommended Bets 
Back Chennai Super Kings @ 5.59/2
Back Kolkata Knight Riders @ 7.06/1
Back openers in the Top Run Scorer market
Due to a plethora of world-class names, this looks like a wide-open betting heat, but once again history suggests the appearance is deceptive. The top batsman in all five previous IPLs was an opener and in the last four cases, an easy one to identify. Chris Gayle has won the last two, preceded by Sachin Tendulkar and Matthew Hayden. This is no coincidence - in 20 over matches, openers are bound to get more and longer innings. If their side chases down a low target easily, they may be the only batsmen to get a meaningful innings. 
 
Gayle is a skinny 5.04/1 to complete the hat-trick, but if you're happy to take the big man on, the next shortest price is 17.016/1. I like the chances of the players who finished second, third and fourth last year, all of whom are openers. That was the second time Gautam Gambhir has been second in this market and is around 21.020/1 to go one better. Like Gayle, he captains his side and will therefore play as often as possible. Last year's third Shikhar Darwan carried his side through a terrible run and is a live candidate again at a big price, as is Rajasthan Royals opener Ajinkya Rahane.
Recommended Bets
Back Gautam Gambhir @ 21.020/1
Back Shikhar Darwan @ 36.035/1
Back Ajinkya Rahane @ 40.039/1
 
In-play tactics
 
Back to lay extreme outcomes, especially in the innings runs markets
There are of course many great turnarounds in IPL, which make it tempting to employ the simplisitic trading maxim to 'Back High, Lay Low'. There's little sense, however, in blindly backing that turnaround without measuring the likelihood based on the specific circumstances. When betting in-running, the best advice is simply to follow conditions closely to gauge what constitutes a par total. Whether the pitch, overhead conditions and ground stats are liable to produce much higher or lower than par. The predictions of pundits and captains are not wholly reliable, but they're generally a good guide.  
Rather than the match odds market, the best place to find massive price upsets is the Innings Runs market. Here, there is an option for each band of ten (i.e. 120 or more, 130 or more etc). Very short odds-on chances, even going down to the minimum 1.01, have repeatedly been turned over in this market as a result of batting collapses or an explosive spell of big-hitting.
In order to maximise the potential of this volatile market, my advice is to take a view, either before or early during in the innings, on whether the total is likely to be above or below the par score. Once making that decision, back the bands 20 or 30 above or below par in your chosen direction. Pick the right way and you'll have an excellent trading position.
Back short totals at big odds in the 6 Over Total market
The 6 Over Total market is another volatile affair, although here I'm inclined to stick with 'unders' when conditions suit. Whereas there is a realistic limit to the upside during the early slog, there are always a few very low totals when batting teams completely fail to master early conditions against strike bowlers. Lose a couple of wickets in the first three overs, and most teams will opt to consolidate before rebuilding during the middle overs. It is certainly not unheard of for a team to score below 20 during this opening period. Obviously, as with all in-running markets, keep an eye on overhead conditions and captains' comments at the toss regarding whether the wicket is expected to be lively first up.
Discover the latest articles