India v England Live Blog: All the latest from the Betfair markets on Day 2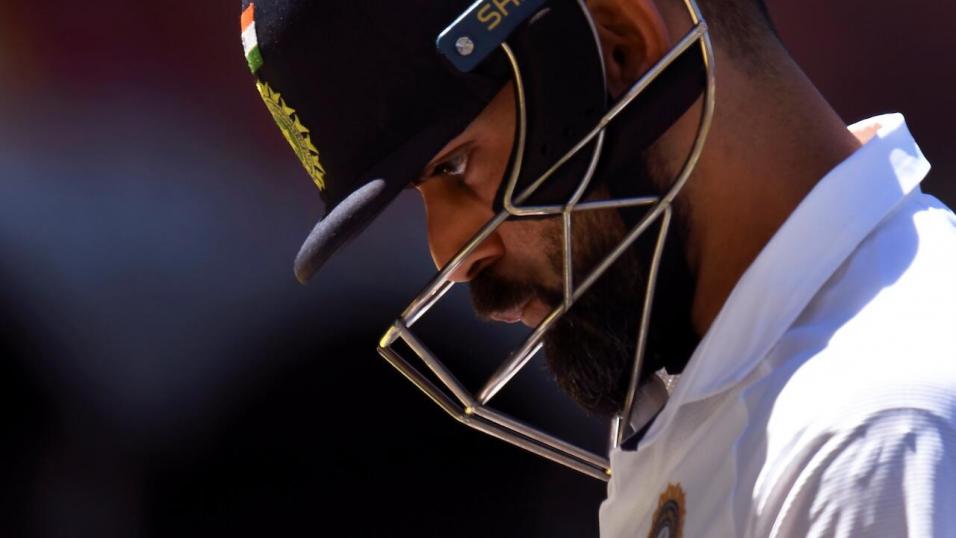 India captain Kohli
Ed Hawkins has all the market moves, best bets, trends and analysis ball-by-ball in our in-play blog on day two in the fourth Test from Ahmedabad
CLOSE Ind 294-7
India win the day. And they will win the Test. They lead by 89 after 141 runs in that session at 4.4 an over. They are no better than 1.101/10. There will be bets aplenty, though, when England bat tomorrow. See you then.
11.31 Ind 294-7
We've highlighted Bess' lack of control all day. But Leach has lost it, too. And that is probably the game for England. Leach will be excused a bad session but Bess is probably bowling for the penultimate time in an England shirt for a long time. He's only 23. When he's 33 he could be worth picking. Spin bowlers need to learn their trade. Groove their action. Land a stock ball with their eyes closed. It's a long time to wait, though.A nd the spin cupboard is bare. The next in line is Amar Virdi of Surrey. But he is 22 and has played only 28 first-class games. Recalling the time when England picked Martyn Ball of Gloucestershire for a tour of India in 2001 (he took a sharp slip catch on this very ground as sub) one wonders whether an experienced pair of hands, to hold an end, was required for this tour. A Gareth Batty maybe?
11.00 Ind 268-7
In this series a wicket has fallen every five overs in the third innings. So England are going to have to do very well to be still batting in the third session on day three. We are interested in Test match End prices. Day three afternoon is 4.2016/5 and day three evening 3.8014/5. There are 16 overs left tonight. Let's have a point on each.
Good that we're resting so many other players so we can bleed Stokes dry... #INDvENG

? Annie Chave (@AnnieChave) March 5, 2021
WICKET 10.49 Ind 259-7
Pant goes for 101 but he has put India on the brink. They are 1.111/9 and lead by 54.
10.49 Ind 259-6
Root has the new ball and is smashed for six by Pant to bring up his ton. India in control. England will require their second highest score of the entire series to ask India to chase more than 150.
10.37 Ind 217-6
Crackers from England. Stokes continues with the new ball aftre being bowled into the ground. Why? Because England can't trust Bess. Or Leach apparently. Stoke should have been kept fresh for this crucial spell in the game. As it Sundar and Pant are going on the attack. It's appraoching 4.5 an over run rate in this session. Stokes has bowled 21 overs. Bess 12. Leach 19.
10.30 Ind 217-6
England take the new ball. Sportsbook go 10/11 under 307.5. It feels like a wager to me. But England looked very jaded and Pant is going to attack. He whacks Anderson for four with the first ball of the 81st.
10.22 Ind 217-6
Drinks break. England need some refreshment. They will surely take the new ball immediately to try to stem the Pant attack. He has produced a fantastic knock, potentially taking the game away from England in the last three overs. he has preyed on their poor selection and punished them at the right time. Very hard to see England making the 220-230 they may well need to put India under pressure in the fourth.
09.57 Ind 208-6
Pant beginning to cut loose. A quick dash before the new ball. Has thrown the bat at three balls from this Stokes over. Stokes looks knackered. Too tired for a new ball stint now, too, as England have got it all cock-eyed. With 66, Pant is now worrying punters who backed no ton in the match at decent numbers. England out to 8.007/1.
09.57 Ind 196-6
England have got things wrong since tea. They have looked to contain until the new ball. It hasn't worked. Instead of attacking with Anderson and Stokes in short bursts from one end and Leach holding up the other, they went with a Root-Bess axis. And their hopes of an innings lead have disappeared. A strange strategy because now they will be under pressure to make that new ball count. Pant has fifty, by the way. We'd rate that as one of his most impressive innin gs because it proves he has learned to adapt from the first Test.
09.37 Ind 177-6 Bit of a debate about the Pant lbw review earlier. DRS saved him. Given not out, England reviewed and although the ball was hitting, not enough of it was hitting. Twas ever thus. This confuses folks for some reason. If it's hitting, it should be out they say. Deal with it. There is the need for margin of error in the system. This is also balanced by the umpire's call. If Pant is given out by the ump, he's gone. YOu win some, you lose some. It is there to eliminate bad decisions.
of course if your memory is good you will know that India, or rather the BCCI, were against DRS. And yet their spinners have benefited it more than most. You may also recall BCCI were vehemently against Twenty20. How's that worked out for them. A good rule to live life by is this: whatever BCCI do, do the opposite.
Successful Player Reviews:
1st Test: 2/14 + 0 umpire's calls.
2nd Test: 3/11 + 6 umpire's calls (1 review error)
3rd Test: 4/13 + 5 umpire's calls
4th Test: 1/5 + 4 umpire's calls (so far)

? cricketingview (@cricketingview) March 5, 2021
09.31 Ind 175-6
Interesting update on the Bess overs overs. Sportsbook go 5/6. But this time they raise the quote to more than 3.5 runs. We won't be getting involved in that. We've think we've proved our point, although it does seem stingy from the traders. It's gone from 11/3 more than 2.5 to 8/11 over 2.5 to 5/6 over 3.5. It's a particularly bad wager as Leach has returned to bowl. The quote is available the over before so you are also gambling on Bess remaining. Good decision to get him off. Every time he bowls England lose control. Not surprising considering his econ rate is 4.08.
09.16 Ind 166-6
No more on the Bess overs overs. Sportsbook have cut the 66th to 8/11 for 2.5 so we will swerve and end our strategy. It returned 1.38 points to one-unit level stakes. And to think it started off at 11/8.
09.14 Ind 164-6
Back after the break. Bess continues. And the even money cops after ball one. They need to get him off. Leach has barely bowled in the last session. Anderson is well rested.
TEA 08.37 Ind 153-6
England back in the game after that session. Have picked up wickets at regular intervals. It's 1.364/11 India versus 3.90 England. That looks value for the latter with India needing runs from pant and Sundar after the break.
08.37 Ind 146-6
The Bess over 2.5 runs gamble is back on. Sportsbook go even money for 62nd over.
WICKET 08.28 Ind 146-6
Spoke too soon. Leach snares Ashwin. Looking good for an innings lead now England. They are into 3.8514/5. Have a look for [p4.0] in play here with a spurt of runs. Washington is a useful batter and, at some stage, Pant is going to have to cut loose.
08.26 Ind 146-5
Barely been a hint of a threat since we had that wager. Does Anderson have a burst before tea? Pant has shown admirable restraint in this innings, refusing to be drawn into a hitting strategy against Leach. He is 30 not out and closing in on top bat (20 to go for a lead). He was 7s.
BET 07.59 Ind 130-5
England should have a threat from both ends for a while now with Leach on. Stokes is getting shape. And when he needs a rest Anderson should be ready to go again. We can go under 246.5 at 10/11.
07.48 Ind 124-5
This is where England pay for getting selection wrong. Bess can't be trusted. There is reverse. But only Stokes can bowl it with Anderson needing a break. Root must be pining for Broad. He is bowling himself so one end is open. Not entirely sure why Leach can't bowl. He hasn't had a go this session. With a threat at both ends we'd be looking to short India runs at 240.5
WICKET 07.41 Ind 121-5
Rohit goes to Stokes, who can't be kept down. A huge wicket. He got one to nip back in. England have some control again. India had built that platform to go at England but there is now doubt whether they can get parity. They are in to the bowlers now. England 4.707/2.
07.33 Ind 121-4


07.18 Ind 108-4


07.18 Ind 106-4
There you go. Edges don't last long in this game. Runs off an over market is back but it's now 4/6 for over 2.5. No thanks. Still cops though as Pant punt for the third single.

07.18 Ind 105-4
Annoying. Two overs in to our scheme at +0.38, Sportsbook take down the market.

07.03 Ind 95-4
Sportsbook over 2.5 runs for this Bess over at 11/8. Let's keep a rate of how often that busts. Bet you we can make a ton on one-point stakes when he bowls. It's an algorithm price one suspects.

LUNCH 06.56 Ind 90-4
Back after the break to tell you Bess has been driven for four from a full toss. They need to get him off. Anderson is doing well at the other end, bess is releasing the valve. leach needs to bowl. or Toot. bess cannot be trusted, I'm afraid to say.

LUNCH 06.02 Ind 80-4
England have had a good morning. Three wickets. Rahane goes to Anderson, brought back because some swing turned up. And he doesn't miss the mark often when it starts to bend. If it continues to move in the air, England are a bet at 4.003/1 because there are just a few hints that the surface is beginning to break up. India won't fancy going after 175 on this in the fourth.

05.47 Ind 66-3
Rahane has 18 from 29 amid a flurry of strokes. His run quote is 43.5. He has busted that mark 11 times out of 31 in home Tests in the first-innings. That's a sell at odds of 10/11. But they always are. Those markets are set deliberately low because the punters has buying mentality or a positive mentality. It almost always pays to short. Unless Bess comes on. Which he does. Could be a boundary an over here.

05.36 Ind 55-3
India innings runs available at overs and unders at 268.5 with Sportsbook. Some change from the start of the day. Or even before the Pujara wicket when it was set at 345.5. A couple of balls ago a Leach delivery almost took off Rohit's face from a length.

05.25 Ind 41-3
Tricky this, isn't it? Only 23 runs so far in this session. England have bowled tight lines. Been very good. Picked up two wickets. But that urge to go against the tide is strong in the punter. Can't we get with India here for runs? Now's a good time to do it with an overreaction to the wicket of their best batsman? Stokes is surely coming to the end of a spell? England are a bowler light? Bess is going to spray it around? The wicket really doesn't look difficult. But batsmen keep getting out, don't they?

WICKET 05.13 Ind 41-3
Drinks break brings another wicket. Same as yesterday. And it's huge. Kohli goes. Stokes got one to lift from nowhere. And England reckon they are bang in the game. They are in to 4.003/1. Will this pitch get easier?

WICKET 04.58 Ind 40-2
Leach gets Pujara, who has had a very poor series. He was strokeless this morning. For the criticism of England players who got out to straight balls yesterday, add him to the list. Didn't really turn. Went straight on. Only a few bals before he had jammed bat and pad together just in time. Didn't get away with this one. England in to 6.6011/2 and the draw back out to 36.035/1.

04.39 Ind 30-1
That draw trade we mentioned? Well, it's now in to 24.0023/1 from 40.0039/1. That's a heavy dip after so little to play. An overreaction probably bit shows how quick it will come in without wickets on day two. England have worked hard with Anderson and Stokes in mean form. But no joy and so the England price has drifted quickly. Out to 10.009/1.

04.19 Ind 27-1
We can feel warm and cosy and very pleased with ourselves that we have spotted England's plan of attack. But not much point if the analysis below shows it's unlikely to work. That's why we're not rushing to take that England price. Our nagging doubt about that wager is caused by more than the stat below. We're not sure this wicket, in about 40 minutes or so, is going to get much easier. So if Rohit and Pujara can hang on in there, this could finally be the innings when India make a sizeable score in this series. We're not fussed about a wait for, say, an innings runs bet either. We will have to take a higher price but not by much.

04.16 Ind 27-1
This. This is what you're betting on...
England have bowled a very tight line to Rohit Sharma, targeting his pads. While James Anderson is capable of greater accuracy than most bowlers, Rohit has not typically struggled with this angle of attack - he's been out LBW against seamers just once in 27 home innings. #INDvENG

? The CricViz Analyst (@cricvizanalyst) March 5, 2021
04.07 Ind 26-1
James Anderson straight into his work. And so are we. The market moves will come from the England or draw price, naturally, today. England need wickets. A similar effort in India's first-innings from game three will do nicely. Anderson needs new-ball action, though. He is getting it to dart back into the pads. Three clicks could come off the away price sharply of he can grab a couple straight up. Rohit looks a little flat footed. And we note the next wicket dismissal of lbw at 11/4 with that movement back in. India runs are quoted at over/under 330 at 10/11. Were they to be on course for that we would see the draw fall from 40.039/1. That could well be the trade of the day, taking a large margin on a back-to-lay.

04.00 Ind 24-1
Welcome back to the blog from my spare bedroom. Snuggle in next to me. Are India in for a cosy day against a dozy England attack? IOs this wicket a featherbed? Or will it give the home batsmen nightmares? Does Dom Bess stalk all of our darkest moments? Has he been up all night worrying if he can six out of six of his stock ball? Nah. He knows he can't do that. Anyway, plenty of action and potential wagers today. First we'd like a Pujara century. Here are the odds: 1.222/9 India, 6.05/1 England, 40.039/1 the draw.
Ed Hawkins P-L
2021: -3.98
2020: +5.91
2019: +37.25pts
2018: +23.53pts
2017: +12pts
2016: +18.1pts
2015: +38pts
2014: +31.5pts
2013: +25pts
Based only on available prices. Does not include back-to-lay in-running match advice or commission rate. Figures 2013-2016 on 1pt level stakes. Includes Hawk-Eye stats column p-l & COB Best Bets year end
Discover the latest articles
Read past articles