England v Pakistan ODI Series Tips: What to expect from Babar and co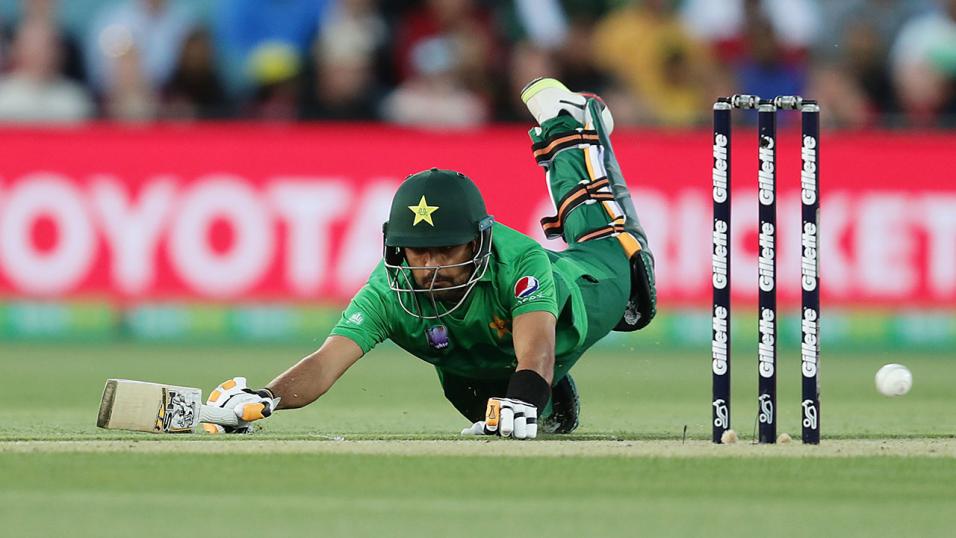 Babar leads a talented team
England and Pakistan begin their ODI series on Thursday so how predictable are the tourists likely to be? asks Ed Hawkins.
Predictable Pakistan?
For the fifth time in seven years, Pakistan have arrived on these shores to go head-to-head against England. With the red ball they have been hugely competitive (drawing two series and losing one). With the white ball, not so much. In T20 and ODI formats they have lost 10 out of 15.
Of course this is the bit of the profile when one is expected to ponder: which Pakistan will turn up? The thrusting, magical and complex unit which has stunned England in the hardest game of all? Or the chaotic and disorganised Pakistan who can't think fast enough on their feet in the blur of the white ball?
No team in international cricket suffers more from lazy cliché. Jeez, who hasn't done it? The PCB is a joke. Check. They're so unpredictable. Check. If they could all just get along they'd be unbeatable. Check.
There is some value to such musings. Or rather worries because Pakistan's natural ability makes them cause more angst among the betting fraternity than most. No team boasts more ability. So at often fancy prices the risk over whether they can harness it is worth taking.
And no doubt that risk will be weighed again when they face England in an three-match ODI series starting on Thursday in Cardiff followed by three T20s. The home team are no better than 3/10 with Pakistan 12/5.
Who can forget their defeat of England in the 2019 World Cup, which set alarm bells ringing for the hosts? Or the semi-final success at Sophia Gardens in the ICC Champions Trophy two years previously, causing Eoin Morgan to throw a hissy fit about the state of the pitch? In big, high-pressure white-ball games Pakistan have confounded the critics.
The World Cup win was classic Pakistan. As reports stated, they 'upended the form book'. They were chaotic. Check. They were unpredictable. Check. Posting 348 they held on to win by 334.
The more acceptable narrative about Pakistan these days to those who like to use spreadsheets and databases are that they are a team high on bowling quality but lacking batting power. So is that true? Or is it in danger of becoming another lazy cliché about the men in green?
Forget the stereotypes
Surprisingly, Pakistan are not slow scorers. In fact, they're rapid. Only England, India and Australia have faster average strike rates in the last three years and the gap between them and Australia is just 0.68. It means they have more muscle than the likes of New Zealand and West Indies, two teams one would expect to be quicker.
But their real strength is with the ball, right? Sure. A fourth-best position on economy rate (again last three years) is perhaps a little disappointing given the individual ability. They concede runs at an average of 5.26. For context, Australia (5.54), India (5.36), England (5.60), Sri Lanka (5.69) and West Indies (5.75) are pricier.
If that tranche of data suggests that England are in for a tough time, hold the phone. Filters are everything when it comes to statistics. And if we filter Pakistan's performances against their fellow top nine teams, excluding lesser outfits, we get a completely different picture.
For a start, Pakistan's vaunted bowling unit goes to pieces. They are second worst on economy, their rate jumping to 5.74. More alarmingly, their strike rate is rock-bottom. England's economy rate is better by 0.1, by the way.
Pakistan slip down the rankings with the bat, too. They are at fifth place, with a cautious South Africa leapfrogging them. As you would expect world champions England remain number one, putting on more than four points on their nearest rival, India.
This does not bode well for Pakistan's chances of a series success, although many would be surprised if they failed to pinch the odd one out in three. After all, look at that bristling talent (check). Shaheen Shah Afridi, Hasan Ali and Muhammad Hasnain are rapid and accurate with the ball. Babar Azam, Fakhar Zaman, Mohammad Rizwan and Mohammad Hafeez dangerous with the bat.
There is another problem here. Babar aside, that collection of players could have been classed firmly in the 'out of form' category in the recent part two of the Pakistan Super League. With minimal preparation time, switching from Sheik Zayed Stadium to the lush surfaces of England is a challenge. Haris Sohail, something of a Mr Consistent, looks underrated for top-bat honours at a whopping 16s for game one, by the way
The ODI series could provide the perfect tune up for the T20s. And one suspects that's how Pakistan see it, too. This provides us with another Pakistan punting conundrum. On essentially home soil in the UAE for the rescheduled World T20, are they not outstanding value now at 11.010/1?
'Now' is the key word. In a few weeks that number could have shrunk significantly or increased. Likewise they could be higher/lower on the rankings list for bat and ball (against the top 10) of sixth and fourth. Who knows which Pakistan team will turn up.
Ed Hawkins P-L
2021: +33.95
2020: +5.91
2019: +37.25pts
2018: +23.53pts
2017: +12pts
2016: +18.1pts
2015: +38pts
2014: +31.5pts
2013: +25pts
Based only on available prices. Does not include back-to-lay in-running advice or commission rate. Figures 2013-2016 on 1pt level stakes. Includes Hawk-Eye stats column p-l
Recommended bets
Discover the latest articles
Read past articles