Hawk Eye on England v Pakistan First T20: Brilliant Babar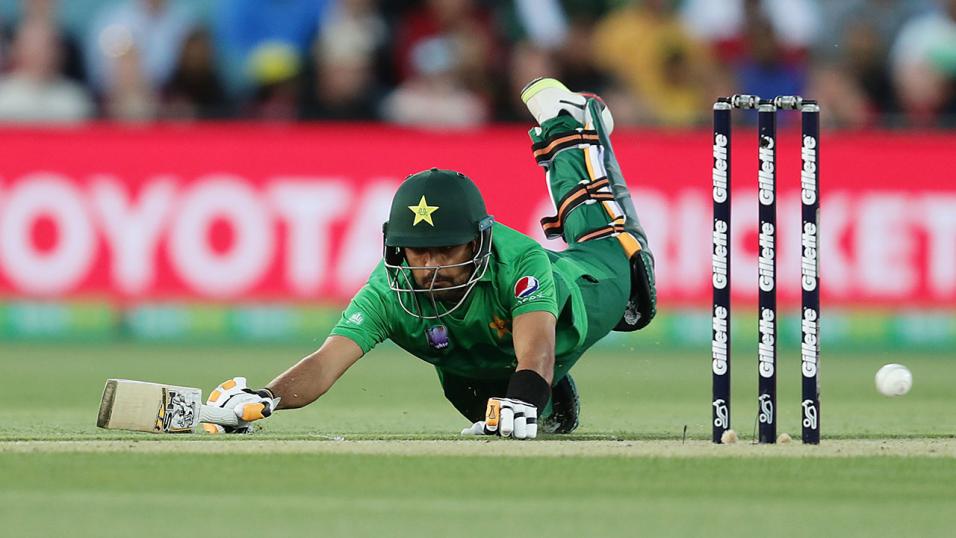 Babar has rarely let down top-bat backers
Ed Hawkins crunches the numbers on the side markets for the T20 action between England and Pakistan from Old Trafford on Friday night...
"Babar is not explosive - those expecting towering sixes will be disappointed - and instead relies on timing, class and textbook shots on both sides of the wicket"
Peerless
The first contest of a three-game series gives punters the opportunity to bet the most reliable top-bat performer in the world. Babar Azam, the Pakistan opener and captain, has a ridiculous record for wins and is one of those rare players whose reputation matches his return.
Babar, quite rightly, is recognised as one of the best T20 international batters. He is not explosive - those expecting towering sixes will be disappointed - and instead relies on timing, class and textbook shots on both sides of the wicket.
Sportsbook make him a 12/5 chance for honours. It's not short enough. As discussed in our most underrated T20 batters feature, Babar could be justified in going off at a price which would make those who didn't realise his record balk. Let's look at his win rates in the last three years...
Babar's win rate
2019 30% (10 matches)
2018 75% (12)
2017 20% (10)
Last 3 years combined 43.7%
That final figure suggests Babar should be more like 5/4. Or to put it another way, on implied percentage probability Sportsbook are giving up more than 14 points. That's massive for a player of Babar's ability.
What of his rivals? Well, opener Fakhar Zaman has a win rate of around 21% meaning the 7/2 gives bettors a one per cent edge.
On the top bowler markets we are keen on Mohammad Amir and Muhammad Hasnain, who are rated at 5/2 and 4/1 respectively. Amir has won 37.5% of the time in the last three years so is clear value. Hasnain has only played six internationals but has won in two of them. We expect him to be one of the world's best.
Malan the man
Like Babar, Dawid Malan is also on the most underrated list. Alas for the Yorkshire player, it is not just the bookies who seem to be unaware of his ability. The England selectors haven't been paying attention, either.
Malan, considered a 'difficult' character, has played 10 T20 internationals. In those he has top scored six times. He has an average 52 and a strike rate of 153. He is one of only two England players (Alex Hales is the other) to have scored a T20 international ton. Despite scoring 78 off 44 balls on debut, against South Africa in 2017, Malan has played less than half of England's T20 games (22) since.
Sportsbook rate him a 4/1 chance for top bat honours. He is the only home batsman who is rated as a wrong price on win rate.
Six appeal
Eoin Morgan is fourth on the all-time sixes list in T20 so it is no surprise that he is 5/1 jolly with Betfair Sportsbook. Morgan has hit 105 in 89 matches (1.1 per game) and he is trumped only by Rohit Sharma (126 in 108), Martin Guptill (119/88) and Colin Munro (107/65).
But is Dawid Malan a smidge of value at 12s? Of course, as study periods go there is no comparison but the hitter has a very impressive sixes rate in his short career. In his last 49 matches in all competitions, Malan is averaging 1.4 a game.
What will also be noted about the table below is how much more brutal England's batsmen are. The 4/6 mark isn't the sort of price we recommend, but for those who like to play those sort of numbers England to hit most sixes looks a shoo-in.
Sixes per match last 3 years
Morgan 1.8
Bairstow 1.5
Malan 2
Moeen 1.1
Banton 1 (3 games only)
Shoaib 1.1
Babar 0.5
Fakhar 0.6
Hafeez 1
Imad 0.1
Shadab 0.1
Iftikhar 0.5
***
Brilliant Babar and marvellous Malan? This week on Cricket...Only Bettor
Discover the latest articles
Read past articles