Adelaide Strikers v Melbourne Renegades: Rashid Khan the difference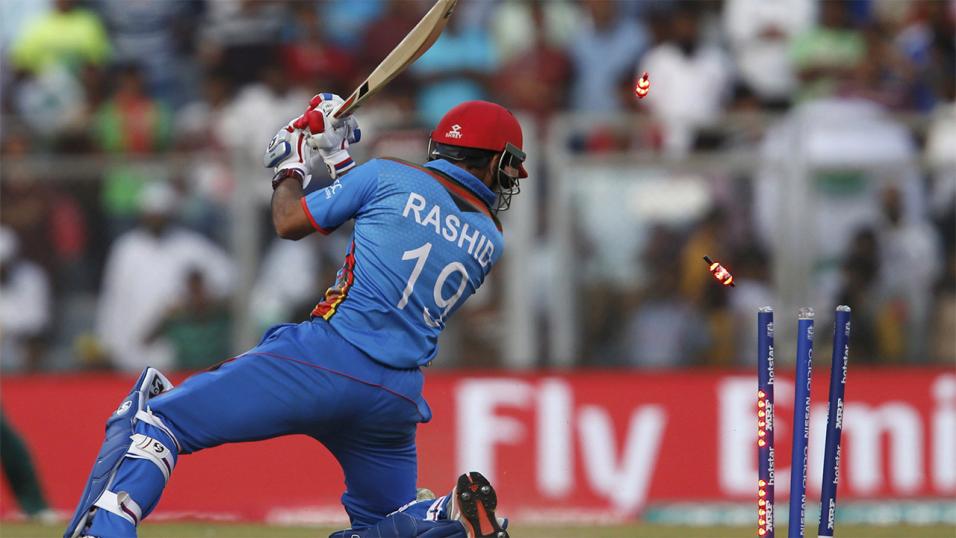 Rashid Khan is key to Adelaide Strikers chances. As the photo suggests however, don't back him with the bat.
The second BBL07 semi-final is a tough match to call, but James Buttler believes Friday will see the Strikers finally take their chance to reach a Big Final. Here are his thoughts on the game and some potential in value in the side markets...
"This is a close match-up, but the Strikers know how to calm the Renegades, Rashid Khan is a massive weapon and this is their time to transition from being consistent in the ladder to mastering the knockout phase. Take the Strikers at a very generous [2.18]."
Adelaide Strikers v Melbourne Renegades
February 2, 08:40 GMT
Live on BT Sport
Adelaide Strikers
The Strikers have topped the ladder twice in the last four seasons and have finished in second spot this time around, but they are one of two franchises to have never reached a Big Final. So the pressure is on for one of the most successful Australian T20 franchises, arguably just behind the Perth Scorchers, to add a trophy to their success.
At least in this semi-final they are up against a Melbourne Renegades side that are the only other team to have never reached a Big Final either. A new finalist emerges from this match whatever and the Strikers have pressure, but also the pedigree.
The Strikers success this season has left them short however, with Australian national T20 call-ups to leading batsman Alex Carey (425 runs at a strike=rate of 143.09) and tall paceman Billy Stanlake for this crucial fixture. All three are major losses.
Rashid Khan has been their star with the ball. The Afghan 19-year-old leg-spinner has taken 17 wickets at a meagre economy rate of 5.52 runs per over. The Strikers will hope for some turn and Khan never seems to be inhibited by the big stage.
Melbourne Renegades
The Renegades collected six wins to finish in third place in the BBL07 ladder. This is the first time they have made the semi-finals in five seasons and it has been their captain Cameron White, with 302 runs at an average over 100 that has been Mr Consistency at the top of the order. White will be disappointed by his performances for Australia in the recent ODIs against England and will view the BBL as his chance at redemption.
With the ball West Indian all-rounder Dwayne Bravo has taken 17 wickets and heads the standings with Rashid Khan. Fellow Caribbean star Kieron Pollard also provides all-round dynamism and plenty of experience too. But the absence of Kane Richardson to Australia, with 12 wickets in BBL07, hurts the Renegades in the field. Richardson's death bowling has been pivotal to the Renegades success and his absence leaves a hole the Strikers will hope to exploit.
The battle between Rashid Khan and the Renegades batsman could hold the key to this match. Skipper White believes that the Renegades have found momentum this season at just the right time, but acknowledges that playing the spin of Khan will be a challenge. "He's quite difficult to play," White said. "It's just working out which way the ball is spinning. He doesn't really leave the stumps much so he's always challenging you there as well. He's also got a bit of an unusual action, which takes a little bit to get used to."
Match Winners
In seven meetings between these two sides the Adelaide Strikers hold a 4-3 lead, but more tellingly they have won three of the four matches they have played against the Renegades.
The teams met at the Etihad Stadium on 22 January and the Strikers won by 26 runs. Colin Ingram (68 from 36 balls) and Travis Head (58 from 47) saw them reach 173 for five, before Ben Laughlin (2-18), Rashid Khan (2-26) and Billy Stanlake (2-22) secured victory.
Much is being made of how international call-ups will weaken the Strikers, Carey and Stanlake have been big players for them, but the Renegades are reduced too. Leading marksman Kane Richardson will be absent and Brad Hodge, who often shows his huge experience when the chips are down, will miss the game with an appendicitis.
Betting-wise this is a close match-up, but the Strikers know how to calm the Renegades, Rashid Khan is a massive weapon and this is their time to transition from being consistent in the ladder to mastering the knockout phase. Take the Strikers at a very generous [2.18].
The Strikers' will be looking towards Colin Ingram to add to his 262 runs in BBL07 at a strike-rate of 137.17. Ingram - who was expected to captain the side before Head was released to play - is available at 9/4. He was immense for Glamorgan in England's T20 Blast in 2017 and has grown into this tournament after a slow start. Ingram takes my main stake and a nibble on Jake Lehmann at 8/1 gives you cover at a very good price.
Cameron White, at 11/4, is a strong play in this market, but I'm more tempted by Tom Cooper at 7/2 with a half-stakes nibble on Kieron Pollard at 7/1. Cooper has hit 262 runs at a crunching strike-rate of 143.95. While Pollard hasn't fired with the bat so far in the tournament he has arms the size of most men's bodies and if he gets in with overs to play with can do serious damage in double-quick time.
This is a market that has served us well throughout the Big Bash and, at the risk of boring you senseless, it's a bet that has to be placed again. Over 1.5 Total Match Run Outs in the melting pot that is a high voltage semi-final makes so much sense and gives you a bet to keep you involved to the end. It's going to be loud, tense and the need to eek out that extra run will be huge and the calling could well help us land this prize.
This market is great. Pick one player from each side at attractive odds and sit back and enjoy what should be a cracking match. If the Renegades get home someone like Dwayne Bravo could be a great play and the obvious contender for the strikers is Rashid Khan who could spin his team to success. Both overseas imports are available at 9/1 and give you serious chances.
***
James Buttler at BBL07
Units Staked 37.25
Units Returned 50.45
Profit/Loss: +13.20 units