WSOP Hand of the Day: Shaun Deeb vs. Max Heinzelmann
World Series of Poker

/ Short-Stacked Shamus / 15 July 2011 / Leave a Comment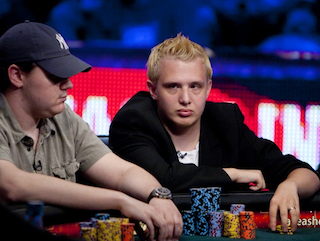 Max Heinzelmann was looking to try something a little different against Shaun Deeb on Day 3 (Photo credit: PokerNews / WSOP.com)
It was another exciting day and night at the 2011 World Series of Poker Main Event yesterday. As the field shrunk down to 853, there were numerous big-pot confrontations and dramatic eliminations. Adding further buzz was the ubiquitous presence of ESPN cameras shooting both the feature tables and circling about on the floor. It was a hand at one of those feature tables between online star Shaun Deeb and the young German Max Heinzelmann that probably produced the most buzz of all yesterday at the Rio, and thus serves as Thursday's WSOP Hand of the Day.
The hand occurred right near the end of Level 12 (blinds 1,000/2,000, ante 300) over on the main feature table. The group assembled there had already produced some fireworks, primarily between Deeb and Daniel Negreanu. Also making things interesting for the crowd in the stands and watching the live coverage at home were Sami "LarsLusak" Kelopuro, Kristy Gazes, and Heinzelmann. The latter only turned 21 a week ago, but has already made a name for himself with runner-up finishes at both EPT Berlin and EPT San Remo in April of this year.
As Chris Hall reported on PokerNews, the hand began with an opening raise to 4,600, followed by a reraise to 15,600 by Deeb. Heinzelmann, sitting to Deeb's left, then four-bet to 31,300, and everyone -- including the original raiser -- folded back to Deeb.
Deeb reraised again, this time to 68,600 total, leaving himself about 170,000 behind. Heinzelmann had about 190,000 left himself, and shoved it all in. Deeb snap-called, tabling Ad-Ac. What did Heinzelmann have?
As-6d!
The preflop sequence immediately recalled Joseph Cheong's memorable six-bet shove at the 2010 WSOP Main Event final table with As-7h in which he was called by Jonathan Duhamel who held pocket queens. As we all remember, Cheong lost that hand and soon after would finish third, allowing the short-stacked John Racener to sneak into second-place prize money after eventually falling to Duhamel.
Here things went a little differently, however, for the six-bet shover. The flop came 10h-6h-Ks, pairing Heinzelmann's six and thus giving him a couple of outs to win. The Qh on the turn then provided four more outs (the jacks) to chop.
Then came the river... the 6c! Heinzelmann's play had been rewarded, pushing him up toward the half-million chip mark while leaving Deeb with but 20,000. Deeb would only last a short while longer before being eliminated. Meanwhile Heinzelmann would make it through the next couple of levels to end Day 3 with 278,000 chips (269th of 852).
As with Cheong's play last November, Heinzelmann's unorthodox play was designed to get Deeb to relinquish all but the most premium of hands, one of which Deeb happened to hold. It's worth noting that Heinzelmann having an ace in his own hand reduced the likelihood that Deeb had two more in his, and indeed a six-bet shove in such a spot would probably make even the aggressive Deeb think twice about continuing with even pocket queens or kings or ace-king.
Even so, it's hard not to look upon Heinzelmann's play in this spot as especially rash -- perhaps the kind of move only a young 21-year-old who'd recently won €1.1 million (about $1.585 million) in the space of a month would be likely to try.
Head over to PokerNews' live reporting today for all the coverage of Day 4, including the always dramatic bursting of the money bubble. And if you happen to get ESPN2 (cable) or ESPN3 (online), tune in to see live coverage from the Amazon Room.