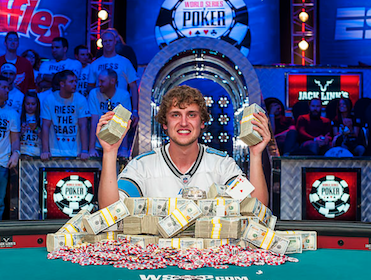 23-year-old Ryan Riess of Michigan is the newest WSOP Main Event champion (Photo: PokerNews)
After nearly four months of suspense-building anticipation, the 2013 World Series of Poker Main Event has at last concluded with 23-year-old Ryan Riess of Michigan becoming the third-youngest ever Main Event champion. Riess outlasted a tough final table this week, culminating with a 90-hand heads-up battle with VIP host and amateur player Jay Farber to win the bracelet and $8,361,570 first prize. With the win Riess becomes the sixth straight WSOP Main Event champion aged less than 25. Here's a recap of how the final table played out: Final Table, Day 1: From 9 to 2 The first day of final table play saw the final nine players -- what remained of the 6,352-entrant starting field -- play down to two, with J.C. Tran starting play as chip leader with Amir Lehavot in second position. Tran maintained the lead early on then Lehavot enjoyed it for a brief period. Then Riess would push out in front to stay in the top spot for much of the night before Farber won a big hand to take over first place and carry the lead in to heads-up play. Here's how the stacks looked to begin the final table: 1.  J.C. Tran -- 38,000,000 2.  Amir Lehavot -- 29,700,000 3.  Marc-Etienne McLaughlin -- 26,525,000 4.  Jay Farber -- 25,975,000 5.  Ryan Reiss -- 25,875,000 6.  Sylvain Loosli -- 19,600,000 7.  Michiel Brummelhuis -- 11,275,000 8.  Mark Newhouse -- 7,350,000 9.  David Benefield -- 6,375,000 Those three short stacks would all ultimately fall early, the field being trimmed to six players within the first 55 hands of the night. Mark Newhouse was the first to go despite earning a fortunate double-up on the fifth hand of the night with Qs-Qc versus Marc-Etienne McLaughlin's Ks-Kc when a queen appeared among the community cards. His end came a little later in another all-in confrontation, this time holding 9s-9c and hoping the pair would hold against Riess's As-Kh. A king fell on the flop, though, and two cards later Newhouse was out in ninth. Just three hands later David Benefield was eliminated in eighth when his Ks-2s failed to outrun Farber's As-Kd. A deuce did come on the river, but by then Farber had already made a Broadway straight. Prior to that hand Benefield had done well with his short stack, however, making a couple of well-considered folds including once correctly letting go of pocket tens preflop in a hand in which Michiel Brummelhuis had aces. Pocket aces would ultimately prove Brummelhuis's undoing, however, when he found himself all in before the flop later on with 9d-9c and up against Riess's Ac-Ah. The board brought no saving nine, and Brummelhuis was out in seventh, the highest-ever finish for a player from the Netherlands. They would play six-handed for more than 100 hands more with Riess keeping the top spot throughout. Then came that big hand involving Farber mentioned above in which McLaughlin held Ks-Kc while Farber had As-Ah. The better pair held, and with the elimination of the Canadian Farber had assumed a sizeable lead with nearly 95 million chips to nearest-challenger Riess's stack of just over 63 million. In fact, those two were both well in front of the other three by then, with Sylvain Loosli sitting in a distant third with 12,625,000.   Three more hands would pass, then came the next knockout as Farber eliminated J.C. Tran in fifth to conclude a night's worth of struggling for the start-of-day chip leader. Tran's final hand saw him all in with Ah-7s against Farber's Ks-Qh, but the board rolled out Kd-Jh-9h-5d-6h to give Farber kings and end Tran's run. Then eight hands later, the two remaining short stacks would be eliminated in back-to-back hands to end the first night of final table play and set up the following night's heads-up match. Riess would be responsible for both of those final knockouts, the first coming when Loosli open-shoved from the small blind for just under 10 million (or 10 big blinds) with Qh-7c and got a quick call from Riess who had Ac-10h. The board came 9h-Ks-8h-9c-Ad, giving Riess two pair and sending the Frenchman railward in fourth. The next hand saw Riess open with a raise from the small blind, Lehavot push all in for just over 21 million from the big blind, and Riess again call without hesitation.  Lehavot had 7s-7d, but unfortunately for him his opponent had 10c-10d. Five cards later -- Qc-8c-4h-2d-Jd -- Lehavot was done in third and play was done for the night.   Final Table, Day 2: Heads-Up After starting the final table fourth and fifth in the counts respectively, Farber and Riess were the final two left with a chance at the 2013 WSOP Main Event title with Farber still in front. 1.  Jay Farber -- 105,000,000 2.  Ryan Reiss -- 85,675,000 With the blinds still 500,000/1,000,000 (with a 150,000 ante) to start heads-up play, both players were quite deep-stacked and thus were able to exhibit patience when play resumed.  It only took Riess a little over a dozen hands to narrow the gap and draw nearly even with Farber, then Riess won a medium-sized pot without a showdown to jump out in front.  In that hand the board came Ac-8h-4d, then 7d, then As, with both players putting in chips on all three post-flop streets. On ESPN's coverage they showed hole cards after hands completed, and thus we were able to see Farber had 7c-4c, meaning he had turned two pair. But Riess had Ah-Ks to make trip aces on the river. Four hands later came another dramatic hand that saw Farber call a preflop raise, check-call a bet after the 3s-3h-7c flop, then make a check-raise on the 2c turn that Riess called. Farber followed that with a big river bet after the 9s fell, and after thinking for more than five minutes Riess let his hand go. Again we were able to see afterwards that while Riess had Qh-7s for sevens and treys, Farber had bluffed successfully with 6d-5h. That hand gave Farber a slight lead once again, but just a few hands later Riess had edged back ahead and from there would never relinquish the lead again. After chipping Farber all of the way down under 20 million, Riess had him all in and at risk following a Kc-5h-Qs flop with Riess holding Ks-10h for top pair and Farber with Jc-10s for a straight draw. But the 9s came on the turn to complete Farber's straight, and after the Qc river Farber was still in contention. Farber enjoyed a little momentum after that to chip all of the way back up over 65 million, about a 2-to-1 disadvantage to Riess. But Riess pushed back up again and as they neared the three-and-a-half-hour mark of their duel once more had Farber all in, this time before the flop for his last 14 million. Farber had Qs-5s and Riess Ah-Kh, and amid both players' roaring rails of supporters the board came Jd-10d-4c-3c-4d to give Riess the win. Here's how the payouts ended up at this year's Main Event final table: 2013 WSOP Main Event final table results: 1st:  Ryan Riess (United States) -- $8,361,570 2nd:  Jay Farber (United States) -- $5,147,357 3rd:  Amir Lehavot (Israel) -- $3,727,823 4th:  Sylvain Loosli (France) -- $2,792,533 5th:  J.C. Tran (United States) -- $2,106,893 6th:  Marc-Etienne McLaughlin (Canada) -- $1,601,024 7th:  Michiel Brummelhuis (Netherlands) -- $1,225,356 8th:  David Benefield (United States) -- $944,650 9th:  Mark Newhouse (United States) -- $733,224 Join Betfair Poker Now.
At age 23, Ryan Riess of Michigan became the third-youngest ever Main Event champion after earning the bracelet and $8,361,570 first prize. Riess is the sixth straight WSOP Main Event champion aged less than 25.