Top Poker Stories of 2011
Poker News

/ Short-Stacked Shamus / 30 December 2011 / Leave a Comment
Despite Black Friday, a record number of players stepped up to play at the 2011 WSOP.
Black Friday was so huge it takes all of the suspense out of any list of top poker stories of the year by necessarily claiming the top spot. In fact, most of the rest of the list and just about every other poker story in 2011 could be said to have been at least indirectly affected by Black Friday.
Has it already been a year? On the one hand, the last 12 months felt like they rushed by at the speed of a turbo sit-n-go. Then again, so much transpired in 2011 in the poker world those early days of January seem especially distant, not the least of which because that was a time when we were all still playing online poker, including those of us in the United States.
Everything changed, of course, on Friday, April 15, the day immediately dubbed "Black Friday" in the poker world when the U.S. was essentially shut out of the online game. It was a story so huge it takes all of the suspense out of any list of top poker stories of the year by necessarily claiming the top spot. In fact, most of the rest of the list and just about every other poker story in 2011 could be said to have been at least indirectly affected by the U.S. Department of Justice unsealing its indictment and civil complaint against the world's most popular online poker sites last spring.
But like poker players around the world did during 2011, we'll persevere. Time to work our way through a list of the year's top 10 stories in poker, truly a remarkable year for our favorite game.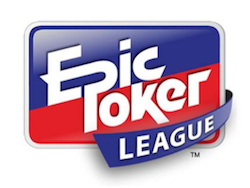 10. Epic Poker League Debuts
First announced in January, a new professional poker league debuted in 2011, sparking a significant amount of discussion within the poker community. Presented under the auspices of Federated Sports + Gaming, the league devised a qualification system whereby accomplished tournament players were issued cards and invited to participate in rake-free $20,000 Main Events at the Palms Resort Casino in Las Vegas. These events featured varying formats as well as an extra $400,000 added to the prize pools. FS+G Executive Chairman and former WSOP Commissioner Jeffrey Pollack and professional player and EPL Commissioner Annie Duke served as the league's primary spokespersons throughout the year.
The first three tournament series of the EPL's debut "season" were played in August, September, and December. Those who participated praised the tournaments as especially well run, thanks in part to the management of EPL Tournament Director Matt Savage who devised the tourneys' structures. A couple of controversies arose during the league's first two Main Events, one involving the first Main Event winner David "Chino" Rheem's significant debts to other players and the other having to do with Michael DiVita forfeiting a seat he had won to play in the second Main Event after revelations of a past conviction as a sex offender. Meanwhile, relatively small Main Event fields (as low as 97 players and as high as 137) and other issues concerning the idea of an invite-only poker league have further inspired much debate regarding the EPL's significance and future.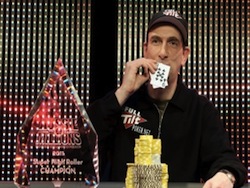 9. Erik Seidel's annus mirabilis
In terms of tourney winnings, Erik Seidel enjoyed not only his best year ever in 2011, but the most profitable year of any poker player ever. A year after gaining entry into the Poker Hall of Fame, Seidel earned a jaw-dropping $6.5 million in tournaments this year, pushing his career total well over $16 million and securing himself the top spot on the all-time money list. It seemed like every time there was a high buy-in event, such as the many "high roller" events dotting the tourney calendar this year, Seidel was at the final table, and more often than not was the one claiming the large first-prize bounty.
In the $250,000 buy-in Super High Roller at the Aussie Millions in January, Seidel's victory earned him $2.5 million AUD (about $2.47m USD). He'd also enjoy another seven-figure payday in May by winning the $100K Super High Roller Event at the Five Star World Poker Classic, earning $1,092,780. Multiple cashes at the WSOP and WSOPE and deep runs in Epic Poker League events further added to Seidel's total.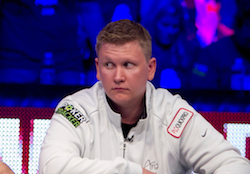 8. And Ben Lamb shall lead them
As the summer progressed at the 2011 WSOP, Ben Lamb's repeated successes began to draw more and more attention, making him a player to watch as the Main Event began in July. By then he had already accumulated four cashes, three final tables, and a bracelet, his win coming in the $10,000 Pot-Limit Omaha Championship and his latest deep run an eighth-place finish in the $50,000 Poker Players Championship. Those performances together pushed Lamb just behind Phil Hellmuth in the WSOP Player of the Year standings, although as it happened the Oklahoman was just getting started.
Lamb catapulted to the top of the Main Event leaderboard during the first few days of the tournament, and remained on the front page for most of the two weeks of play. When he survived as one of the final 138 players, he passed Hellmuth in the POY race, and his lead would hold up through the WSOP Europe later in the fall. Lamb would ultimately make the November Nine -- besting his previous 14th-place finish in the 2009 WSOP Main Event -- lasting all of the way to third place when his remarkable WSOP finally came to an end.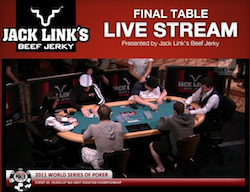 7. Televised poker goes "live" (almost)
Starting back during the PokerStars Caribbean Adventure in January, efforts to produce "almost live" broadcasts of poker tournaments began to be explored in earnest during 2011, an alternative to the edited highlight shows that had become a standard of sorts during the previous decade. Usually shown on some sort of delay -- either with or without hole cards -- and with commentary, the method of presentation brought poker closer to resembling an actual sporting event, even if the unedited programs necessarily included less than exciting, lengthy stretches of raise-and-fold poker.
The European Poker Tour had long been streaming final tables online, a practice the World Poker Tour began to do as well in 2011 (with hole cards, on a half-hour delay). This year's WSOP also saw live streaming of all final tables (without commentary), then similarly comprehensive coverage of the Main Event with most days featuring coverage with commentary, including start-to-finish coverage of the final table in November shown on a 15-minute delay (with hole cards revealed upon hands' completion) on ESPN's networks. The move represents both a change in approach to the packaging of tournament poker for spectators, a possible end to the November Nine, as well as perhaps heralding a shift in the place of poker in the culture at large.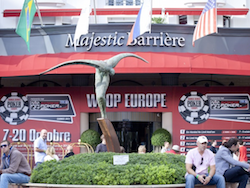 6. WSOP Europe flourishes in France
After four years at the Casino at the Empire in Leicester Square in London, England, the WSOPE made a move over to Cannes, France for 2011, and the results were especially positive. While the total number of buy-ins and number of events gradually increased from 2007-2010, the £10,000 Main Event had never gained much momentum, consistently drawing between 334 and 362 players over the years. The move this year to the Casino Barrière de Cannes Croisette in October saw the WSOPE expanded to seven bracelet events (the most ever), with dramatic increases in player turnout from start to finish.
There were a total of 2,626 entries for the seven events (better than the previous record of 1,405 from 2010), with a whopping 593 participating in the Main Event in which Elio Fox beat out Chris Moorman heads-up to take the title. Thanks to that huge field, Fox enjoyed the single-largest cash in WSOPE history, earning a cool €1,400,000 for his win.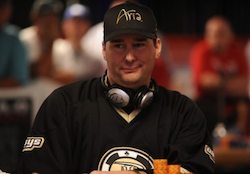 5. Phil Hellmuth's keeps finishing second
After two decades' worth of consistent success, especially in no-limit hold'em events where among his accomplishments he'd won 11 WSOP bracelets, a less-than-stellar 2010 had caused many to entertain notions of the game having perhaps passed Phil Hellmuth by. The self-dubbed "Poker Brat" answered the haters especially well in 2011, however, accumulating over $1.65 million in tourney winnings including three dramatic runner-up finishes in preliminary events at this summer's WSOP, none of which were in hold'em-only events.
Early in the series Hellmuth took second in the $10,000 No-Limit Deuce-to-Seven Draw World Championship, ultimately falling to John Juanda despite entering heads-up with a significant lead. Just over a week later he'd take another second in the $10,000 Seven Card Stud Hi/Lo World Championship, this time coming up short against Eric Rodawig. He'd then make it all of the way to heads-up again in the $50,000 Poker Players Championship, an eight-game mixed event. With just himself and Brian Rast left, Hellmuth built a big lead only to lose three hands in short order in which flush draws failed to complete for Hellmuth, thus earning him a third runner-up finish. He'd add another final table at a WSOP Europe event, but ultimately would earn yet another second-place in the WSOP Player of the Year race behind Ben Lamb.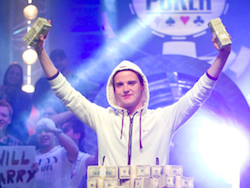 4. Pius Heinz becomes first German to win WSOP Main Event
A total of 6,865 participated in poker's annual $10,000 buy-in "World Championship," creating a total prize pool of $64,531,000. After two weeks of poker in July, then two more days' worth in November, it was 22-year-old Pius Heinz of Cologne, Germany who collected all of the chips and the $8,715,638 first prize. Heinz was only the second player from Germany ever to make a WSOP ME final table, and the first ever to claim the Main Event bracelet.
Heinz entered the final table seventh in chips of the nine remaining players, though early on added considerably to his stack in a hand versus Ireland's Eoghan O'Dea to move into second. He'd employ an aggressive style from that point forward at the final table to remain near the lead throughout the next-to-last day, then emerge as the leader of the final three players to begin the last day of play. Then, after Ben Lamb's rapid exit in third, Heinz survived a tough heads-up battle with Martin Staszko of the Czech Republic lasting more than six hours before finally taking the title.
3. The World Series of Poker doesn't just survive, it thrives
The U.S. Department of Justice unsealed its indictment and civil complaint targeting online poker's largest sites less than six weeks prior to the start of the 2011 WSOP. Most speculated that the Series would necessarily be affected by the sudden unavailability of online poker for U.S. players, especially if it turned out that players would be unable to withdraw funds from the sites. However, there were some who felt otherwise, including WSOP Media Director Nolan Dalla, who days after Black Friday was saying they "expect[ed] a very enthusiastic, large crowd of people to come from all over the world. "I guarantee we will have people lined up at the door, ready to play poker in what is the most prestigious event in the world," added Dalla.
Dalla's optimism was warranted, as not only did the 2011 WSOP not suffer a decrease in turnouts, but enjoyed its biggest year in Series history. The 58 events drew a record 75,672 entries from 105 different countries, with the total prize pools of all bracelet events adding up to an amazing $191,999,010 (another record). Meanwhile, the Main Event proved the third-largest in WSOP history, attracting 6,865 entrants (behind only the 8,773 of 2006 and 7,319 of 2010). In other words, as we've seen in the past, the WSOP possesses a momentum of its own that appears able to withstand changes and challenges quite well.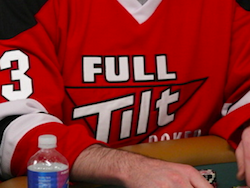 2. The Full Tilt Poker fiasco
While three online poker sites were targeted by the U.S. Department of Justice's indictment and civil complaint, one soon emerged as the primary focus of players' ire, earning the majority of Black Friday-related criticism and complaints for the year. PokerStars enabled U.S. players to cash out funds almost immediately after leaving the market and continued to operate elsewhere. Meanwhile, the Cereus network of sites Absolute Poker/UltimateBet did not offer players the ability to retrieve their funds, nor did they offer any substantive communications regarding such. However, the relative size of both AP and UB meant fewer players were affected, with past cheating scandals further lowering expectations that Cereus would move quickly to make good.
Meanwhile, a series of ambiguous and unsatisfying communications from Full Tilt Poker provoked initial fears about the possibility of players' cashing out, then later revelations regarding the company's horribly managed finances proved those fears to be warranted. Thus did Full Tilt Poker, for many years one of the poker industry's most important and influential players, transform into an emblem of fraud and betrayal in 2011, causing significant harm to poker's image, generally speaking.
While a number of different "stories" stemming from FTP's failures might have made the list, we'll group almost all of them under a single heading as the second-biggest story in poker for 2011: the initial indictment and civil complaint in April against Full Tilt Poker, Ray Bitar (CEO), and Nelson Burtnick (head of FTP's payment processing); Phil Ivey's late May lawsuit against FTP (subsequently withdrawn) and decision not to play in the WSOP; the suspension (in late June) and ultimate revoking (in September) of FTP's license to operate by the Alderney Gambling Control Commission; the DOJ's amendment to the civil complaint to include Howard Lederer, Chris "Jesus" Ferguson, and Rafe Furst and allegations of their having taken millions for themselves (along with Bitar); U.S. Attorney Preet Bharara's damning (if not entirely accurate) characterization of Full Tilt Poker as a "Ponzi scheme"; and various machinations related to the site's still-pending sale to Groupe Bernard Tapie.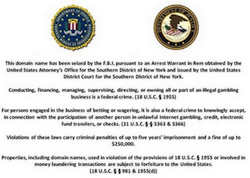 1. Black Friday
In the grand scheme of things -- that is, from the perspective of say, a decade from now -- the events of April 15, 2011 may ultimately prove considerably less apocalyptic than they might have seemed at the time. That was the day the U.S. Department of Justice unsealed an indictment charging individuals associated with online poker's largest sites with various crimes, including conspiracy to violate and violation of the Unlawful Internet Gambling Enforcement Act (UIGEA), operation of an illegal gambling business, conspiracy to commit wire fraud and bank fraud, and conspiracy to commit money laundering. A civil complaint was also unsealed seeking $3 billion from the sites. The effect was a virtual shutdown of online poker in the United States, as all of the affected sites -- PokerStars, Full Tilt Poker, Absolute Poker, and UltimateBet -- were forced to stop allowing Americans to play. And the shadow cast by Black Friday extended worldwide.
A total of 11 individuals were named in the original indictment, including owners/founders of the sites as well as payment processors and others involved with facilitating the transfer of funds to and from American online poker players. An amendment to the civil complaint was made public on September 20 in which Full Tilt Poker in particular was accused of additional wrongdoing, including having funneled large amounts of players' funds into "FTP Insider Accounts" belonging to part-owners. Some of those charged have begun to appear in court in order to see their cases through, either pleading guilty to some of the counts or to fight the charges, while others remain safely outside the U.S.
As the year comes to a close, Americans continue to wonder if and when the online game will return. Meanwhile, the rest of the world continues to enjoy playing the card game which originated in the U.S. in the early 19th century on sites like Betfair Poker.
There were a number of other stories in poker that may well have deserved a place on this list, including the recent news that the U.S. Department of Justice has reversed its opinion regarding the Wire Act and intrastate online gambling, a change which some are taking as a possible harbinger of the return of online poker in the U.S. Here are ten more poker stories of note from 2011 that certainly could have made the list:
the rise of "high roller" events in 2011, including the announcement of a $1 million buy-in event at next year's WSOP, called "The Big One"

the incredible year had by Sam Trickett who earned more than $4.5 million in 2011, including a win in the $100,000 Aussie Millions event, a second in the $250K event at Melbourne, and a victory worth €1,000,000 at the Partouche Poker Tour Main Event

Bertrand "ElkY" Grospllier winning his first WSOP bracelet in the $10,000 Seven-Card Stud World Championship, adding to his EPT and WPT titles to earn poker's Triple Crown

a terrific 2011 by Jake Cody, who also achieved Triple Crown status by winning the $25,000 No-Limit Hold'em Heads-Up Championship at the WSOP to go along with his previous EPT and WPT wins

Player of the Year honors being earned by Eugene Katchalov (BLUFF) and Ben Lamb (Card Player)

both Vanessa Selbst and Jason Mercier incredibly winning back-to-back titles at NAPT Mohegan Sun in April, with Selbst repeating her Main Event win from 2010 and Mercier winning the Bounty Shootout he'd won the previous year, too

the continued emergence of Zynga Poker, the popular play-money game featured on Facebook and elsewhere where millions play daily, as a potentially significant entity in online poker

the increasing prominence of "alternative" poker media sites like QuadJacks, Subject:Poker, and Pokerfuse

various alliances between brick-and-mortar casinos and online sites, including the pre-Black Friday ones (e.g., Wynn and PokerStars, Fertitta and Full Tilt Poker) that were subsequently dissolved, and those that have come since (e.g. MGM/Boyd and bwin-Party, Caesars and 888) which remain