Ben Lamb, Eugene Katchalov Leading 2011 Player of Year Races at Year's End
Poker News

/ Short-Stacked Shamus / 16 December 2011 / Leave a Comment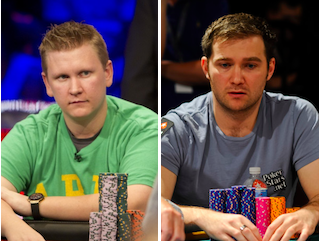 Ben Lamb (left) and Eugene Katchalov (right) lead poker's POY races as 2011 comes to a close (Photos: PokerNews)
While no POY ranking system is ever going to be perfect, they do invite some interesting debate while further encouraging comparisons between poker and other individual sports like golf or tennis in which similar rankings play a role.
The calendar year is coming to a close, which means Player of the Year races to determine the best tournament poker player of 2011 have all but been decided. In Card Player's tally, Ben Lamb currently leads the way with Chris Moorman not far behind. Meanwhile, Bluff Magazine has positioned Eugene Katchalov atop its list, barely ahead of Bertrand "ElkY" Grospellier with Lamb in third
The two publications' differing criteria for scoring introduces differences in their POY standings, although a quick look at the top of both leaderboards reveals a lot of overlap between the two lists, as well as a host of recognizable names who have unmistakably proven themselves as top poker talent over the last twelve months.
It is no surprise to see the American Ben Lamb's name atop the Card Player list and near the top of Bluff's rankings after his stellar performance at this year's World Series of Poker.
Lamb had already won one WSOP bracelet this summer, made two other final tables, and had another 12th-place finish when he added a third-place finish in the WSOP Main Event last month, worth just over $4 million. That showing was good enough to earn Lamb Player of the Year honors at the WSOP, which as it happens this year followed criteria similar to that employed by Bluff to determine its POY.
The U.K.'s Chris Moorman, just behind Lamb in the Card Player list, also had a terrific WSOP with two final tables (finishing second and third), a couple more near misses (11th and 18th), and another runner-up finish at the World Series of Poker Europe Main Event in October, helping him push over $2.3 million in total earnings this year.
The Ukrainian Oleksil Kovalchuk, currently third in the CP rankings, has enjoyed a breakout year in 2011, earning a WSOP bracelet, a couple more firsts (one in Kiev, another in Nova Gorica), and a third-place finish at this year's Partouche Poker Tour Main Event.
Completing Card Player's top ten currently are Marvin Rettenmaier, Sam Stein, 2011 WSOPE Main Event winner Elio Fox, Galen Hall, Eugene Katchalov, Jason Mercier, and Sam Trickett. Sitting just outside that group are Matthew Waxman, Erik Seidel, Pius Heinz, Maxim Lykov, and Alessio Isaia.
It is perhaps surprising to see Seidel outside of Card Player's top ten given the incredible year he has had, racking up a jaw-dropping $6.5 million in tourney earnings in 2011 alone.
However, Seidel's POY points for some of his biggest wins this year -- e.g., the Aussie Millions $250,000 Super High Roller (which will return next month), the NBC National Heads-Up Poker Championship, the $100K High Roller a the Five-Star World Poker Classic at the Bellagio in May -- were limited by the relatively small field sizes for those events, per Card Player's scoring criteria.
Seidel has been similarly affected in the Bluff POY rankings where he presently sits in 11th place. In fact, some of Seidel's biggest scores in 2011 are not counted at all by Bluff.
According to Bluff's criteria, a tournament must have at least 27 entrants to be included, so the Aussie Millions Super High Roller in which only 20 participated doesn't count for Seidel. Nor does Seidel's NBC Heads-Up title, since Bluff only recognizes open (i.e., not invite-only) events. Also worth noting is the fact that Bluff only considers a player's ten best finishes for the year for its list, a wrinkle that does have some bearing on how the rankings sort out.
As mentioned, the Kiev native Katchalov tops the Bluff list in part because his win in the $100K Super High Roller event at the PokerStars Caribbean Adventure back in January came in an event that drew 38 participants. Katchalov followed that win with a number of other scores throughout the year -- including a WSOP bracelet -- helping him collect over $2.5 million in total earnings in 2011.
Katchalov's lead over second-place Bertrand "ElkY" Grospellier in the Bluff rankings is only by a few points. However, the fact that both players are spending this week participating in the Epic Poker League's third tournament series (which does not count in Bluff's rankings) may mean the race between the two has already been decided.
Grospellier's 2011 includes a lengthy list of firsts and final tables -- including a WSOP bracelet -- netting the Frenchman nearly $2.3 million in earnings for the year. That was good enough to push him past Lamb who sits in third in the Bluff list, followed by Waxman, Trickett, Rettenmaier, Moorman, Fox, Heinz, and Stephen O'Dwyer in tenth. Meanwhile, just outside the Bluff top ten are Seidel, Stein, Lykov, Mercier, and Philipp Gruissem.
While Card Player's Player of the Year award -- like the magazine itself -- has a longer history than does Bluff's, both have become recognized by many as meaningful indicators of top performances. And many of the players seem to care about the POY race as well.
For example, when a $100,000 High Roller event was arranged amid the festivities at last week's World Poker Tour Five Diamond Classic, some players inquired whether the event would draw the needed 27 players to qualify for the Bluff POY rankings. (A total of 29 ended up participating, with Jason Mercier winning.)
While no POY ranking system is ever going to be perfect, they do invite some interesting debate while further encouraging comparisons between poker and other individual sports like golf or tennis in which similar rankings play a role. The Epic Poker League's Global Poker Index -- an ongoing ranking system (not an annual one) -- provides yet another perspective for comparing players over a larger sample size than just one tournament.
We'll see if any changes to the lists happen during these last couple of weeks of 2011. And then, when the calendar turns to January, everyone's totals will be reset to zero, giving all a fresh start to compete for next year's POY titles.