The Lincoln Handicap: Simon Rowlands investigates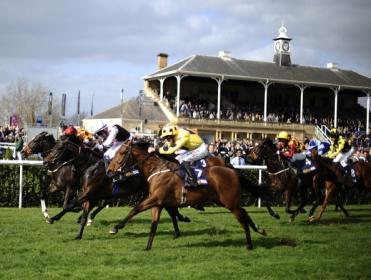 Simon Rowlands has crunched the numbers in the Lincoln
Simon Rowlands has analysed the key stats in the Lincoln and has found a value bet...
It is a big ask for him to win from a mark of 109, though not an impossible one judged on his success at Group 3 and listed levels in 2012...
There was a time when this coming weekend's meeting at Doncaster marked the first Flat racing of any type in Britain for more than four months. As a result, it was met in some quarters with the sense of relief reserved these days by many for the first race of the Cheltenham Festival.  
Nowadays, the meeting, and its showpiece event the Lincoln Handicap, comes on the back of a busy few months of all-weather Flat racing, which has changed the nature and the significance of the traditional "curtain-raiser", for better or worse. 
The Lincoln itself has also arguably become "easier" to predict: the average winning price in the 1980s and 1990s was around 14/1; since then it has been just under 8/1 (though the last three winners have all gone off at much bigger prices than that). But, with 22 runners competing over a straight mile, no-one is going to pretend that the race is anything other than a challenging puzzle. 
Such unique events lend themselves to "trends" analysis more than most: any intrinsic biases tend to repeat. 
The following table looks at three categories that might be expected to turn up interesting trends, namely: performance by age; performance by number of runs in the calendar year; and performance by handicap mark. As always with so-called trends, it is important to consider opportunity and to appraise in a more nuanced way than just "did the horse win or not?". In this respect, % of Rivals Beaten is probably the most telling measure.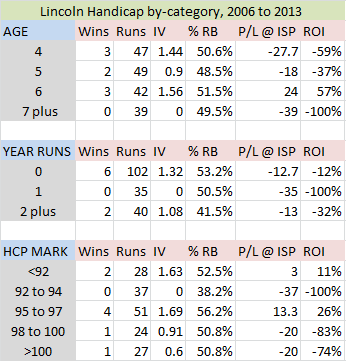 The truth is that there is not a whole lot to get excited about in the above, be it as measured by "IV" (Impact Value, the factor by which wins have performed compared to chance), Profit/Loss at Industry Starting Price (the superior Betfair SP covers only part of the period), "ROI" (% Return On Investment at that Industry SP) or the aforementioned % Rivals Beaten, though that in itself tells a story, for some will pretend otherwise.
Perhaps the most interesting figures are for number of runs in calendar year. It might be imagined that a recent run would be a significant advantage, but that is not borne out. Horses making their seasonal debuts have performed slightly better than par judged by %RB. Further, there is no real evidence that "younger is better" as is often the case with races like this. 
Come the day, plenty is likely to be made of the effect of the draw: too much, in all probability. A horse's ability to run efficiently, and thereby produce its best, may well depend more on its proximity (or otherwise) to front-runners. The following table shows how large-field straight mile handicaps have panned out as judged by draw in recent times.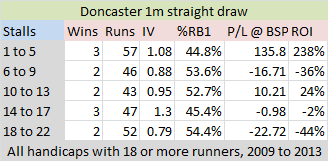 The message is mixed, and it should further be noted that the %RB figure for stalls 18 to 22 drops (and that for stalls 6 to 9 rises) when considering only races run on good or firmer, which is what is forecast for the going on Saturday. 
In an attempt to make more sense of what remained a confusing picture, I turned to recent trainer form, judging this by %RB in handicaps so far this year. 
By that measure, after requiring that the trainer in question must have had at least eight qualifiers, the following with runners in the top 22 in the Lincoln weights showed up well: Andrew Balding (Tullius) 68.0%; Stuart Williams (Mezzotint) 64.9%; and Charles Hills (One Word More) 64.9%. Interestingly, all those named horses have not run this year. 
Of the trio, Tullius makes the most appeal on closer inspection, being a stouter stayer and less beholden to the ground than the other two. It is a big ask for him to win from a mark of 109, though not an impossible one judged on his success at Group 3 and listed levels in 2012. He will have the excellent Oisin Murphy on board, too. 
Do we mind that Tullius is now a six-year-old? No, we do not. Do we mind that he has not raced since November? Ditto.
 
In what looks, even by the Lincoln's standards, a tricky affair, Tullius will be carrying a small amount of my money.
Recommendation:
Back Tullius in the Lincoln Handicap
Discover the latest articles