Sectional Debrief: Kempton, Wednesday January 8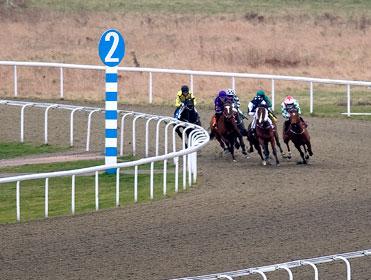 Simon has examined the sectionals at Kempton
Simon Rowlands gives the breakdown of the latest Kempton meeting...
"Finishing speeds of more than 106% for fifth-placed Trader Jack and sixth-placed Expose... suggest they could have finished on the heels of the first two."
I don't know if it's just me, but it seems as if a tipping point may about to be reached in the world of sectional timing. Today's Racing Post carries the first of a two-part overview of the subject by Nicholas Godfrey: it is an excellent piece and a must-read for anyone interested in the state of play, the politics that has got us to this point, and the prospects for the future. 
There is little to disagree with in the article, but one thing that should be challenged is a TurfTrax spokesperson's assertion in 2008 that "we've done everything to gain the appetite of the racing public for sectional timing". The one thing that was missing, but which had been available for several years even then, was a further layer of analysis and explanation of what the data meant. Without that, sectionals were destined to remain a highly niche product and alien to many.
The perceived lack of context for existing sectional data, along with funding issues and enduring misunderstandings regarding what sort of coverage would be appropriate, has been used to kick the can further down the road for years now. Perhaps things will finally change. 
Which brings us to analysis and explanation of Timeform's manual sectionals from Kempton yesterday, a day which marked the "100 days until the AW Finals Day at Lingfield" milestone.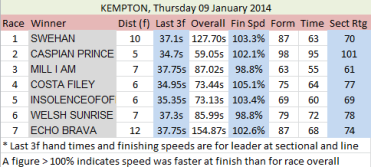 For those looking in for the first time, this is the latest in a series, started last April, covering sectional timing and using Kempton, and occasionally other courses, as a test case. An explanation of some of the principles behind sectional analysis can be found in an earlier blog, though a few of the methods for analysis have evolved since then. 
How a horse runs its race affects its overall time, and that is very well illustrated by the five-furlong race won by Caspian Prince. Contrary to what was reported at the time, the winner ran the race highly efficiently, which means going a good pace but not an overly-strong pace. His last three furlongs of 34.7s and finishing speed of 102.1% was almost bang on par and resulted in a good overall time (the sectional ratings are pitched slightly higher than the timefigures). Some of those behind did not run nearly so efficiently. 
Finishing speeds of more than 106% for fifth-placed Trader Jack and sixth-placed Expose, both of whom got too far back early, result in significant mark-ups for those horses which suggest they could have finished on the heels of the first two. Expose has not been straightforward but has been with the in-form Michael Appleby for just a short time and looks worth taking a chance with.
The sub-100% sectionals for the races won by Mill I Am and by Welsh Sunrise identify them as having been run a bit faster than ideal. That is, the leaders went a bit faster than ideal: the winners both came from just over three lengths back at the sectional and ran close to par. Front-running Seamster gets the biggest upgrade of the principals in the former race.
A modest overall time for Costa Filey (identified as promising on sectionals in his previous race) becomes a decent one once a fast closing sectional (about 34.65s for last three furlongs) is taken into account. Similar remarks apply to Insolenceofoffice, who ran a flat 35.0s, with fifth-placed New Rich coming home fastest of all and getting the biggest upgrade in that race. 
Time analysis also suggests that Swehan's and Echo Brava's wins were underwhelming. The former, in particular, got the run of things more than his nearest rivals, who made late headway on him but could not overhaul one who was himself coming home a bit faster than par. Sectionals have very little between the first six home, but Swehan is the one who will go up the handicap most. 
Wednesday's card at Lingfield is not strictly in the scope of this blog series, but Timeform gathers sectionals at all AW meetings these days and one performance there should not be allowed to pass without comment. 
In the final race, Bertie Blu Boy went too fast, turned in several lengths to the good and yet managed to hang on to a narrow second. His last-two-furlong sectional was approximately 25.85s, resulting in a finishing speed of 94.4%, when par at this course and distance is around 100%. 
It's been more than a year since Bertie Blu Boy last won, and there have been some abject performances in the meantime. But sectionals suggest he can get back in the winners' enclosure before long. As the saying goes "believe in the process": he gets added to the profitable Sectional Debrief "to follow" list.
To follow: Expose, Bertie Blu Boy
To oppose: Swehan   
Discover the latest articles